So fresh. So pure. Poké is a trip to Hawaii without the long flight. Let's face it: who wouldn't want to surf the current wave of colorful poke bowls? If you like to make your own poké, these tips are indispensable. This is the great Culy poké protocol.
Poké (rhymes with ok) means to cut in Hawaiian. Traditionally, the dish was made by fishermen, combining the crackling fresh catch of ahi (tuna) or octopus with seaweed and sweet onions. The rice, soy sauce and sesame oil are an influence of the Japanese migrants who worked on the Hawaiian pineapple and sugar cane plantations from 1885.
More on the history of poke: how it transformed from a simple and flavorful dish of bite-sized pieces of fish mixed with Hawaiian sea salt, kemir nuts, and some chopped limu (seaweed) – to an American fusion dish, Chef Lee Anne Wong tells in this article .
6 do's and don'ts for a homemade poké bowl
1. Do: use warm rice
The rice should be warm (at body temperature would be ideal) and the fish should be cold, which makes a wonderful contrast in your mouth.
When the rice is cooked, season the rice with a slightly sweet dressing. For 3 cups of uncooked rice, heat 125 ml rice wine vinegar, 2 tbsp caster sugar and 2 tsp salt until dissolved. Add the dressing to your liking to the warm, cooked rice. Do not put the rice in the fridge afterwards!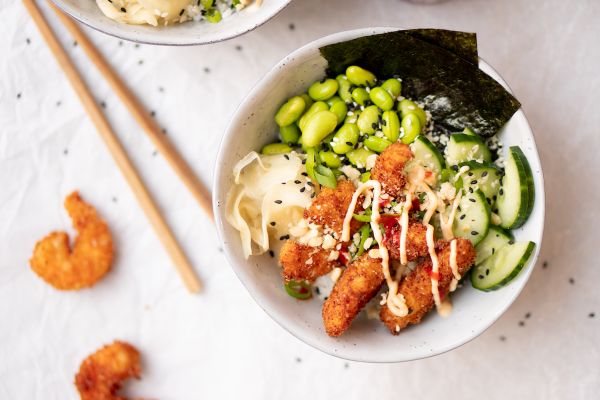 2. Don't: Wet or Sticky Rice
Use a rice cooker to cook your rice to perfection. Wet, sticky rice ruins a good poke bowl.
In principle, you don't have to use sushi rice, brown rice, quinoa or farro are also super tasty in a poké bowl. You could even take a trip to soba noodles or a jasmine coconut rice.
3. Do: Use only the freshest fish – or leave it out
What distinguishes a mediocre poké bowl from an insane, can-I-have-a-subscription-to-poké? The fish. From ahi tuna, salmon, scallops, mackerel or even herring. Choose mainly local fish so that you are sure that the distance from rod to harbor and then your own house is as short as possible.
Can't get fresh fish? Then choose tofu, tempeh, jackfruit or boiled shrimp.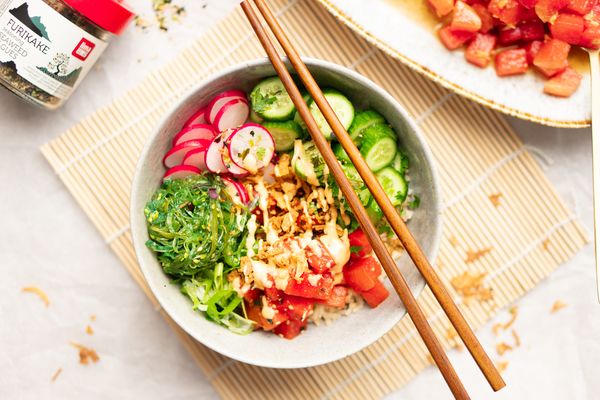 4. Do: dress to impress
The fatter and firmer the fish, the more bombastic the dressing! Sesame, soy sauce, wasabi, and lemon juice (or ponzu ) make a good base. You can also vary wonderfully with a sprinkle of furikake , pickled ginger, chili flakes and a pinch of Kewpie mayonnaise.
5. Don't: forget the crunch, such a cutie is everything!
Traditionally, finely chopped kemir nuts (not raw!) are used as a crunchy topping. Also tasty: macadamia nuts, cashews, pickles, or wasabi nuts.
6. Do: go for color
Because different colors almost always produce different contrasts.
Fresh fruits and vegetables

 : avocado slices, bean sprouts, soybeans, radish julienne, caramelized pineapple, crunchy kale, roasted pumpkin.

Spices & herbs

 : gochugaru, shichimi togarashi, furikake, fresh chillies, sesame seeds, fresh mint and coriander.

Pit

 : from bell pepper to jalapeño

Alliums

 : spring onion (sliced ​​very thinly), sweet onion, dried garlic chips, fried onions, or fresh garlic. Even wild garlic wouldn't look out of place.

Pickles

 : beautiful pink ginger pickle, mushroom, red onion, cucumber, radish, carrot.

nori! 

Or other seaweed.