Chocolate chip cookies are the bomb, we can talk about it long or short. They may just be the most baked cookies of all the cookie recipes out there. The perfect chewy chocolate chip cookies are always good. However, there are some common mistakes when baking chocolate chip cookies. Culy protects you from culinary disaster and lists them.
Chocolate chip cookies: mistakes you won't make
The best chocolate chip cookies? As far as we are concerned, they are crunchy on the outside, but soft and chewy on the inside. Take a look at the common mistakes below for chocolate chip cookie perfection.
1. Not weighing ingredients properly
Baking is chemistry, so we can't say it often enough: it's important that you weigh ingredients carefully. The kitchen scale is your best friend.
Do you use an American recipe as an example, and do you use cups as a measure of volume? Then make sure you fill the cups well, but do not tamp them all the way. The flower should be loose in it. Better still, it's just to weigh things up a bit.
> Handy tool:  from cups to grams: the only conversion overview you need
It is also important to weigh eggs: they can vary quite a bit in size. Or always check whether the recipe writer in question has stated whether he/she has used large or small eggs.
2. Not adding enough sugar
There is a lot of sugar in chocolate chip cookies. But don't think you can skimp on that a bit because you happen to be on the line: the sugar in the recipe does have a function. If you add too little sugar to the dough, the texture will change. Your cookies will then become more bready and collapse.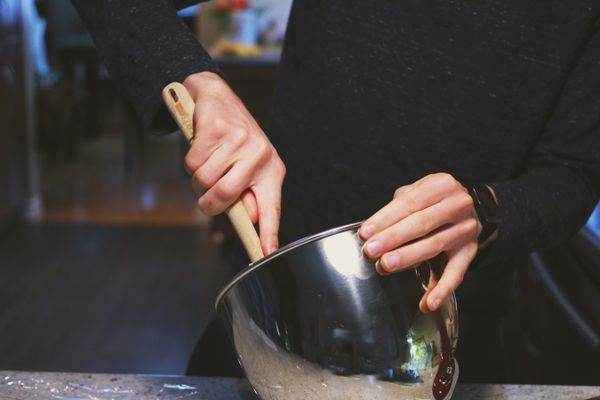 3. Mixing too short or too long
Pastry chef Christina Tosi of Milk Bar in New York has baked many cookies in her life. In fact, she built an empire around it. According to her, the most important step in the baking process is beating the butter, sugar and eggs. According to her, that part should take at least 10 minutes.
Make sure your mixing bowl and mixing hook are at room temperature (and not hot from the dishwasher). Start beating the butter and sugar on medium-high, for 2 to 3 minutes. You actually want the sugar to dissolve and you want a creamy mixture. Then add the eggs one at a time. So one egg, let it be completely absorbed and then add the other egg.
Then let your mixer beat for 7 to 8 minutes on the highest setting, until you are left with a pale yellow mixture. The mass should have doubled in volume and look like a shiny, buttery cloud.
At the stage where you add the flour and chocolate chips, you do n't want to beat for too long. In any case, no longer than a minute, otherwise the dough will become tough.
4. Butter at the right temperature
When making cookie dough, it is important that the butter you use is at the right temperature. Chocolate chip cookie recipes often mention that you should use room temperature butter, or simply 'soft butter'. But: what does this mean?
Soft butter should give a little when you press it, but still hold its shape. If you use butter that is too warm, you will get butter soup when you mix the dough. If your butter is still too cold, it will take a little longer until you have whipped your butter to the correct fluffiness. Keep that in mind.
If you notice that the butter starts to separate or becomes too soft while beating, put everything in the fridge for 5 minutes.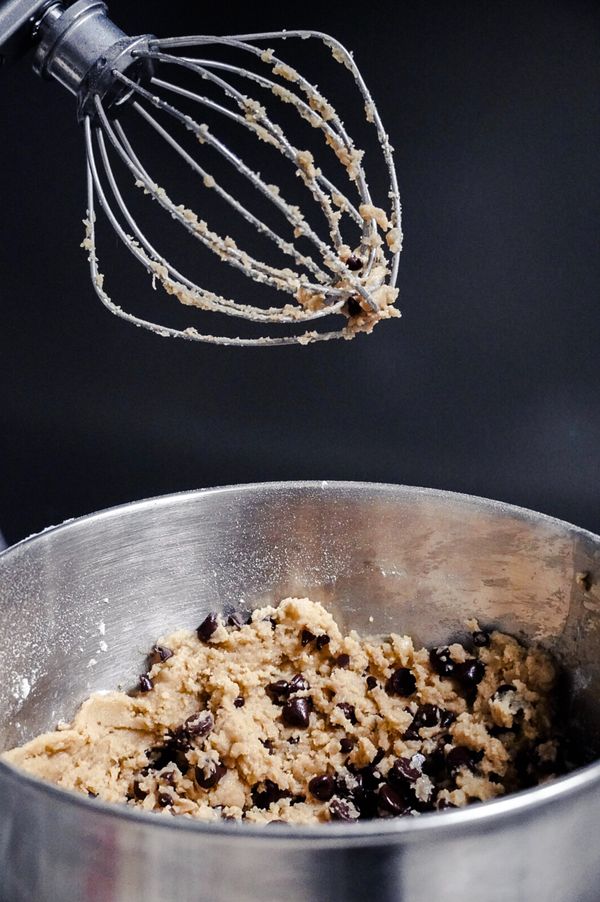 5. Not cooling the dough properly
Chocolate chip cookies are actually best not baked at room temperature. Place the dough in the right portions on a baking tray or a plate (we use an ice cream scoop and press the top of the balls slightly flat). Wrap plastic wrap and chill in the fridge for at least an hour before spreading the chocolate chip cookies on a baking sheet and baking.
If you don't do this, the cookies will spread too much in the oven, causing them to lose their shape.
> Our best chocolate chip cookie recipe: the perfect chewy chocolate chip cookies from Miljuschka