If you can make a good homemade pizza, you'll be baked for the rest of your life. With your friends, but also when you're really hungry for such a delicious pizza with a thin, crispy bottom. We collected the best tips & tricks to make your homemade pizza a success.
14 x tips for the best homemade pizza
1. Use the right flower type
Most people will use regular wheat flour for making pizza dough. And there's nothing wrong with that.
However, food journalist J. Kenji Lopéz-Alt recommends experimenting with other types of flour for a firmer crust. Italian flour especially for pizza dough often has a finer grind than regular flours and with that you would get a better pizza crust.
Many supermarkets therefore now sell type 00 flour for pizza. This type of flour has a very fine structure and is therefore ideal for baking pizza. By the way, Patent flour has the same grind, so you can use that too.
2. Befriend the yeast
There is yeast in pizza dough, but this diva has a small manual. She does not like salt and prefers to bathe in warm water. Not hot, but warm. Or, as Carla Lalli Music says in the video below: "Not hot enough to bathe in, but not lukewarm either." She shows you what to watch out for with your yeast:
3. Knead the dough well
By kneading the dough, you activate the gluten. And it is precisely these that (in addition to allergies in some people) ensure that airy structure of your pizza dough. You can put your standing mixer to work for this. You can also do it by hand: the dough is ready when it feels like a cohesive, firm whole.
4. Put your dough away in the fridge for three days
You have to pay something for it, but according to J. Kenji Lopéz-Alt your pizza will be browner and tastier if you first put the dough in the fridge for three days. He calls this process 'cold fermentation'. Other chefs recommend doing this for at least a day.
During that process, the yeast can slowly do its work and convert the carbohydrates in the dough. Put the dough in a pressure & seal bag and take it out of the fridge at least half an hour before you use it to come to room temperature.
Don't have three days? Then let your dough rest for at least an hour in an olive oil-greased bowl with plastic wrap over it, before rolling it out into a pizza.
5. This is how you make a perfectly round pizza
Are you having trouble rolling out that ball of pizza dough into a nice round shape? The chef in the video below shows you very simply how to do this by hand. He first presses the dough out in the corners and then stretches the dough in circular movements with his hands. Then he does it in the air, like a real pizza baker.
6. Use the right mozzarella
Pizza chef Mark Iacono of the popular pizza restaurant Lucali in Brooklyn is baking pizza himself every day in the back of his restaurant and is praised for his skills. He first uses a low-moisture mozzarella, which he grates over the sauce-covered base, so the pizza doesn't get too soggy. Only then does he use the best buffalo mozzarella, which he tears into pieces by hand.
7. Less is more
Professional pizza bakers say it all: don't put too many ingredients on your pizza. Less is more! Go for a thin layer of toppings. This way you don't make the bottom too heavy and you can taste all the flavors with every bite you take.
8. Provide heat
It is not without reason that professional pizzerias have a pizza oven: those things can get very hot. A pizza that goes in such a pizza oven (or wood oven) is often ready within three minutes. The result: a super crispy bottom. Set your oven – if possible – to 285 degrees or else as hot as possible.
9. Use a pizza stone
If you regularly make homemade pizza, it may be worth investing in a pizza stone. The Baking Steel is also new : a stainless steel plate that has been developed to replace the pizza stone. The reason: metal conducts heat better than stone.
What does such a thing do: In fact, it mimics – in part – the interior of a brick oven, by absorbing all the heat in the oven, baking your pizza on a direct heat source. This will cook your pizza gradually and the bottom will be wonderfully crunchy.
If you don't have a pizza stone, at least have your baking tray preheated in the oven before you place the pizza on it.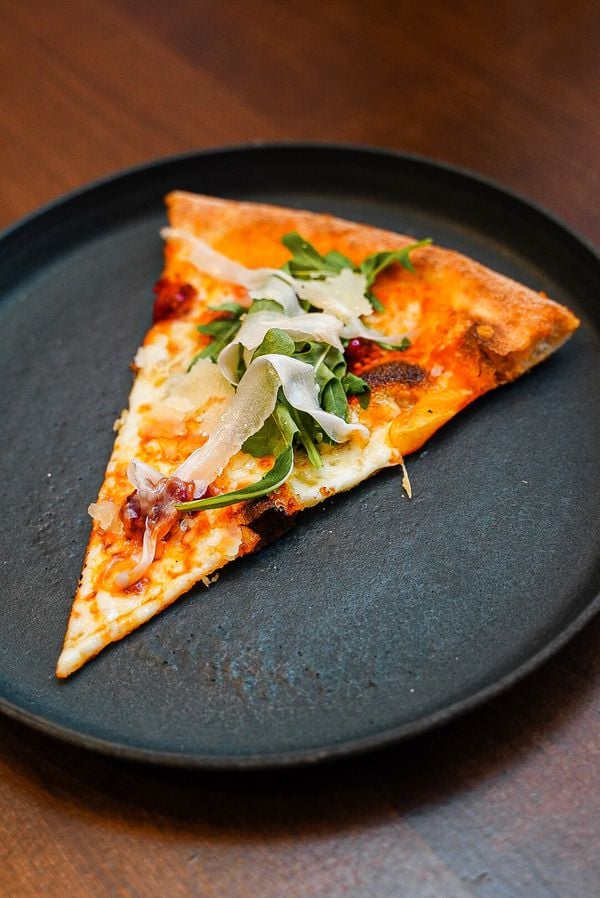 10. Alternative: pre-fry the pizza in a cast iron pan
Another idea: pre-bake the pizza base on one side in a hot cast iron pan. Turn the dough over, top it with the toppings and then slide it like this, pan and all, in an oven where the pizza goes under the grill for 5 minutes.
11. Sprinkle some breadcrumbs on the plate
At Iacono in Brooklyn, they have a special trick: they use an aluminum bowl, sprinkle some breadcrumbs over it and put the pizza on it when it comes out of the oven hot. The breadcrumbs act as a barrier between the sweltering pizza dough and the cold metal, so that you don't get condensation on the bottom of the dish (= wet pizza base).
12. Tear fresh herbs over it
Every pizza tastes better with fresh herbs. Basil! Oregano! The smell alone makes you feel like you're in Italy. No cutting or chopping, just tearing. Then the leaves remain nice and fresh and fragrant.
13. Olive Oil
Always delicious: finally, drizzle some good olive oil over your homemade pizza to boost the flavors.
14. You heat up in a… pan!
Do you have any leftovers from that scrumptious homemade7 pizza? Do not heat it in the microwave or even in the oven. The best method? Fry the pizza briefly in a frying pan with a little olive oil. That little extra fat ensures that the pizza does not dry out and that the bottom bakes nicely. Fry your  slice  on both sides, about two minutes.