The specific roast taste, the smell, the coziness, the most likely presence of the sun: meat from the barbecue is actually always very tasty. But can it be even tastier? Yes, of course! We got a golden tip from the secret books of chefs. It is about an oil that actually makes everything tastier, but in particular every piece of meat (and vegetables) from the barbecue .
Garlic oil at barbecue
Many chefs in professional kitchens swear by it: their own container of garlic oil next to the stove (that's what they call a stove in a kitchen) to give dishes that little bit extra. It will certainly not be used with every dish, but it will be used with meat from the grill or barbecue.
The meat is cooked as usual, but for the last few minutes it is brushed with the oil, so that it just gets a more intense flavor and the garlic stays lightly brown. But beware: garlic is not the only thing in the oil!
What's in the oil? And how do you do it?
There are people who live by the credo 'a day without garlic is a day wasted', others have a preference for gently cooked garlic and still others prefer to eat it raw, but garlic has a place in almost everyone's heart.
So the basic and main ingredient of this oil is: garlic. Following main ingredients: pepper and sea salt , supplemented with thyme or rosemary . Some chefs are a bit wild and add a chili flake or pepper .
Put everything in the chopper, chop finely, add olive oil (the one you bake with, so not the luxury!) and voilà you're done. Keeps well in the fridge for a long time, as long as you use a clean spoon or brush.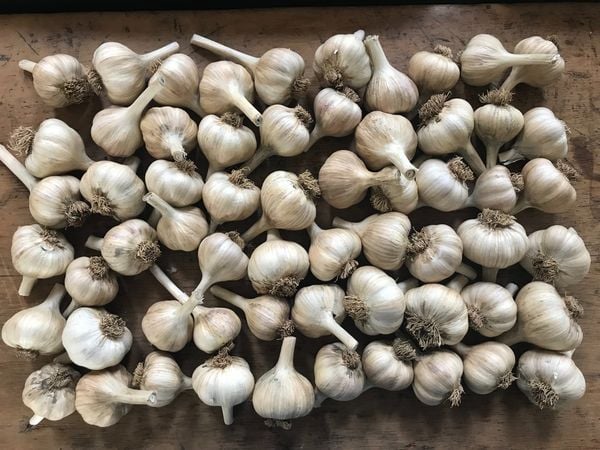 Can you only use this oil for the barbecue?
As indicated earlier and even in the title: every piece of meat , but mainly from the grill or barbecue. In addition, think of a whole fish or a salmon package with a drop of oil or give your stir-fried vegetables that little bit extra with this mix.
Also delicious: sprinkle a slice of pumpkin or celeriac from the grill or barbecue. That just makes it next level. The oil has to be briefly fried or prepared, then it comes into its own.
As far as we are concerned, it is clear: this oil will become a permanent part of our barbecue adventures and secretly next to our stove.
Tips for the BBQ:
4 x simple BBQ tips from barbecue king Jord Althuizen

Mediterranean barbecue skewers with halloumi & chorizo

Spicy noodle salad with mango and aubergine skewers from the barbecue