Give children a pop-it and they can at least be quietly busy for a few minutes. Give them chocolate, M&Ms and a pop-it and you won't hear them anymore. But what do you get? Pop it chocolate bars! This hack is going viral on TikTok and we understand why.
For the love of chocolate and our kids.
Pop-it chocolate bars
The mega popular pop-its can currently be found in almost every household (with children). Children are relaxed by pressing the pops and let them pop. It also seems to be good for motor skills.
But the fact that these pop-its are also very good shapes for homemade chocolate bars is perhaps better news. Get to work with your kids and go wild. There's nothing like messing around in the kitchen.
Delicious fillings
Have fun with the ingredients with which you fill the pop-it. Put (unsalted) nuts in it for a slightly healthier variant, but also go crazy with: mini marshmallows, popcorn, finely chopped fudge, M&M's, Fruittella's or Skittles, mice (the sprinkles), pieces of licorice laces or stroopwafels, peanut butter (yes, really!). I think this Culy editor has a new hobby.
How do you make the pop-it chocolate bars?
It's terribly simple: fill the pop-it holes with a filling of your choice or whatever you like. Melt chocolate au bain marie and pour over the pop-it. Let cool and you can pop the chocolate bar right out.
For the extra large chocolate lovers: first pour a thin layer of melted chocolate on the pop-it. Fill quickly with a filling of your choice and pour another layer of chocolate on top. Or make the first cake from the video below. Can also.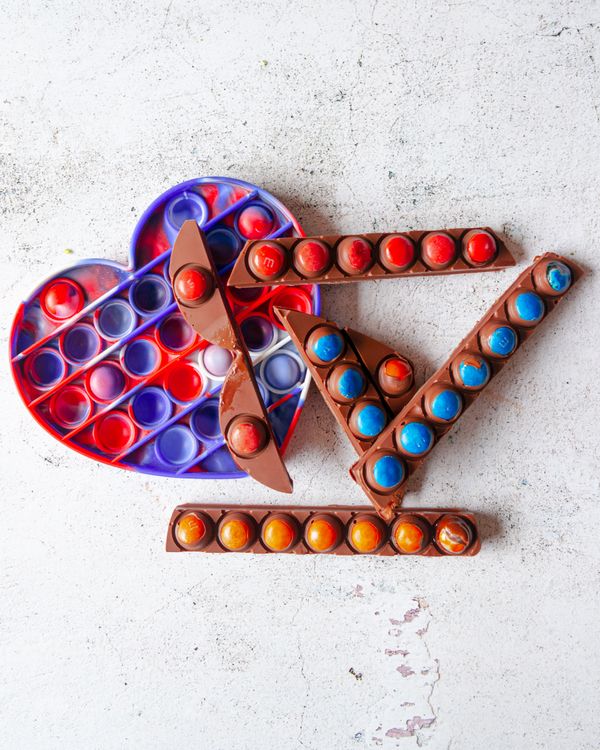 Got a craving for chocolate?
Culy Kids: yogurt bars with jam, berries, white chocolate and mint

Culy Homemade: easy chocolate cake with chocolate glaze

Culy Homemade: churros chips with cinnamon sugar & chocolate sauce