We already knew that the combination of hot sauce and honey is a tasty one. For example, we already mixed hot sauce and honey for our ultimate breakfast sandwich and it also works damn well on a spicy pizza . But it seems that you can even buy the stuff ready-made in a bottle: 'hot honey' is quite popular.
What is hot honey?
Hot honey is honey with chili pepper: it's that simple. The stuff went viral years ago after American Mike Kurtz returned from a trip from Brazil. There he saw jars of honey on the table with whole chilies stuffed into them. He decided to recreate it at home in America under the name 'Mike's Hot Honey' and gave a bottle to the boss of the pizzeria where he worked; Paulie Gee's in New York.
He sprinkled it over the pizzas, much to the delight of his customers. After that Mike's hot sauce went viral and now we are a few years further and there are several types of hot honey on the market in America. Reader Veerle tipped us that she had seen it a lot on Youtube (thanks Veerle!) Because indeed: since the world has been in lockdown, more and more home cooks are sharing their recipes for hot honey.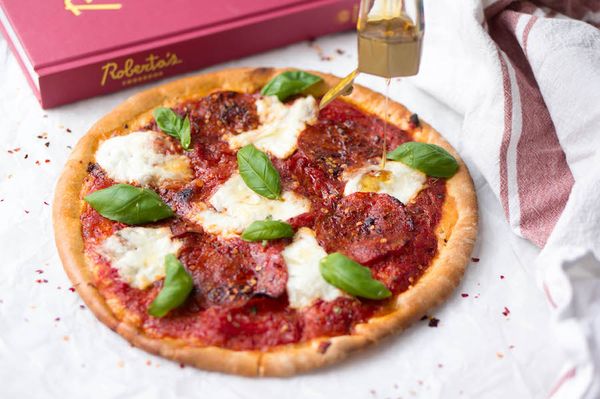 Sweetness with an addictive kick
The reason why this spicy honey is so irresistible is, of course, because of that interesting combination between spicy and sweet. It goes just as well together as sweet and savory or as sour and sweet. You're on fire a little, but there's enough sweetness to put it out. And vice versa, by the way: sweetness with an addictive kick. Because we all know that chili peppers provide endorphins (happiness hormone).
Moreover, hot honey just goes with a lot of dishes. From sandwiches to pizzas, from barbecue dishes to toasted sandwiches. It can even be used in a salad or in a cocktail. And how about peanut butter with honey and chili pepper? Sounds like a heavenly idea to us.
Where do you buy hot honey?
Although hot honey is widely for sale in America, you still have to look for it in the Netherlands. In any case, there is HOT Honey from Deurne in the Netherlands (yes!), for sale via Heatsupply.nl . They harvest the honey at their own bee farm in Portugal, where the wild flowers thrive.
The Amsterdam boys Bas and Seger developed Sweet Heat  Hot  Honey at the same time, because they found the product indispensable in the Netherlands. "Nice on everything", according to the makers. Also cool: they don't use vinegar for shelf life, so their variety is less acidic than others. Available at Heat Supply, Wijmpjes Deli, De Kaaskamer van Amsterdam and Wijnhuis Amsterdam.
Otherwise, just make it yourself, as we did in our recipe for the ultimate breakfast sandwich . If you prefer to make a larger amount so that you only have to reach for a bottle / jar in the cupboard, you can make it yourself in a pan according to this recipe .