Pesto, the Italian sauce that makes almost anything delicious. Except Brussels sprouts. Oh no wait, this kale pesto fits very well with that. But we are going to make you dizzy with the most beautiful and unusual pestos that we have had on Culy for the past almost 10(!) years. Hold on tight for a culinary ride through pesto country.
8 variations on pestos
We can hardly choose, can you?
1. The mother of all pestos: alla genovese (basil pesto)
Before we discuss all those other pestos, we should of course briefly discuss the basics. You can call Alla Genovese the mother of all pestos, that's where it started. This sauce contains raw! (mashed) basil, Parmesan cheese, pine nuts, extra virgin olive oil, garlic and salt.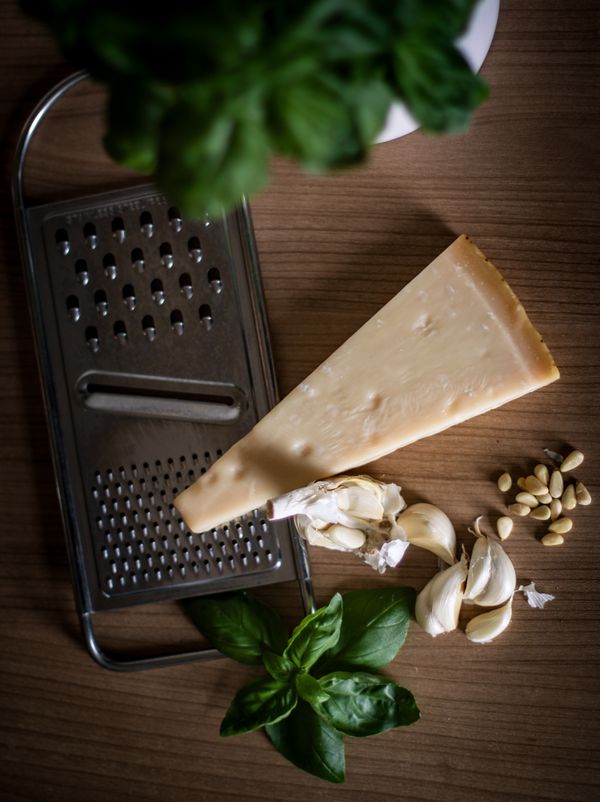 > To the recipe: Homemade basil pesto in 1 minute
2. Lemon pesto with a secret
An exotic foray from the original pesto is the lemon pesto. Culy's editor Winnie made it with pistachios, lemon juice and a sublime secret: candied lemons. With a particularly summery and fresh result.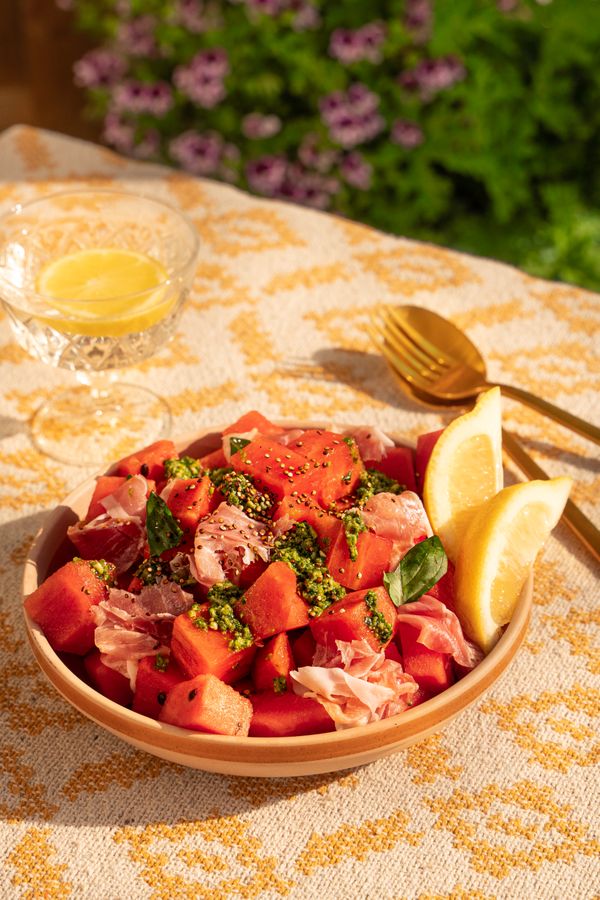 > To the recipe: Watermelon salad with ham and lemon pesto
3. Dill pesto with anchovies and pistachios
A special variant, which fits perfectly with a fish dish, is this dill pesto. This recipe comes from blogger Hanneke van Culinea . Hanneke: "This pesto made from dill is very tasty with fish such as salmon, but it also tastes great with a beet salad."
> To the recipe:  Dill pesto with pistachios and anchovies
4. Mint pesto
This pesto stays pretty close to the base, just replacing the basil with mint. A small change but a world of difference. Use mint pesto with a quick pasta or gnocchi, but also think of couscous or a salad of grilled vegetables. Perfect for a summer day. We certainly don't want to deprive you of this variation of mint – pea pesto .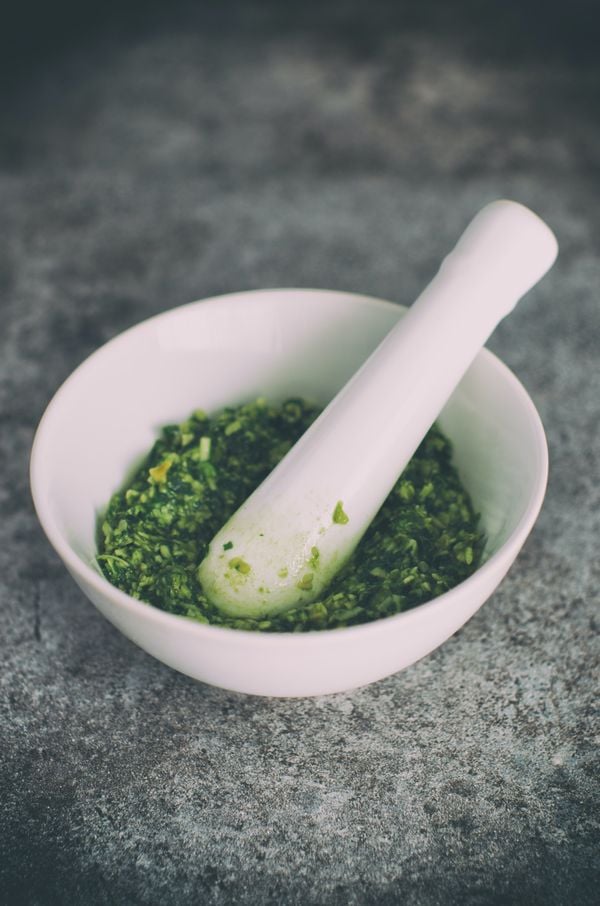 > To the recipe: Super-fast gnocchi with mint pesto
5. Winter Kale Pesto
The kale is first blanched and then mixed with pistachios, Parmesan cheese and garlic. A completely different taste, more wintery, but definitely worth a try. Especially on this pizza with potato, kale pesto and pistachio . Or with Colette Dike's (Fooddeco) gnocchi in her cookbook De Nieuwe Winterkeuken.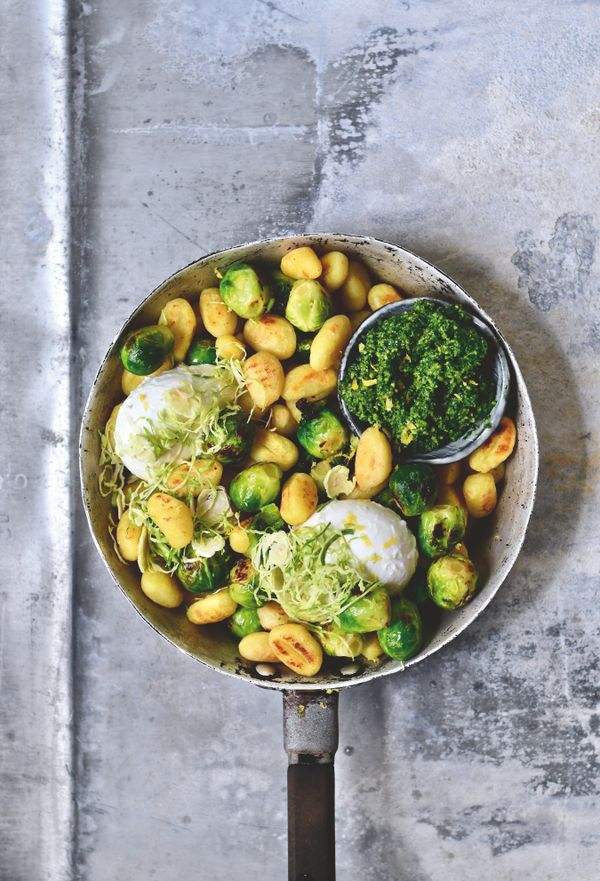 > To the recipe: Baked Brussels sprouts & gnocchi with kale pesto
6. Watercress or arugula pesto
Watercress and arugula are lettuce varieties with a spicy taste, which makes them perfect in a pesto as a substitute for basil. We once got this recipe from Chef Arvid Schmidt of this divine watercress pesto , which is still fresh in our minds. Or this one from Crisp, which combines arugula pesto with white asparagus. Or this spicy version with watercress, green chili and lime. Yum!
6. Parsley and Other Herb Pestos
We could go on and on in the herbs category, in fact you can make pesto from all soft herbs, such as this fine parsley pesto with walnuts or a lovage pesto . Because you can make perfect pesto from leftover herbs in your fridge (or from the herb garden).
Tip : secretly add a squeeze of lemon juice and wait before adding the cheese, then the pesto (if you can still call it that, but in this article we go far about the skewed) will stay good for much longer!
7. Nut Pestos
Pine nuts are an essential part of a pesto, but (perhaps because of the price?) they are often replaced by other nuts. By using other nuts, you immediately get a completely different taste experience and openings to dish combinations that you did not have before. So don't linger on the pine nuts, but also take a trip to hazelnuts, macadamias, pistachios, cashews or Brazil nuts , as Ella Woodward once did spectacularly.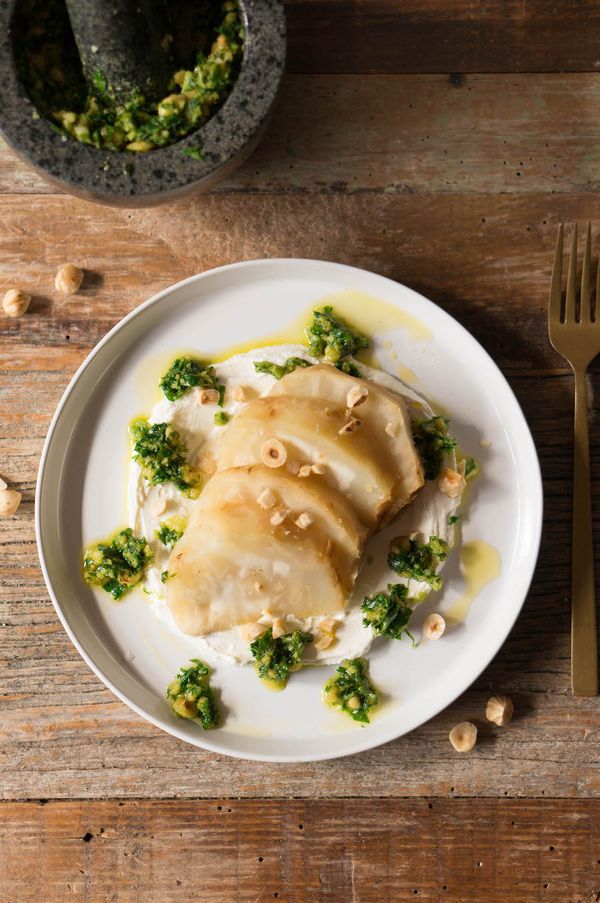 > To the recipe: Roasted celeriac with hazelnut pesto and curd
8. Red pesto
A pesto that is not green but red? You see that more and more often, the addition is usually (sun-dried) tomato and sometimes a bit of spice by means of a pepper or chili flakes. The New York Times cooking page (save it as a bookmark!) has a recipe for spicy red pesto pasta that should be on your quick to-do list or pasta with red pesto, nduja and burrata below.
Want even more pesto?
Crostinis with creamy cheese pesto

Easy pesto sandwiches for a drink

Ravioli with pesto and chanterelles

Pumpkin with burrata and pesto from the barbecue

Pasta with basil pesto, haricots verts and potatoes (pasto pesto, but good!)