The number of places for good pizza has been expanding in recent years. With a view to all those cool new pizzerias and the golden oldies, we made a list of our favorite hotspots for pizza in Amsterdam.
'Cause pizza is not a trend, it's a way of life…
7 x the best pizza in Amsterdam
1. PizzaLab
PizzaLab has recently opened on the Amsterdam Zuidas. In a place where you might not immediately expect it, you will find very good Neapolitan pizzas on the menu. Such pizzas with a thin base, a fluffy crust and ingredients that are so fresh that you stop for a moment.
The menu includes both classic and contemporary options. In the latter category we recently tasted the 'Happy Pig': pizza with cime di rape, burrata, homemade sausage meat, yellow tomatoes and lemon zest. Do you now understand why we are so lyrical?
Also good to know: at PizzaLab you can also order gluten-free pizzas, with dough made from rice flour.
Address PizzaLab: George Gershwinlaan 534, 1082 MT Amsterdam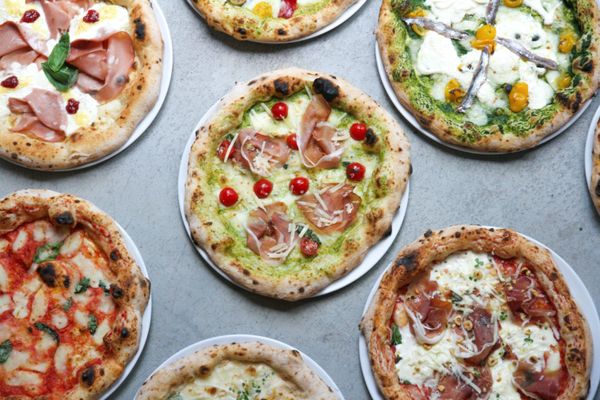 2. nNea
To be fair, our love for Neapolitan pizza most likely started after our first visit to nNea. In fact, dough master Vincenzo Onnembo turned our pizza world upside down for a moment. This pizza baker 3.0 mixes the Neapolitan tradition in his dough mill with a hearty pot of bakery science.
His pizza oven then produces pizzas that are extremely fluffy, with a high raised edge. Go to nNea, put the scissors in your pizza and enjoy exciting combinations like endive, olives, anchovies, lemon, Provola cheese and pine nuts (the Scarola) or one with Borlotti beans , Provola cheese,  guanciale (a kind of soft panchetta) and Jerusalem artichoke chips (the Entroterra). Yum!
Address nNea: Bilderdijkstraat 92, 1053 KX Amsterdam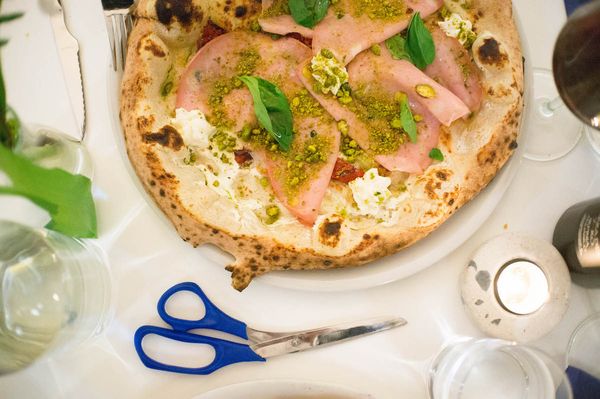 3. The Pizza Bakers
With their credo 'Pizza & Prosecco', the Pizza bakers have become a fixture in our capital (and beyond!). In contrast to the previous two pizzerias in this list, the pizzas are not prepared in Neapolitan or Roman fashion.
This is characterized by a thin, crispy crust with the delicious taste of the wood oven. Moreover, they regularly enter into cool collaborations at De Pizzabakkers. Some time ago, for example, they managed to get Bart van Olphen (from Fish Tales) for the tastiest fish on their pizzas. Stay tuned for more , we would say… Want to taste it? The Salami finocchiona with tomato, mozzarella and Tuscan fennel salami.
Check the website for the addresses of all De Pizzabakkers restaurants in Amsterdam .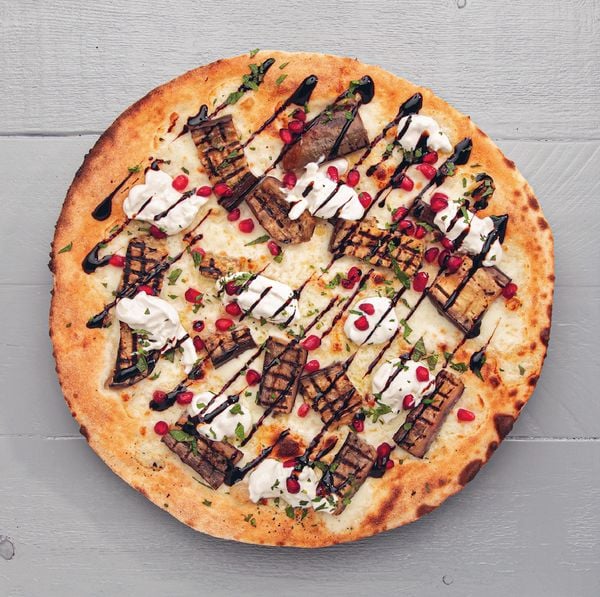 4. Euro Pizza
If there's one thing we owe to the lockdown, it's Euro Pizza pizzas. Restaurant Europa in Zaandam decided to change course and focus on pizzas. And oh my god : how well they do it.
With their 'deep wood fired sourdough pizzas' they make creative pizzas with exciting ingredients. A selection from their offer: the 'nduja red pie' with ' nduja , mozzarella, ricotta, nettle,  amaranth ,  doenjang and tarragon honey. Or the 'margherito extra pie' with Comté, mozzarella, ricotta, smoked tomato, miso and basil.
Incidentally, Euro Pizza is also just a very nice place in Amsterdam-Noord where you can enjoy a good glass of natural wine and contemporary smaller dishes in addition to pizza.
Address Euro Pizza: Gedempt Hamerkanaal 78, 1021 KP Amsterdam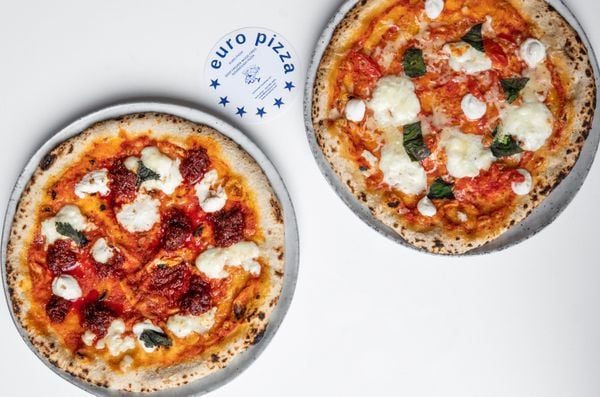 5. No Rules
No Rules is – as they say themselves – "Not another pizzeria", but a restaurant/bar that dares to flout all pizza rules. Pizza with kimchi, curry sauce, mozzarella, yogurt and furikake? Pizza Carbonara with cream cheese, pancetta, parmesan, egg and lettuce? Nothing is to crazy.
In addition to great culinary pizzas, they also serve creative dishes such as ceviche or smaller pizzettas. And the craziest of all? It still works.
Address No Rules: Marie Heinekenplein 5-8, 1072 MH Amsterdam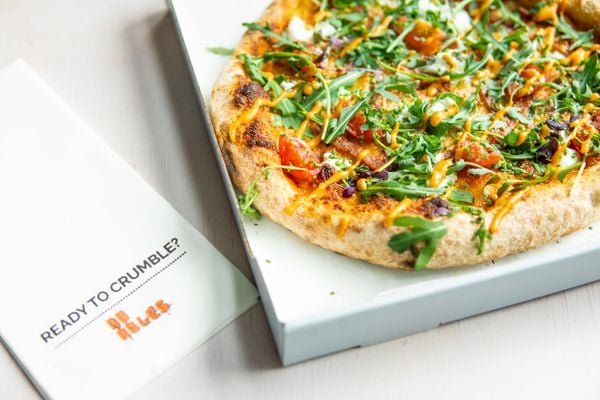 6. Mangiassai
In addition to all those hip concepts, you would almost forget that there are also traditional gems to be found in our capital. Mangiassai is one of them. Don't expect kimchi on your pizza here, just the rock-solid real deal . San Marzano tomatoes, homemade sausages from their wood oven, mozzarella from Campania… The ingredients are placed on the homemade Neapolitan pizza bases with care and precision.
Always dreamed of a trip to Naples? At Mangiassai you are already well on your way.
Address Mangiassai: Ruyschstraat 42HS, 1091 CD Amsterdam
7. Chez Miné
Chez Miné has a nice selection of pizzas on the menu: not a lot of choice, just something for everyone. One with 'nduja for those who like spicy or a very good vegetarian version with ricotta and mushrooms. Tip: before you tackle the pizza, order some polenta fries (divine) and don't forget that bottle of Piquette .
Address Chez Miné: Bos en Lommerplantsoen 1, 1055 AA