Thinking about what to eat every week can be quite a challenge. To ensure that you do not put the same dishes on the table every week, we are happy to inspire you with handy weekly menus. Cooking for children is not always easy, sometimes you can even start to dread it. But cooking with children is a lot of fun and ( insight!): they usually eat better too!
Children cannot prepare an entire meal on their own. But give them a specific task (depending on the age and abilities of your child) and you will see that a world opens up to you. An evening meal without fuss? It just might be.
Need more inspiration? View all weekly menus
Oh, and are you preparing one of these recipes next week? Take a picture of it, share it on your stories (or your Insta-grid) with #culyhomemade  and  @culynl  and we'll share your picture via our  Instagram account !
Monday
Gnocchi from the oven with a kind of divine basic bolognese sauce, that makes almost every child's mouth water. Especially if they can cut the zucchini themselves and mix it with the gnocchi on the baking sheet. Let them taste it too! Halving the tomatoes is also a nice job for the little ones, they can also enjoy a bit of healthy candy at the same time.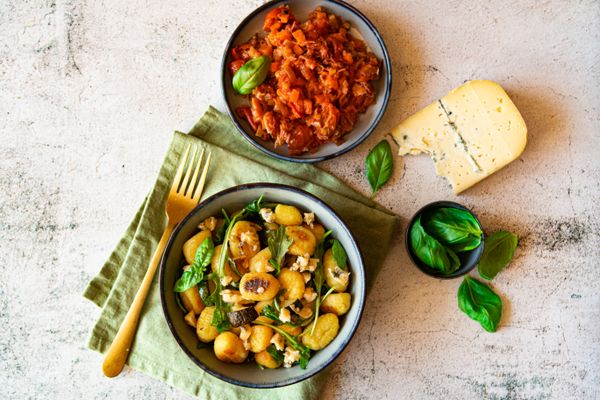 > To the recipe: Culy Homemade: quick pastrami ragù with gnocchi from the oven
Tuesday
You can put this stew of pork and pineapple with rice together. While it simmers there is enough time for a game (with each other or on the phone). You cut the meat and they can help chop the pineapple and add the seasonings. And taste it! Tastes different than pineapple from a can.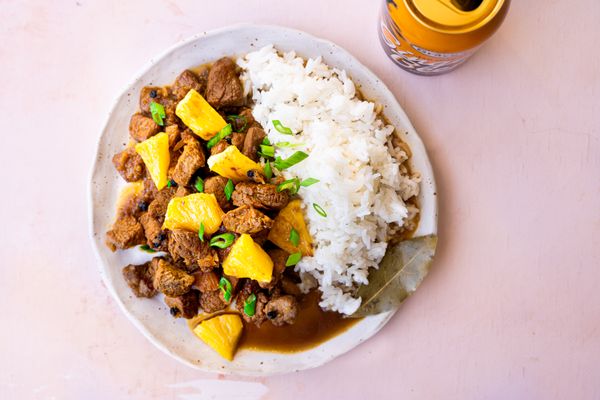 > To the recipe: Culy Homemade: adobo with pork and pineapple
Wednesday
Okay: sausages and vegetables in pudding batter are typically something for children, but adults are guaranteed to enjoy this too. Making batter is really a fun child's task. Let them operate the buttons (under supervision and with the lid on) or put them to work with a whisk. Fun for 10!
> To the recipe: Culy Kids: toad in the hole (casserole with sausages, apple and leek)
Thursday
There is nothing more fun than turning meatballs together. Let go of the idea of ​​perfect, even balls and you will have the greatest fun together. Then you put this oven dish with meatballs, tomato sauce and mozzarella in the oven for a while and you're done.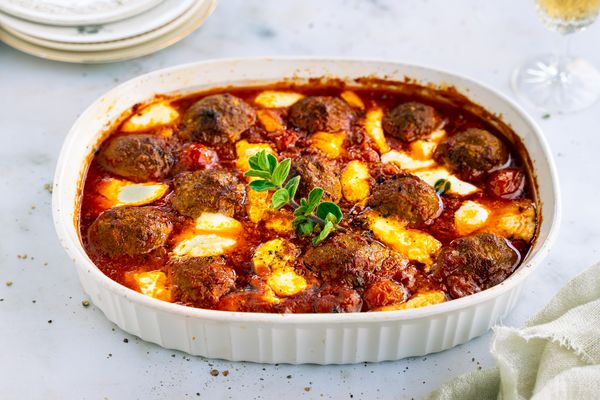 > To the recipe: Culy Homemade: casserole of meatballs in tomato sauce (meatball bake)
Friday
Besides the fact that the children will find this pita with chicken satay and mango salsa more than average (and you will too!), they are a fun job to tackle together. Marinating together and slicing the mango (for the little ones cut off the pulp from the mango): nothing so much fun. And again: let go of the perfect strips as they are in the photo, that probably won't work.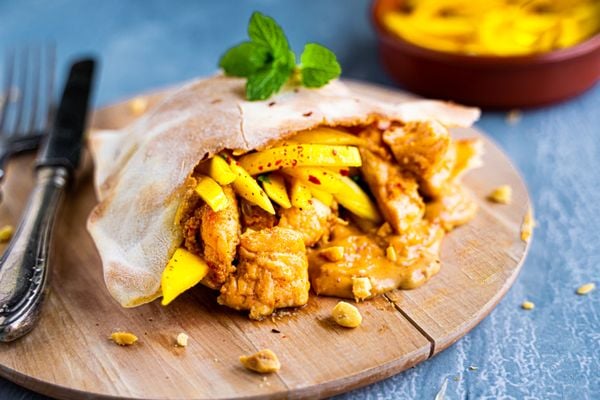 > To the recipe: Culy Homemade: pitas with chicken satay and mango salsa
Saturday
The weekend is the time to get together and sleep in (if you can do that with the little ones). Or dive into the kitchen to make these pizza croissants together. Roll together and fill with your favorite toppings!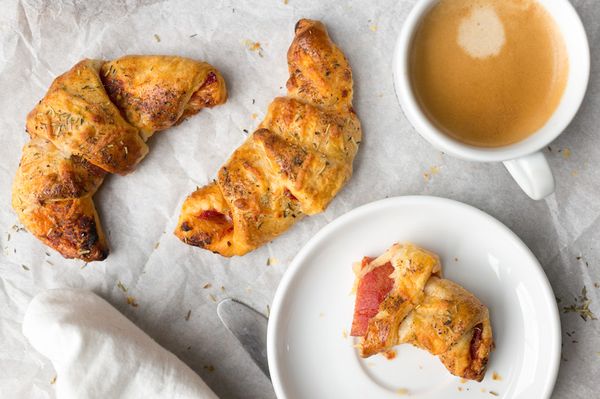 > To the recipe: Culy Homemade: super fast pizza croissants
Sunday
Sunday is baking day, all together with the children. Accept that they mainly want to lick the batter off the spatula and that the chocolate chips and bananas are on the ceiling. The result is cozy and very tasty. Then have them run 10 laps around the block to avert the sugar rush and make a pot of tea. Enjoy together.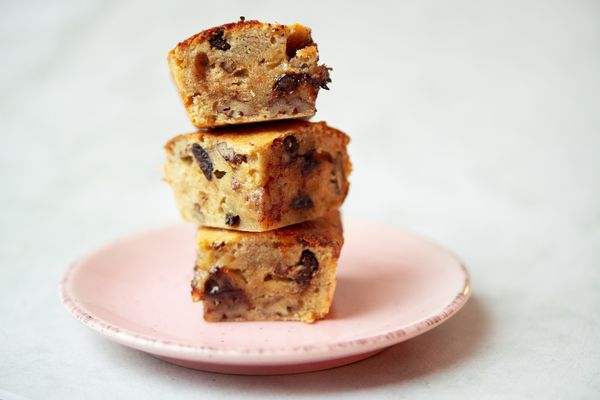 > To the recipe: Culy Homemade: banana bread blondies with pecan nuts