Witloft's leather aprons have always been a bit of a mess (the same goes for their denim aprons ), but now they're getting really special. None other than tattoo king Henk Schiffmacher designed two exclusively tattooed leather aprons in cognac color for the brand. Believe us: you want it.
Henk Schiffmacher x Witloft
The end result is not only very beautiful, but also tells a special story. The two designs, for example, are based on meat culture and its preparation and preservation by indigenous tribes. Schiffmacher has been a big Witloft fan for years and took the plunge himself to convince the label of a collaboration.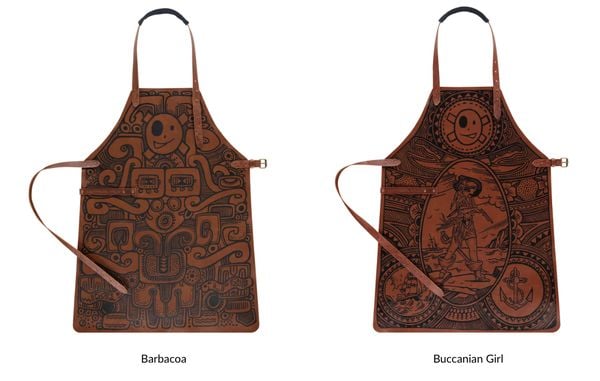 Barbacoa and Buccanian Girl
The leather aprons are handmade and produced in the Netherlands. The first design bears the same name as one of our favorite dishes: ' Barbacoa '. Schiffmacher wants to tell the story about the origin of barbecuing among indigenous peoples in Central America. This often took place underground, where the whole animal (or large pieces of meat) cooked on coals for days. Later on, Barbacoa even became an art form with unique shapes and silhouettes, according to the tattoo king.
The 'Buccanian Girl' apron is a reference to merchantmen (pirates) who used to cross the ocean to areas where indigenous peoples lived, to adopt their techniques of preparing and preserving meat.
The aprons are for sale in limited edition for € 159.95 at Hanos, Bijenkorf, Fonq, the nicer kitchen stores and of course online via www.witloft.nl . 
More cool gadgets:
Spring is in the air: 7 x tasty spring gadgets for foodies

Finally: with this trick you can easily 'pull apart' meat (for your pulled meat)

The best wine gadgets/tools for wine fans