Pasta alle vongole with garlic, white wine, small pepper and parsley is in its simplicity so incredibly beautiful and delicious that we hardly dare to write this article. But cockles deserve a big stage with all the goodies that can be made with them and pasta. And we give it to them. With a twist.
Pasta alle vongole (with a twist)
1. Vongole Rosso
With a pasta alle vongole, you often see the addition bianco, which means (logically) white. But there is also a slightly less well-known variant called vongole rosso, or red. This vongole is made with tomatoes and red wine vinegar. Our Culy friends from Fishtales already wrote a brilliant recipe for pasta with cockles in rosso or check our own vongole in tomato sauce .
Also nice, this one from Jamie Oliver, who goes one step further and uses rosé instead of red wine!
2. Spicy spaghetti vongole
In the original recipe, a little pepper is often used for an extra bite. Think of chili flakes or a finely chopped red pepper. But you can also go much further, as Jamie Oliver shows with his spicy spaghetti vongole . He combines the vongole rosso with an arrabbiata and squid. Do you already have the ingredients on your shopping list? We do.
3. Vongole with an Asian twist
Of course they give these shellfish a special twist in Asia, they know how to handle that. Like this Japanese vongole with sake and soy sauce and ginger from Cookpad is phenomenal, yet again in its simplicity. One that we certainly don't want to withhold from you is this Thai vongole , which gives a special twist with a few small, local adjustments.
4. Black pasta with vongole
You may have noticed, but vongole is always eaten with a string of pasta (or with a string of zucchini , you can too), and for a reason! Then the sauce will stick well to the strings and you will get all the flavors in 1 bite. And that's nice! This is of course also very good with black pasta and that also looks very nice on the plate.
Black paste is made black by squid ink. That sounds weird, but it's completely tasteless and gives a jet black paste, which looks super cool on the plate. This black pasta is often served with seafood. Two recipes in this category to feast your eyes and stomach: vongole with squid and nduja or this black pasta with chorizo .
Tip : squid ink can be bought at the better fishmonger's or wholesaler. Very nice to surprise your guests with.
5. Pasta alle vongole with chorizo ​​or pancetta
Pasta alle vongole is often combined with chorizo, pancetta, bacon or other meats in this category. Cut these very finely and bake super crispy, they give an extra crunch, fat and an extra 'oempf' to the cockles and the pasta. Delicious as in this easy pasta with chorizo ​​and cockles .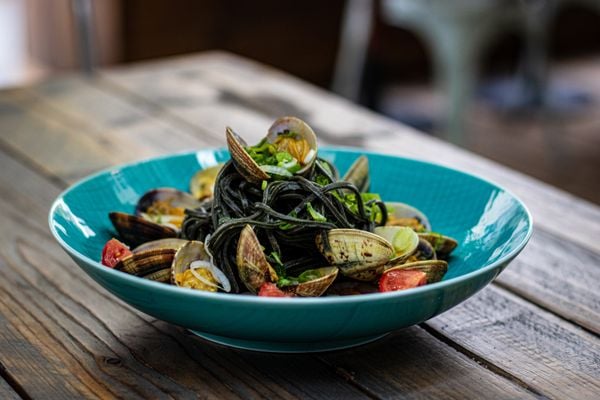 Good to know: vongole officially means clams and not clams, as is often thought. Nevertheless, the vongole in Italy is also often made with cockles, often because of the price. Clams are slightly larger, smoother and flatter than cockles, but do not differ much in taste. Clams are more readily available here, so we give ourselves this gastronomic freedom.