Do you want to eat less meat, but are you a huge fan of satay? Then replace that chicken satay with vegetables or other ingredients! After all, there are a lot of things that you can marinate in soy sauce with garlic and herbs, stick on a skewer and then roast. You will be amazed at how delicious that is. Or maybe not, because the satay sauce actually gave it away already…
Pro tip: if the weather is nice, make this satay on the barbecue. Real satay – just on the street, in Indonesia – has that typical smoky taste, which is complemented by the satay sauce.
It will be extra tasty if you brush your satay, when it is over the fire, with sweet soy sauce. This caramelizes a bit and makes your satay sweet and crunchy. Is your mouth watering yet?
You can make satay out of this!
Satay without meat
Tempeh  

satay 

 is delicious! Tempeh, a meat substitute made from fermented soybeans, is a lot meatier than tofu. And a lot sturdier, so there is less chance that it will literally fall off its stick. Earlier, for example, we made this 

tempeh satay with peanut sauce and yellow rice

 . Recommended!

Another commonly seen meat substitute are  

oyster mushrooms

 . You can easily marinate them (in soy sauce mixed with 

chili oil,

 for example) and then stick on a stick and roast.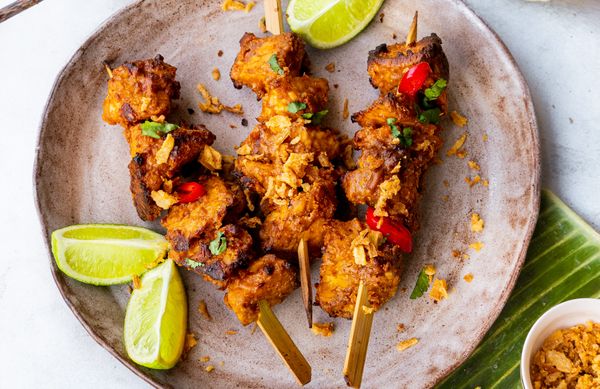 Ever heard of  

telo 

 ? That is the name for boiled and fried 

cassava

 , which is often eaten with 

cod

 . Put it on a stick and you have practically satay! Cassava and 

spicy peanut sauce

 go very well together, and ginger also goes well with it. Do you want to make this on the barbecue? So make sure that you first boil the cassava for about 20 minutes.

Earlier we shared carrot 

 satay 

 from the children's cookbook 'Eten met Miffy'. The carrot is roasted in the oven with soy sauce, garlic and ginger, and served with peanut sauce to dip the pieces in. And if Miffy says it's tasty, then of course it is.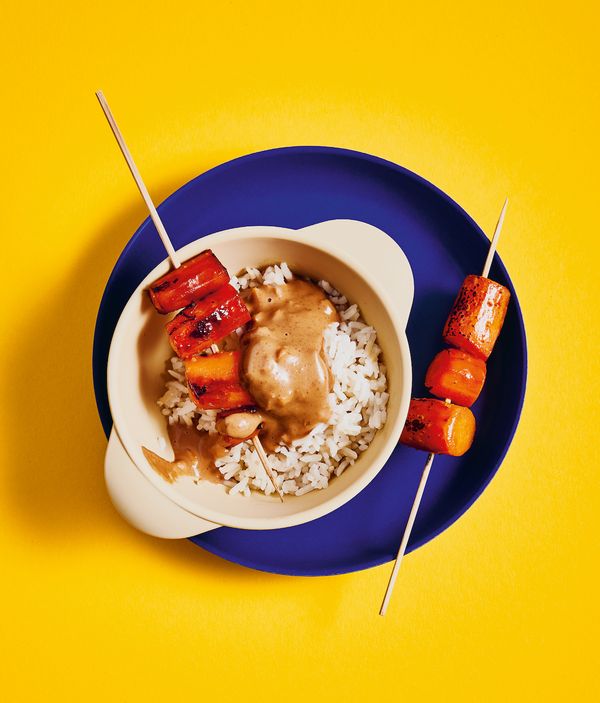 In addition to oyster mushroom, carrot and cassava, there are many other vegetables that you can use to make satay – basically anything that goes well with Asian dishes. For example, think of  

zucchini 

 and  

eggplant

 , or something less well-known like 

jackfruit

 . The following applies to everything: marinate in soy sauce with seasonings (such as sambal), add homemade satay sauce and success is guaranteed.

In addition, you can think of sweet satay (yes, you read that correctly) from, for example  , 

plantain

 , as it is written in the fantastic cookbook 

INDOSTOK

 . To enjoy!
Satay with meat
In Vietnam you will also find a lot  of 

octopus 

 with satay. That's still on our 'to taste' list, but who knows, you might be ahead of us. Make it yourself? Then you can use 

this Vietnamese recipe

 , for example . You can also make satay from some other types of fish, such as 

cod 

 or  

white fish

 .

In addition to chicken, beef and pork, other types of meat are also used for satay. For example, you can think of  

goat meat 

 or  

lamb. 
In short: experiment! You will have no regrets.