Ready super fast, full of flavor and also  comfort food  at its best: yup, that's  fried rice . And it sounds so easy: fry vegetables in a pan, add boiled rice, stir and bless you. Still, there are a few things you need to know for the perfect fried rice you get in restaurants.
So: put the rice on the fire and read along in the meantime.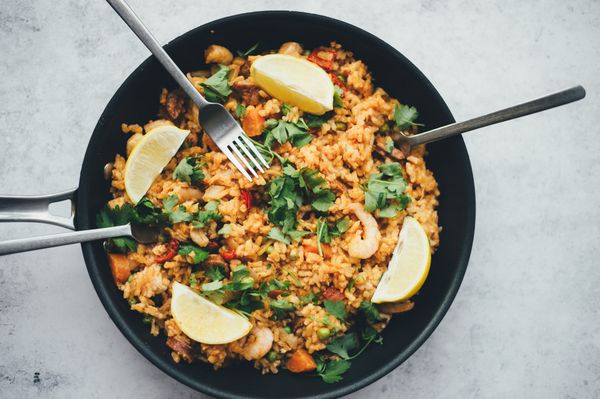 When is  
fried rice
 perfect?
You know what they say about love: when you've met the one, you know it. It is the same with fried rice. The perfect  fried rice  tastes different for everyone, but in general it is nice and fluffy and the rice is a bit crunchy.
What fried rice certainly isn't, is sticky . The grains of rice in this dish are individuals, not a clumped family. We also recommend not using too much soy sauce. Rice from Chinese take-away is sometimes very salty, but a subtle taste is often a lot better.
The tricks for your fried rice
Tips for the rice
Number one: never (we repeat: never) use warm rice. Warm rice becomes soggy and sticky and absorbs the flavors much less well. It is best to use rice that you have cooked and refrigerated the day before, or at least a few hours before.

If you don't like the preparation, you can also cook rice, spread it out on a baking sheet and place it in the freezer covered with plastic so that it still gets really cold. Or at least let your cooked rice evaporate well, so that all the moisture goes out. Wet rice does not bake well.

Wash your rice before cooking it; this ensures that it will stick less.

Jasmine rice or long grain white rice (such as basmati) are fine to use because they are quite firm and don't stick as quickly. Loosen the cooked rice with a fork (or your hands) before baking so that all the grains are loose.

Are there still lumps in the rice in the pan? Then put a little bit of water on them so that they fall apart.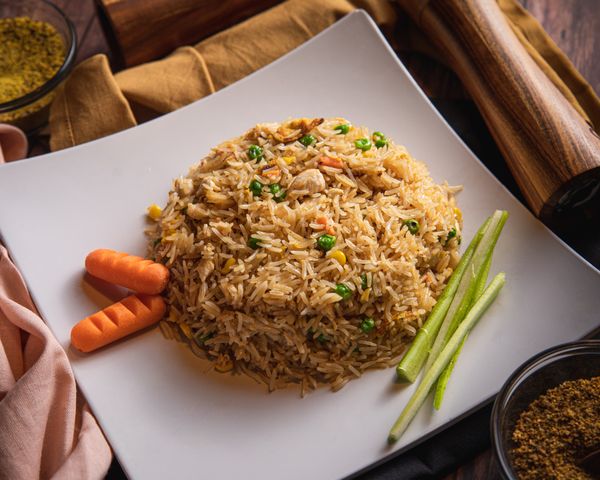 Other tips for your  
fried rice 
Use (unsalted) butter instead of oil for frying. That is not only extra tasty, but also ensures that your 

fried rice

 turns nicely brown.

Fry your rice on high heat. Then you actually bake it, instead of the rice steaming further.

Add lots of vegetables, this gives your dish taste and bite. Note: add the same amount of each vegetable to the rice, for a nice distribution.

Don't just add a raw egg at the very end, which then bakes (or actually dries) in your rice. Instead, make almost cooked  

scrambled eggs 

 before adding the rice to the pan and set them aside in a bowl. Then make your dish and add the egg again at the very end. This way the rice and the egg remain fluffy.

Only add the sauce (soy sauce and oyster sauce) when the rice is already warm. Then it is better distributed over the  

fried rice

 . Add sesame oil when the pan is already off the heat.

Sweet to light rather than dark soy sauce, this is best. The goal is also to add just a little, not so much that the rice turns completely dark brown.
And don't forget: practice makes perfect!
More tasty recipes with rice:
Culy Homemade: tempeh satay with peanut sauce and yellow rice

Culy Homemade: rice bowl with crispy duck and wasabi mayonnaise

Culy Homemade: rice with broccoli and shrimp with honey soy sauce