We have a small suspicion that almost every household has a pack of fish fingers in its freezer. Just for 'eating emergencies', or when you don't feel like doing anything extra. We totally get that, but as soon as you notice how easy and delicious it is to make fish fingers yourself – especially with the airfryer – then you get that energy and sense.
Believe us, before you know it you'll be turning on the airfryer at 10 o'clock in the evening for this crispy midnight snack.
Make your own fish fingers
There are many roads that lead to a fish stick, but not many that produce a really good crunch. And nothing is more disappointing than a limp fish stick with a soggy crust, so you can read a lot.
Culy's Nancy already made a very clever variant with Parmesan and panko from the oven , where the Parmesan provides that extra bite. But Donna Hay also has an ingenious variant with proteins and rice flour . Also consider fish with a tempura batter, you probably know that from tempura shrimp, but this batter goes well with almost everything.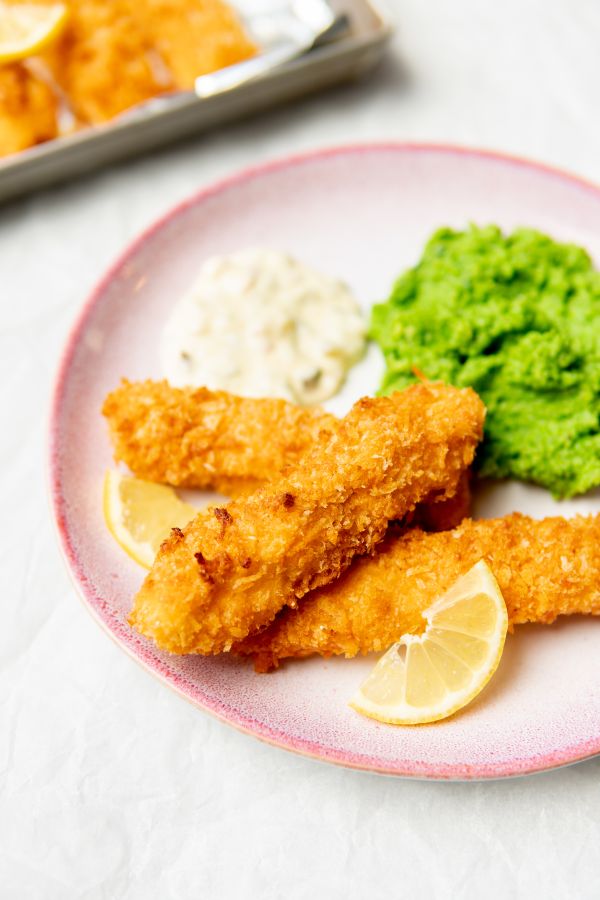 Make extra crispy fish fingers from the airfryer yourself
You can of course throw the homemade fish fingers in the fryer, but then you will get a very greasy result. And the big advantage of the airfryer is that it doesn't bother you. So get that airfryer ready on the counter and you have a super crispy fish stick in just a few steps.
And those steps are:
Thaw a white fish and cut it into strips like a fish stick. Pat the fish a little dry.

Prepare 3 plates, one with flour, pepper and salt, one with beaten egg and one with panko.

Dip the fish first in the flour, then in the egg and then in the panko. Shake off too much panko.

Place the fish fingers in the airfryer at 200 degrees for about 12 minutes. Enjoy!