If you are a fan of Asian cooking, chances are you have a jar of crispy chilli oil in your pantry. There is also a good chance that it is that version of Lao Gan Ma , the one with the angry grandmother on the label. But did you also know that you can use the crispy chilli oil in more ways than with your noodles or dumplings? We tip four.
Disclaimer: for the following dishes you have to be somewhat resistant to a good dose of heat. But we assume that you are – otherwise you wouldn't have that oil in the house, would you? If you prefer it less spicy, you can of course also dilute the crispy chilli oil with some neutral oil.
This way you can also use crispy chilli oil
1. Bake your eggs in it
What you can do with regular oil, you can also do with crispy chilli oil – just like frying eggs. We see many a food blogger doing it and we can only watch with enthusiasm. A fried egg fried in chilli oil is delicious on fried rice, with bibimbap or on avocado toast.
2. Use it as a pasta sauce
It was Job & Perry who convinced us with their recipe for gnocchi with crispy chili oil and parmesan how well the oil can also be used in pasta dishes. Should all Italians cover their ears now? Yes. But it doesn't stop us from quickly stirring a spoonful of the oil through our aglio e olio or arrabiata in addition to the gnocchi .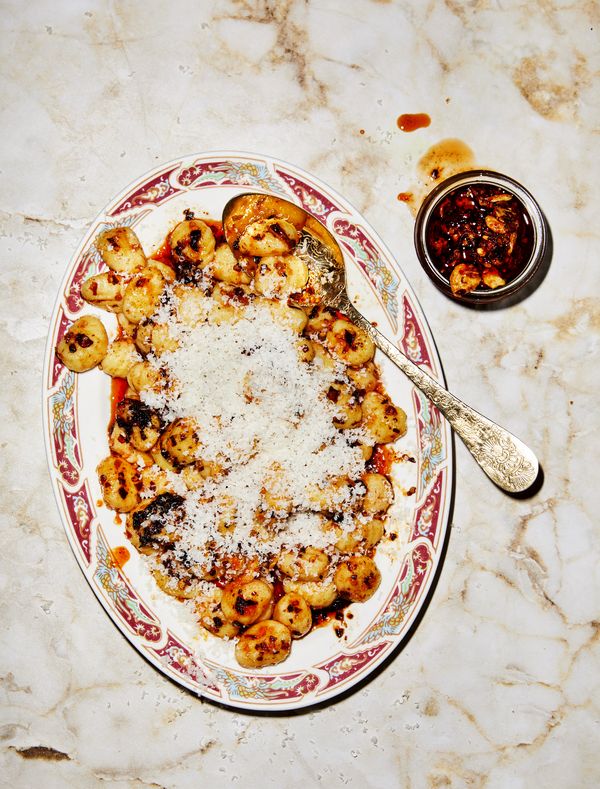 3. Spoon it over your burrata
Another genius idea – this time from the food bar at Hotel Pilar in Antwerp : make a spicy burrata with cherry tomatoes and some crispy chilli oil. Add a little fresh basil and some roasted pine nuts and you will forget all your worries for a moment…
4. Because of your guacamole
The smooth, creamy avocados could use some spicy company. If you like it spicy, spoon a little of the crispy chilli oil through your guacamole. That's guacamole with a little twist: perfect for your nachos. Prefer no avocados? You can also apply the principle to cream cheese or sour cream.
Crispy chilli oil is for sale at the toko. Like at Tjin's toko for € 5.95.