We ourselves are only too happy to add vegetables to our linguine or fusilli, but we also know that this is really not the case. Traditional pasta carbonara contains little more than eggs, bacon and cheese, and in Pasta alla Vodka you will only find some onion and tomato puree. In order to get your portion of vitamins (the R is in the month again!) we have listed the tastiest vegetable dishes for your pasta.
Because that semi-culinary salad is not only healthier than a vitamin pill, but also much tastier.
9 x vegetable dishes with the pasta
Grilled little gem
Of course you can just eat lettuce with tomato and salad dressing, but how nice is that? Instead, we like to cut a head of romaine in half and grill it briefly in the pan, and then top your grilled lettuce with a dressing.
For this grilled little gem salad , for example, you can make a simple dressing of anchovies, yogurt and harissa.
Grilled zucchini
We will stay in the grilled vegetable atmosphere for a while: grilled zucchini is also an ideal side dish for almost all pastas.
For example, we like to make a salad with goat cheese, pine nuts and fresh basil. Nice and fresh!
Grilled green beans
Ever eaten grilled green beans ? No? Tip from Flip Culy: change that as soon as possible.
They don't need more than a little oil, fresh garlic and some lemon juice. You don't even have to cap them! Half an hour in the oven and they will be deliciously crispy.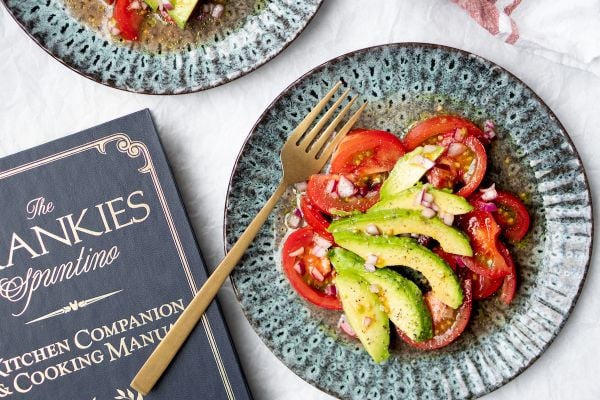 Simple tomato salad
When you make a dish with few ingredients, it is mainly about using good ingredients. This applies not only to pasta, but also to the vegetable dishes with your pasta.
For example, we made this tomato salad with only tomatoes, avocado, red onion, olive oil and red wine vinegar – but with good tomatoes and olive oil. Then you can turn something simple into something very tasty.
Caprese with a twist
Salad caprese is a real  classic : tomatoes, mozzarella, basil and a dash of balsamic vinegar . But of course you can also give it a twist yourself!
We did that, for example, by adding some slices of Parma ham. Not only tasty, but also nice for the  bite . If you also replace the olive oil with truffle oil, you're all set.
Sweet salad with fruit
We are always talking about vegetable dishes with your pasta, but you can also combine vegetables with fruit. Especially (grilled) peach, raspberries and strawberries do well in salads.
For example, combine it with grilled vegetables, fresh cheese and/or spinach or other leafy vegetables.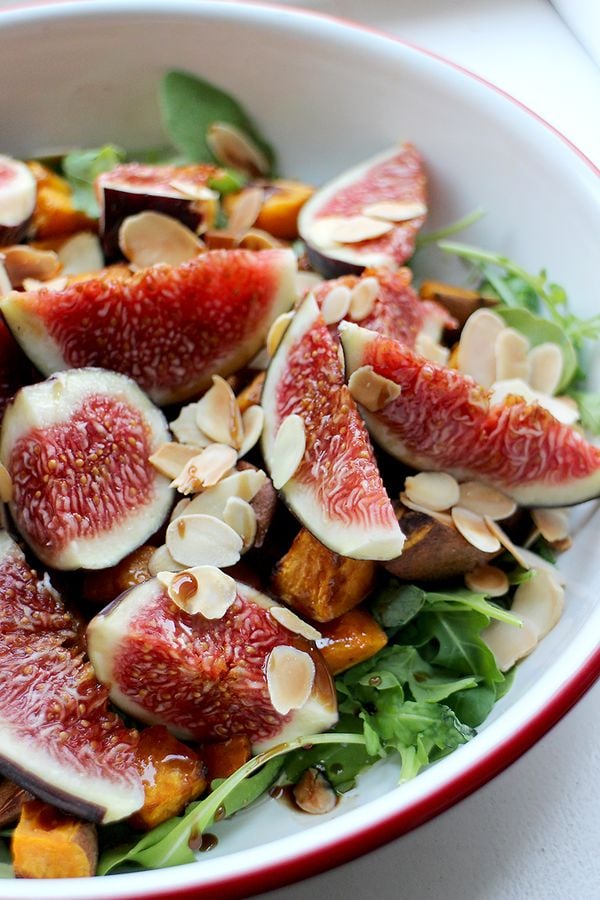 Everything with fresh figs
Okay, it's not a vegetable and they're not necessarily in season either, but fresh figs do well in any Italian (side) dish. Especially the combination with arugula, balsamic and almond shavings is a match made in heaven . Or, you know, at the supermarket.
Fresh broad bean salad
As if there isn't enough cheese in your food yet, you can of course also add it to your salad. This one with fava beans and artichoke hearts , for example.
This is of course best with fresh broad beans, but they are only in season in the summer. In winter it also works well with frozen ones.
Green salade
And of course you can always go for the 'regular' green salad – preferably with a homemade dressing (mustard, lemon juice and olive oil, for example) and possibly fresh herbs.
Actually applies to everything in this list: the fresher, the better!