There is a new cookbook on the market. Homakase, it's called. Now that happens more often, of course, that something new appears in cookbook land. And although so much fun has already been written, Homakase still stands head and shoulders above it in our opinion. Opening Homakase is like walking into a museum and immediately realizing: I want to stay here for hours…
Endless Universe
Homakase is the work of Oof Verschuren. Photographer by profession, but as is the case with creative souls, he had an urge to stretch his creative muscle much further. A fascination for Japan and an accidental but enthusiastic first introduction to sushi – years ago – led him to delve into Japanese food culture. During his exploration, Oof came across omakase , Japanese for "I'll leave it up to you, chef". And that is precisely what he was able to express his creativity in in the 10 years that followed.
At omakase you sit down as a guest and surrender to the (Japanese) chef and all the courses he chooses for you. In most cases you get a series of small, sushi-like dishes with pure flavors as a starting point. Yet omakase is also more than that: see it as an infinite universe in which you can endlessly discover, experiment and create as a chef. Or to put it in the words of Oof: "The almost infinite creativity that I can use in omakase only stops at the limit of my own imagination".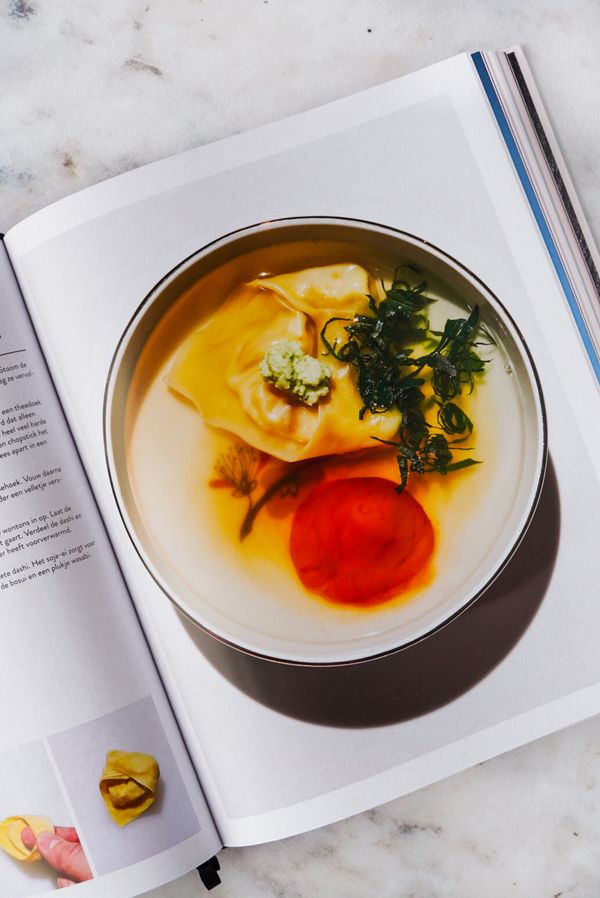 Homakase from Oof
Oof now passes on this endless creativity with Homakase, a wonderful cookbook in which he explains in great detail how to put together such an omakase dinner at home. Oof does this patiently and with precision. In Homakase you will learn the difference between aka miso and mugi miso, learn how best to wash sushi rice and how to shave katsuobushi . With Oof's beautiful step-by-step photos you will understand how to cut salmon using the hirazukuri method or how to prepare tuna belly according to the rules of the art.
In addition, the book is of course also peppered with ingenious recipes: from shrimp with wasabi to daikon futomaki and the perfect egg tamago. Oof cooked, photographed, designed and illustrated all of this himself. Are you starting to understand the comparison with a museum?
Guest at the chef
Our hearts did a double somersault when we heard that we can admire Oof's omakase skills in person. For the occasion, he and his wife Yvette van Boven invite us to their impressive kitchen.
Now we know few more creative minds than those two anyway, but what we got to experience at Oofs and Yvette's omakase menu was of a level that left us completely speechless. We don't want to spare you the details.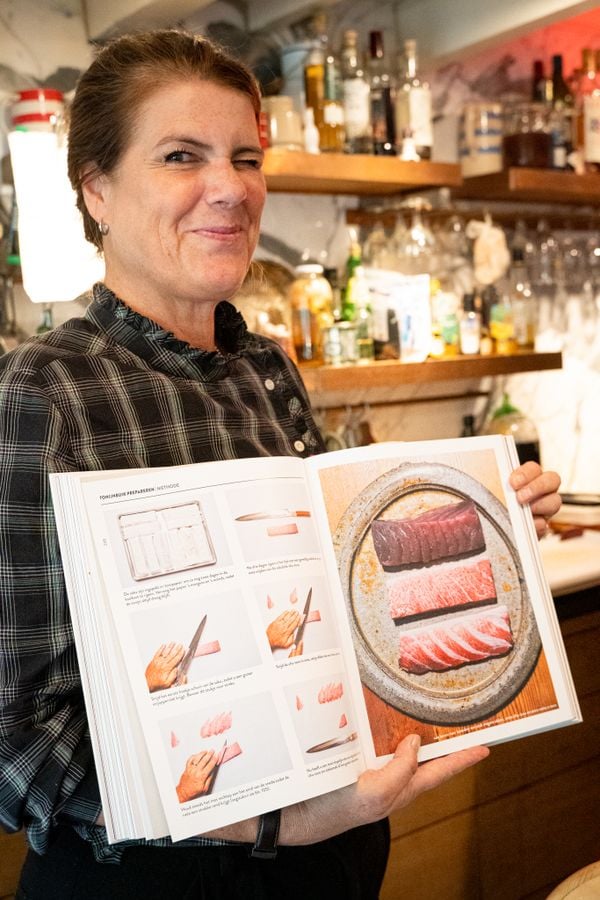 Pure, refreshing, different
With a select group we take a seat around the table in Oof's kitchen. The chef takes a central place, his eyes fixed on him. When Yvette serves us sake and Japanese tea, Oof is already busy with the first course. To do this, he arranges a combination of fermented, steamed and stir-fried vegetables on a rectangular plate. The wasabi he serves with it is of course not a fake version with horseradish from such a tube, but the one and only wasabi root that is grated à la minute – otherwise too much flavor will be lost.
In terms of taste, the combination of vegetables immediately sets the tone for the rest of the menu: pure, refreshing, different. And to think that we are only at stage 1… What follows are all small masterpieces. After 10 years of practice, Oof is now acting like it's nothing: relaxed he fillets the mackerel while we hang on to his every word about the food, the ingredients and the book. Of course that is also part of the entire omakase experience: rarely is the distance between chef and audience so small.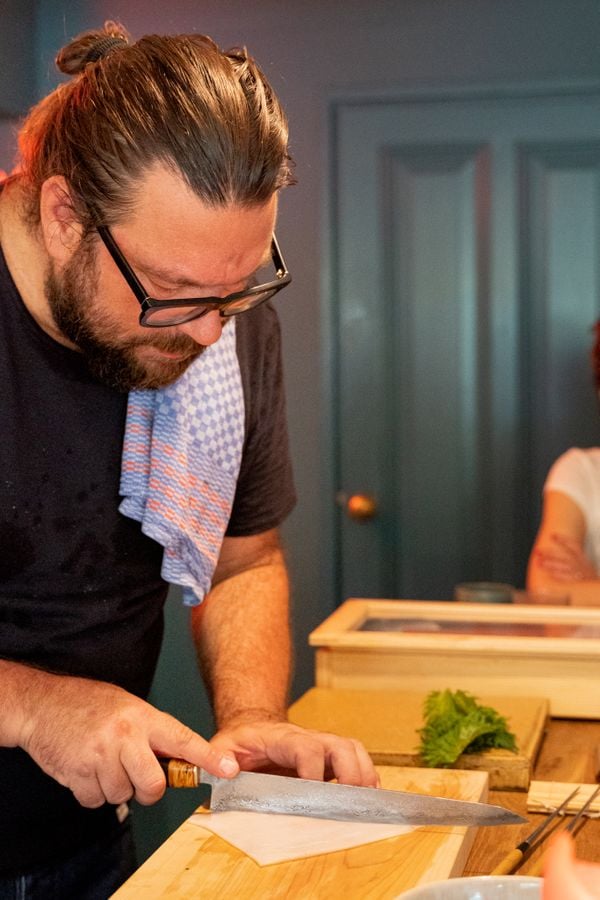 New Favorites
A little later, Yvette announces that her favorite dish is on the table: goma dofu. It turns out to be a jet-black block of sesame paste: topped with white soy dashi, topped with wasabi. We experience pure excitement when discovering all these flavors and new textures and have to agree with her: there is a good chance that this will be the first dish we will make ourselves from the book.
Oof also tips a product that we will often grab at the toko: shio kombu. This Japanese snack can best be described as seaweed strings with the texture of licorice and rolled in salt, a lot of salt.
It turns out to be a great garnish on the sea bass we get as part of an impressive platter of fish. In addition to sea bass, pickled cucumber, squid rolled in shiso and Japanese hamashi are also on display. All for the tastiest.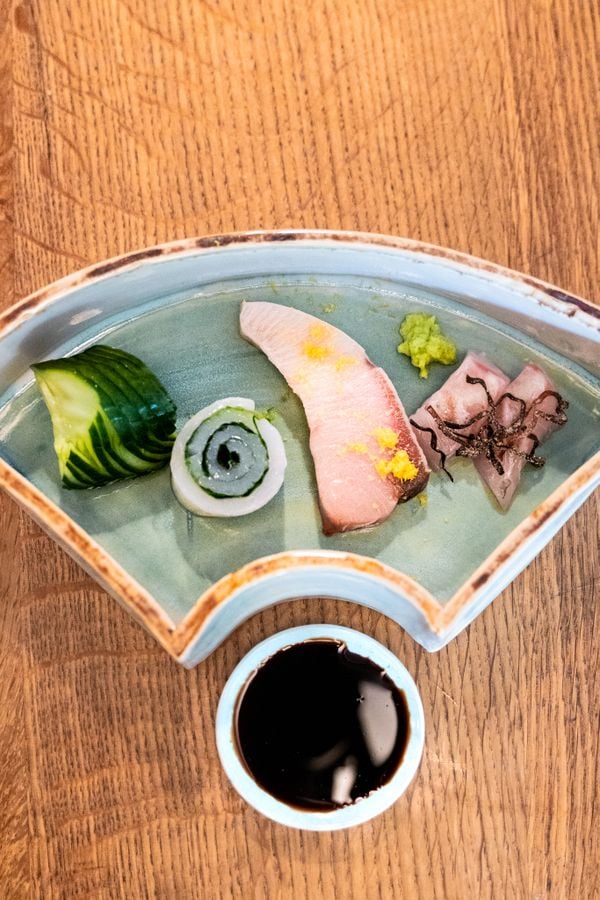 Fish soaked in miso
There are many more ooohs and aaahs that afternoon. For example, there is a dish of grilled mackerel, which "slept for two nights" in a mixture of miso, soy and mirin. It is a technique that we want to use immediately, because man, what a delicious fish soaked in miso.
Admittedly, it may all look a little intimidating ("How are we ever going to be able to do this ourselves?"), but Oof promises that it will all be okay. Also, don't think of omakase as a way to feed your family on a weeknight, but as a new culinary branch to focus on, serving food for special occasions.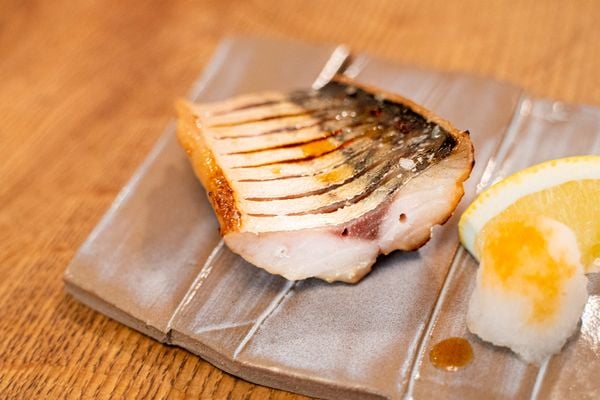 Later, a sublime Japanese broth (dashi) is served, served in traditional lacquerware. It is delicious with the cup of sake "which tastes a bit like foam bananas". We hardly think it possible, but the love for the dishes from Homakase is increasing exponentially.
Even at a time when we think the omakase menu has reached its peak, Oof starts his nigiri undisturbed – it just keeps going. There is an air of compliments and admiration – "This is the most elaborate salmon-cutting facility I've ever seen".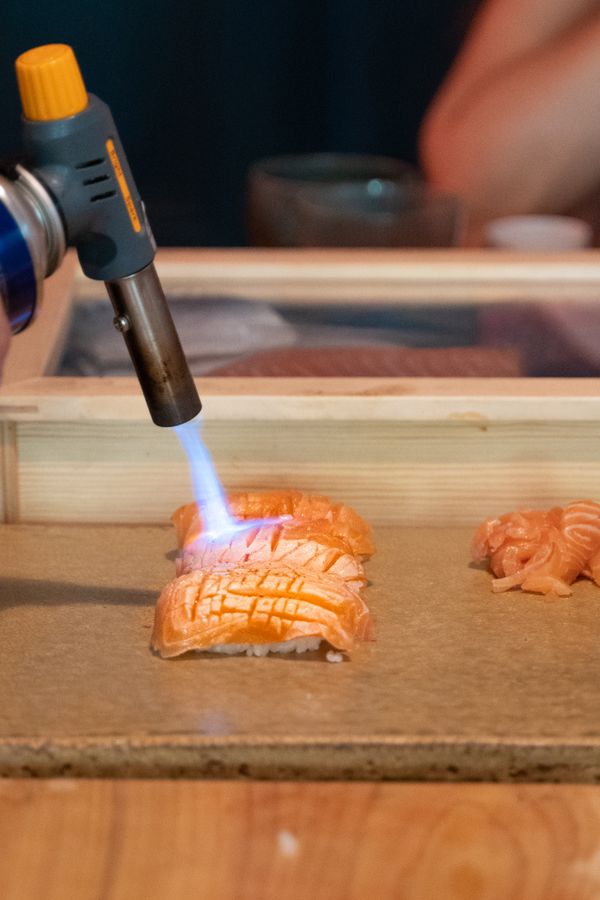 "You shouldn't eat nigiri with chopsticks, but just throw it right in", Oof impresses on us. We do. It is without exaggeration the best nigiri we have ever had in our lives. It goes without saying that the average sushi you've had in your life is rather sad compared to Oofs nigiri from Homakase.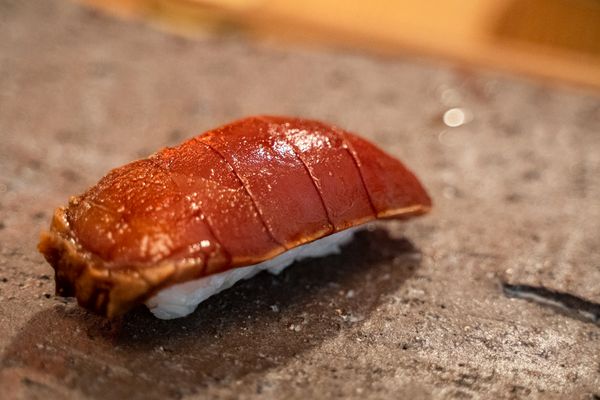 For one last dish, Oof conjures up his perfectly cooked egg tamago on his cutting board. He demonstrates how such an omelet is made in a specially designed square pan – information that you will of course also find in the cookbook.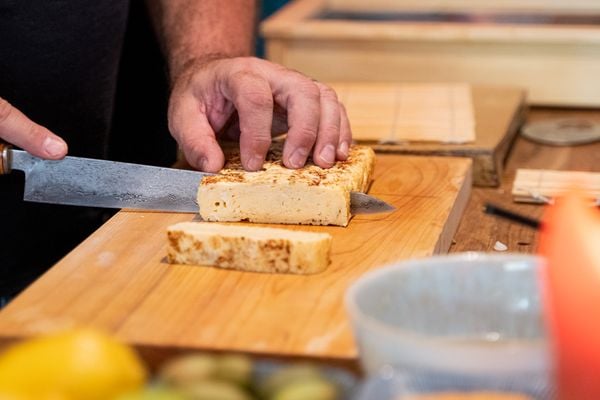 light trance
What more can we say? That we return home in a light trance. That we have inspiration for ten and that we can only dream of one day serving such a fantastic dinner to our friends.
Furthermore, we will not keep you up anymore and we especially recommend that you dive in Homakase yourself. In the meantime, we happily continue our museum visit…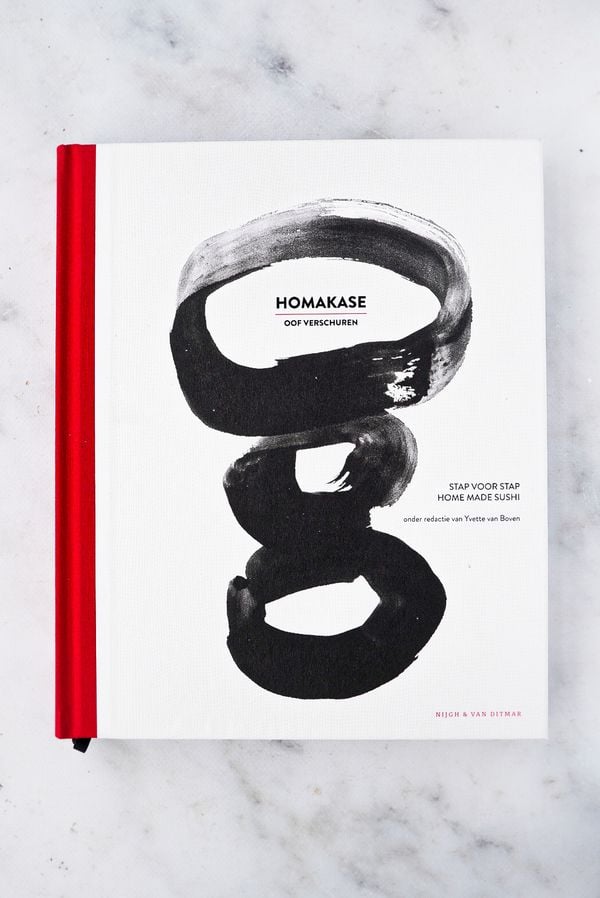 Homakase by Oof Verschuren (Nijgh & van Ditmar) is now  for sale  for 34.99,-