Sushi, sashimi, okonomiyaki , ramen, mochi, miso soup, ton katsu, tempura, teriyaki, teppanyaki and yakitori… Is your mouth watering too? You've come to the right place. With this list you know which Japanese essentials you need to have at home to get these kinds of Japanese dishes on the table. Itadakimasu.
1. Miso
This umami flavor bomb should not be missing in your fridge, even if you don't plan to cook Japanese. Miso goes well with almost everything. The name umami comes from two Japanese words, namely umai  (Japanese for delicious) and  mi (Japanese for taste). Together these form umami, either 'taste of deliciousness' or 'delicious taste'. You will also find that miso provides this taste of deliciousness in many dishes, a good example being the famous Japanese miso soup .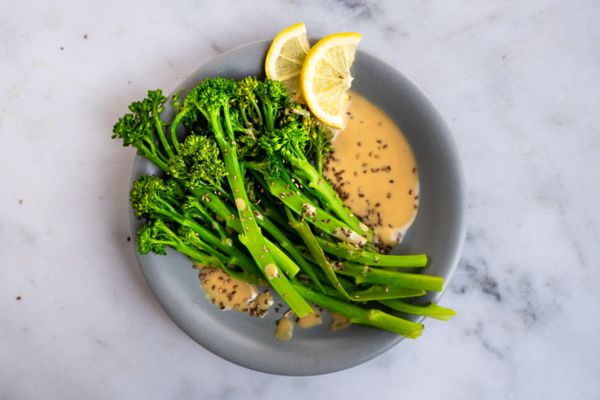 To the recipe: Culy Homemade: salad of bimi (asparagus broccoli) with sesame miso sauce
2. Wasabi
Wasabi has gained international fame for its presence in sushi and sashimi. In the Netherlands we often eat wasabi from a tube, but unfortunately that is often ground horseradish with a coloring agent. This is because real wasabi (made from the stem of the wasabi plant) spoils very quickly and is expensive. But it's the next best thing and we like it . Its subtly spicy taste makes it a very popular part of Japanese cuisine.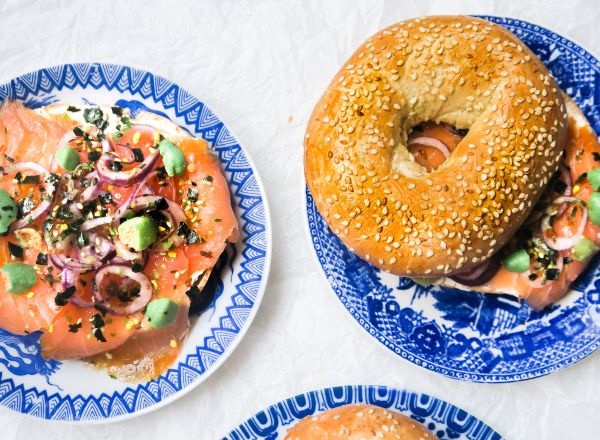 To the recipe: Culy Homemade: Japanese bagels with cream cheese, salmon and wasabi nuts
3. Edamame beans
These soybeans are a real friend to everyone, nice and crispy and easy to prepare. As a snack where you dip them from the bean, in a salad or as a vegetable in a dish, anything is possible with these beans. They also keep well in the freezer, so it's handy to thaw a small batch for your sushi bowl every time.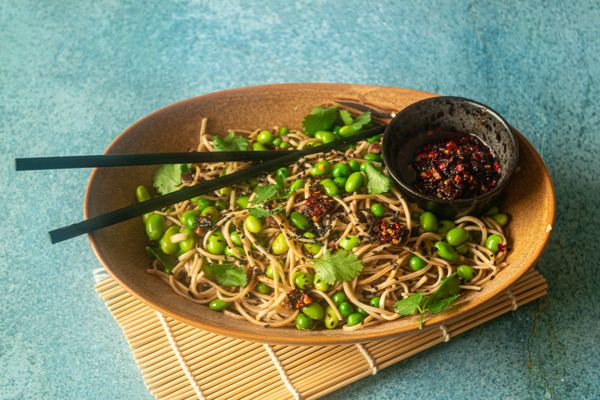 To the recipe: Culy Homemade: crispy chilli oil noodles with coriander and edamame (on the table in 8 minutes)
4. Furikake
Furikake is one such ingredient that you discover and find yourself "suddenly" sprinkling it all over. With this Japanese sprinkle with pieces of seaweed, sesame and dried bonito flakes you don't just pimp your bowl of rice: it makes everything tastier. You also sometimes find it on your sushi. So put it in your closet!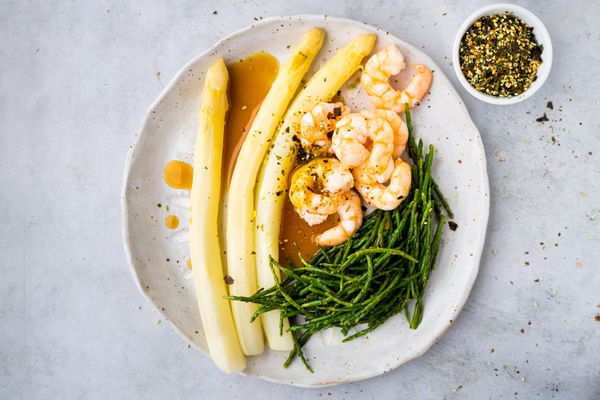 To the recipe: Culy Homemade: asparagus with shrimps and soy sauce beurre blanc
5. Mirin
Mirin is sake's sweet sister. A rice wine with a lower percentage of alcohol and a higher percentage of sugar than sake. The alcohol percentage varies, but is usually below 10 percent for mirin and around 15 percent for sake. But where a glass of sake is very tasty with a Japanese meal, mirin is not meant to be drunk like that.
Because of its sweet taste, mirin combines well with salty sauces such as soy sauce. Together they form the basis for a traditional teriyaki sauce.
6. Sake
Sake is the well-known Japanese rice wine and is brewed (just like beer). Not only rice is used for this, but also water, koji (a type of fungus) and yeast. Because as much as 80 percent of sake consists of water, the type of water is extremely important for the final taste. A glass of cold sake completes your meal, but did you know that you can also cook very well with sake?
7. Bonito flakes
These wafer-thin shavings are made from dried, fermented and smoked tuna. Together with kombu (seaweed), they are the main ingredient for  dashi : that famous Japanese umami-rich broth that is the basis for many tasty dishes. You can also usually find them on  okonomiyaki : that divine Japanese pancake.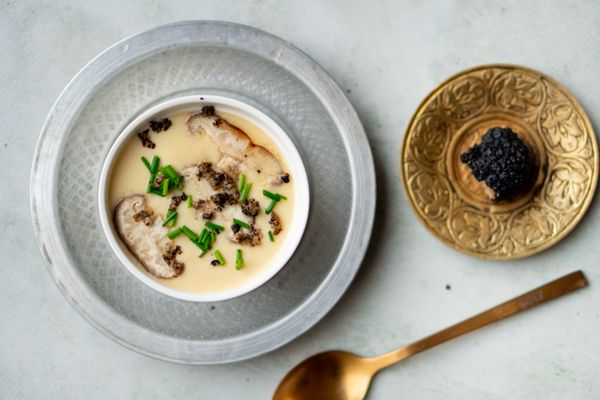 To the recipe: Culy Homemade: chawanmushi (Japanese custard) with shiitake and truffle
8. Ponzu
Ponzu is the Japanese name for a sauce made by simmering mirin together with rice vinegar, dried bonito flakes and seaweed over a low heat. After all the flavors have been thoroughly blended, the mixture is sieved and flavored with Asian citrus fruits such as yuzu or lime. It provides a savory, sour taste and is often mixed with soy sauce.
By using citrus fruits in combination with the typical Japanese ingredients such as seaweed and rice vinegar, it fits perfectly with (partially) raw fish and meat dishes such as a poké bowl.
9. Yuzu
Yuzu is the Asian citrus fruit that we have a great love for. It resembles a combination between a grapefruit, lemon and a tangerine. The pronounced taste combines perfectly with fish, crustaceans & shellfish and other types of fruit.
Fresh yuzu is difficult to get in the Netherlands, but in a bottle (as juice) or in a jar (as grater) it works. Order online at, for example, Tjins toko – also great for other products! – or go and have a look at a shop. You won't come home empty, we guarantee.
10. Tonkatsu sauce
Culy's Nancy already wrote a lyrical article about it: the Bull-dog tonkatsu sauce . This sauce is actually intended for the famous dish tonkatsu – a kind of crispy schnitzel -, but can be used in many more ways. Buy a bottle, take a lick and make your move.
They also like to serve this tonkatsu on a sandwich with this specific sauce, a katsu sando. A particularly good sandwich.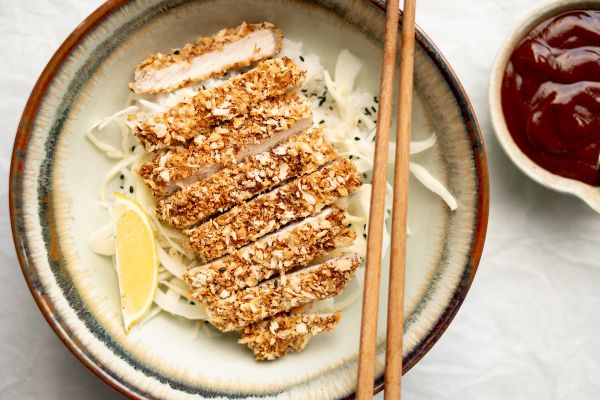 To the recipe: Culy Homemade: easy oven-baked tonkatsu (crispy pork)
11. Panko
Panko is the Japanese version of breadcrumbs, but so much fluffier, lighter and more refined. Exactly as you can describe Japanese cuisine. Get a bag to roll chicken, fish, vegetables or basically anything you want to get crispy. But panko is also very suitable for making a crispy layer on an oven dish or as a crunchy bite with nuts on a dish. Have fun!
12. Kewpie mayonnaise
Kewpie mayonnaise is the tastiest mayonnaise in the whole world. You just have to have it at home. Point.
13. Shichimi Togarashi
This Japanese mix consists of seven different herbs. Literally, the name stands for 'seven flavors of chili pepper'. But which seasonings go in? Watch out, here they come: szechuan pepper , red chili pepper, sesame seeds (white and black), ginger, roasted orange peel, nori and hemp seed.
The herbs are mainly used as spice rub (dry marinade) for meat or to season grilled meat. In addition, the mix is ​​indispensable in many a bowl of ramen.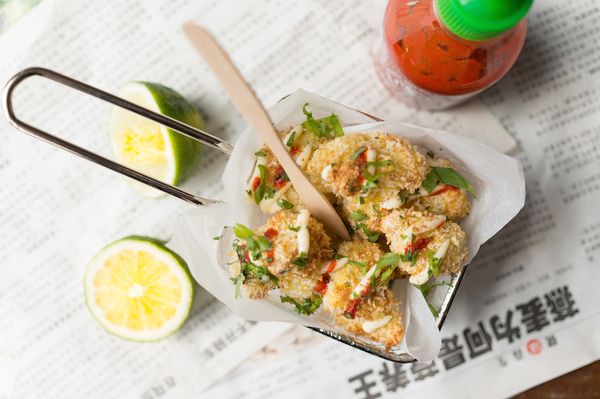 To the recipe: Culy Homemade: crispy cauliflower with Sriracha and Japanese mayonnaise