Broth is the basis for almost everything in the kitchen, from croquettes to soups and sauces. Cooked in various ways, bound and flavored with fish into meat. If you (sometimes) eat vegan, you would like to be able to make a vegan broth, but you often miss that important ingredient: meat. But don't worry: there are a ridiculous amount of ways to make a delicious, deep vegan broth, without – of course – using just 1 piece of meat.
And you're also lucky: a meat broth often has to steep for hours, with a vegan broth you are ready within 20 minutes.
The ultimate vegan broth
A vegetable stock is actually already a vegan stock if you make it without a marrow bone. But if it were that easy, we wouldn't have written an entire article on this subject. We take you by the hand for your ultimate vegan broth, which you will freeze in ice cubes and use for any ramen, gravy, soup, sauce, noodles, pasta or whatever dish you want to make.
Even better: you're going to ladle this broth on the couch as comfort food.
As a basic vegetable broth
The very first step is to make a simple vegetable stock . For this you use sliced ​​onions, garlic, carrot, leek and celery. Switch it on in a little oil and cook together with a few peppercorns and a bay leaf for 20 minutes, drain the vegetables and you have vegetable stock. This base is perfect and now you can start adding all kinds of specific seasonings, the sky is the limit, in 5 steps.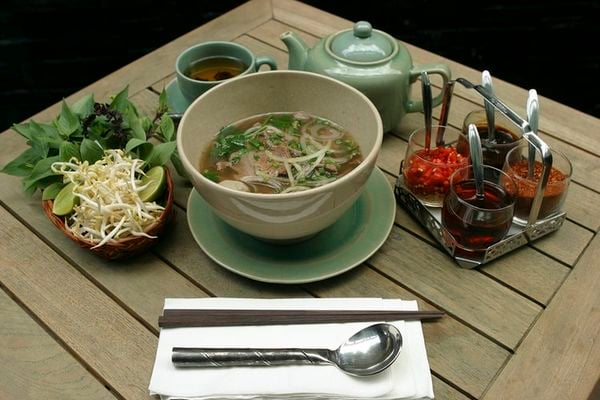 1. Fat
Where with a 'normal' broth comes the fatness of butter, a marrow bone, chicken or fish, you don't have that advantage with a vegan broth. After all, most vegetables do not give off fat. This fat is essential for a stock because fat ensures the transfer of flavor and the deliciousness of a dish.
Fortunately, you can choose from many types of vegetable oils to give the broth that extra something. Think of coconut oil, peanut oil, linseed oil, walnut oil or rapeseed oil. Choose which oil best suits your stock and which end result you want to achieve. Nowadays there are also very good vegan butters that you can use, such as those from Flower Farm.
Tip : first fry your vegetables briefly in a neutral oil such as sunflower oil and finish it last with an oil with a special taste such as sesame oil, grapeseed oil or avocado oil.
2. Herbs
Fresh herbs are one of the best additions you can think of for a fragrant stock. You can of course choose from many variants here, but ultimate favorites for a stock are the somewhat 'harder' herbs such as thyme, rosemary and also sage, chives and parsley.
Take as a rule that you let hard herbs go with the vegetables from the start so that they can give off their flavor optimally. Softer herbs, such as coriander or basil, are best added fresh at the very last moment, so that they remain fresh and tasty.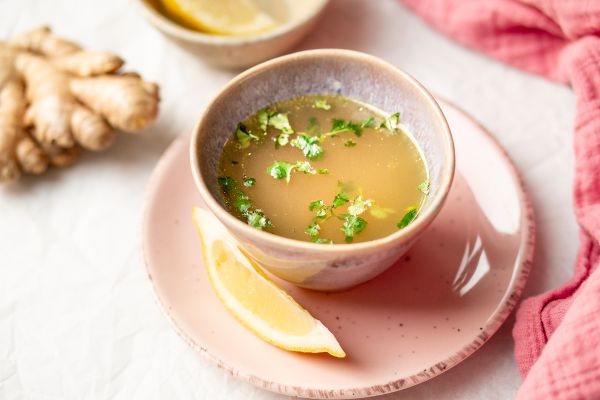 3. Spices
Now we're going to open a closet of options that will drive you crazy: saffron, cloves, anise, vanilla, cinnamon, crushed cumin or coriander seeds, caraway, fenugreek, cardamom, lavender or verbena. Subtle hints of these spices give your stock that extra oempf, but don't overdo it.
Again, you can make a distinction between 'hard' and soft spices. You fry the hard herbs with the basic vegetables and let them draw into the stock. Then you strain it out again. The soft herbs dissolve in the liquid and you don't have to sift them out. The taste of this lasts longer, so pay attention to that when adding: everything in moderation.
Soft spices are ground spices such as curry (masala), (smoked) paprika, ketoembar or jinten, five spice powder, seven spice powder, cayenne pepper, cajun spices, turmeric or galangal ground.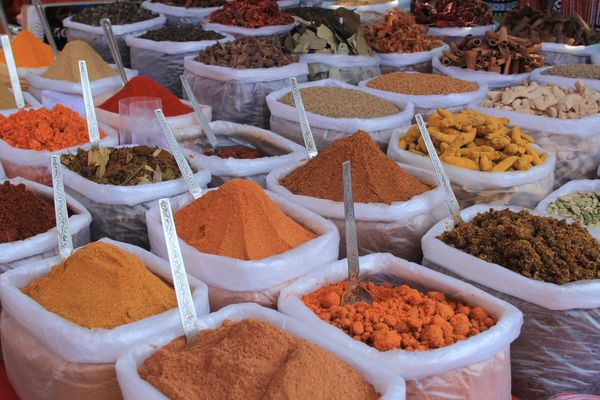 4. Salt
A ready-made stock cube is often a great and quick solution if you don't have the time to make stock yourself. We completely understand that and we regularly do this in the kitchen at Culy. These cubes contain salt, which immediately makes your dish tastier. Because salt, just like fat, immediately makes a dish 10 times tastier, those elements intensely enhance the other flavors.
So make sure your stock contains enough salt. Add this towards the end of the cooking time, otherwise the stock may be salty due to the reduction.
Tip : soy sauce, vegan fish sauce or Worcestershire sauce are also powerful salty seasonings.
5. The extras for an ultimate vegan broth
After the fat, herbs and spices and salt, you are going to give the stock a character. That taste that will get you out of bed at night.
pita
Spicy can be taken as pepper with the stock, but also as a spoonful of sambal or a drop of hot sauce just before serving.
Seaweed
Nori or kombu give a broth even more umami. Recommended!
miso
We love miso, the loyal Culy readers know that by now. A lick of miso is allowed in any vegan broth, as far as we're concerned.
Mushrooms (dried)
In addition to the fact that you can always include several vegetables with the basic vegetable stock, mushrooms, dried or fresh, are a super addition. Dried mushrooms have an intense taste, fresh varieties more earthy, but ensure that the stock becomes a champion.
Ginger, lemongrass, galangal, lime leaves
This group had to be named separately, because this group provides a fresher taste. This instead of the deep umami taste you get from mushrooms or seaweed. A combo? Of course you can too!
---
Source: Culy by culy.nl
*The article has been translated based on the content of Culy by culy.nl If there is any problem regarding the content, copyright, please leave a report below the article. We will try to process it as quickly as possible to protect the rights of the author.
Thank you very much!
*We just want readers to access information more quickly and easily with other multilingual content, instead of only having information available in a certain language.
---