Nothing wrong with a good herb butter, but we are happy to inspire you with cool other flavors that you can add to your butter. A lick of sambal butter for your broccoli, for example. Or miso butter for fish: finger licking good!
8 x butter with a taste
All vegetables improve, but a good piece of toast also tastes even better with a lick of butter with a taste. Provide soft (unsalted) butter at room temperature, then you can basically mix everything through for a delicious butter-with-a-twist.
Also worth a try: lightly beaten butter , as they also serve in top restaurants.
sambal butter
Creamy butter goes very well with the spice of a large spoonful of sambal. Super delicious on a corn on the cob, through your carrots or just like that: on a piece of toast.
And, there is more than sambal oelek isn't it? Feel free to experiment with exotic jars of sambal to make a different sambal butter every time.
chipotle butter
Due to the increasing popularity of Mexican cuisine, the shelves with Mexican products in the supermarket are also being expanded. For example, chipotle in adobo is now much easier to get. And that's a good thing, because oh, what a cool smack bomb this stuff is.
For chipotle in adobo, smoked and dried jalapeños are canned in a puree of tomatoes, vinegar, garlic, and spices. The stuff is often for sale in a small can, à la a can of tomato paste. Very tasty on a piece of cornbread or melting on a nice steak (make steak tacos with it!).
tahini butter
Delicious with a drink, but also fantastic on steamed sweet potatoes: butter with tahini. Use about one and a half tablespoons of tahini to 3 tablespoons of soft, unsalted butter. Top up with a dash of soy sauce and a drop of sesame oil, if desired.
miso butter
In addition to miso mayonnaise, another much-loved condiment of the Culy editors: miso butter! Delicious with a piece of salmon , with pumpkin soup or our favourite: with roasted pointed cabbage . You can even stir it into the warm popcorn.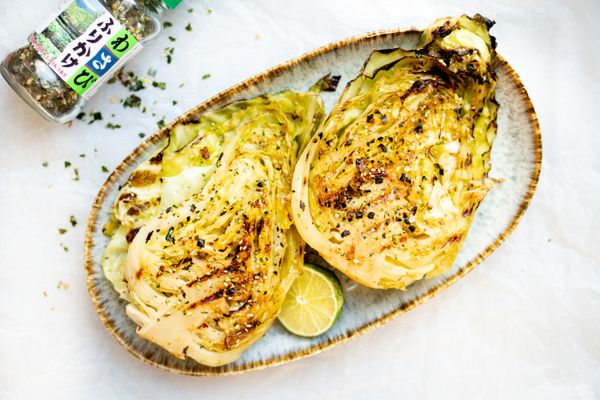 anchovy butter
It's no secret that American culinary writer Alison Roman loves anchovies (she certainly doesn't hide it). In her book 'Lekker Thuis', which was recently published in the Netherlands, she gave this clever seasoning a star by making anchovy butter (with garlic) with it. She then rubs a whole chicken with it, which is then roasted in the oven.
Turmeric Butter
Melt some butter in a pan and add a generous pinch of ground turmeric to make turmeric butter. We like to bake toast in it, which we then top with tomatoes, but you can of course also prepare a delicious fish or piece of meat in it.
seaweed butter
Already for sale in some places, but also very cool to make yourself: butter with seaweed. You don't need bunches of seaweed for that: a small piece of kombu (dried seaweed) from the toko and a nori sheet in pieces are enough to make this flavor bomb.
Very nice to bake an omelet in there. But also great with almost all vegetables.
aniseed butter
Also delicious: sweet butter with a taste! For aniseed butter, for example, grind some star anise (aniseeds are of course also an option) to stir through the butter. Not to be missed on a gingerbread sandwich , when Sinterklaas is back in the country…