Many coffee lovers swear by it: a French press. According to the enthusiasts, this makes the best coffee, because the typical pressure filter – unlike paper filters – would ensure that more flavor remains in the coffee. If this is your cup of coffee , then you definitely have a French press at home. And the good news is: you can do more with it than just make coffee!
5 ways to use the French press too
1. Whipped foam
Don't have a fancy espresso machine at home with which you can froth milk? Don't worry, because with the French press you can also make whipped foam in addition to your coffee. By pumping you get whipped foam that is very airy. You never want anything else.
Heat the milk in the microwave or a saucepan (not too hot!), pour it into the French press and pump a few times. You will see that the milk foam has doubled in volume within seconds. Make sure you don't use too much milk, otherwise it won't fit anymore.
Tip : also make chai tea latte with this whipped milk, this delicious fragrant tea with whipped foam, makes every dark day a bit better.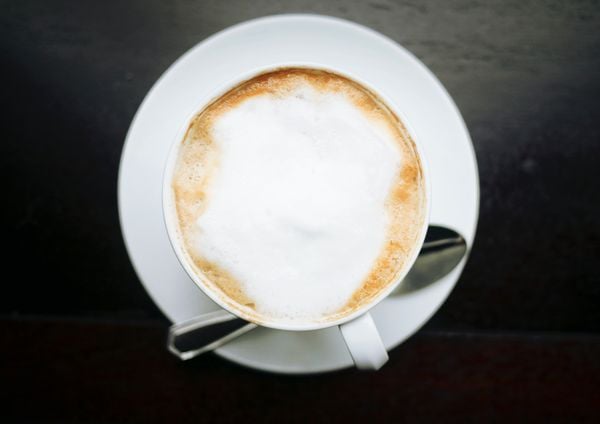 2. Whipped cream
The French press is actually a whisk in disguise , because in addition to whipped foam, you can also whip cream with it for apple pie, chocolate milk or any other delicacy for which you need whipped cream. Pour in the whipped cream, add sugar and any seasonings and start pumping. You'll have a whole tub of fresh whipped cream on the table in no time.
3. French press cocktails
You can also often find a French press in a cocktail bar. Not to make coffee, but to make a cocktail in a simple way. You can also see this trend shifting more and more to the living room. Give it a try, on Vinepair we already found some great recipes for French press cocktails .
You can use it for cold or hot cocktails. But the rule is: it is best to have a mixed cocktail, where the entire cocktail is mixed together. Think of a mojito, where you can use the French press to shake the cocktail. The flavors are mixed very well.
A second nice side effect is that the French press very well ensures that all seeds, pulp or herbs remain out of the cocktail, but due to the pressure they give all their flavor to the drink. Reason enough to take it out of the closet to make a cocktail.
Tip : make sure to clean the French press well first, the coffee taste is not very good with everything, unless of course with an Espresso Martini …
4. Making tea
It may be a bit of swearing in coffee land, but you can also make tea very well with a French press. Spoon your favorite tea leaves on the bottom of the press and pour water on top. Let the tea steep. Then press down the water and press the tea leaves separately and you have a delicious cup of tea (without the tea leaves in your mouth).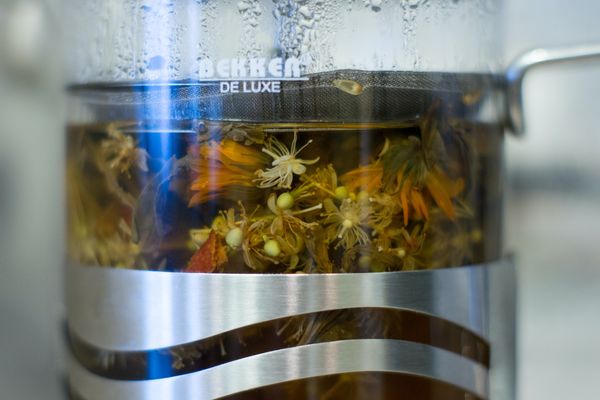 5. Use as a colander
A French press is also perfect to use as a colander. You can wash grains in it and then squeeze the water off. You can soak dried fruit and easily drain the remaining liquid.
But what is also very nice for the summer: infused water or water with a taste . Put your water with seasonings of your choice in the fridge overnight (in the French press of course) to allow it to absorb well. The next day you can easily keep the seasonings separate and drink the water yourself. Wonderfully refreshing!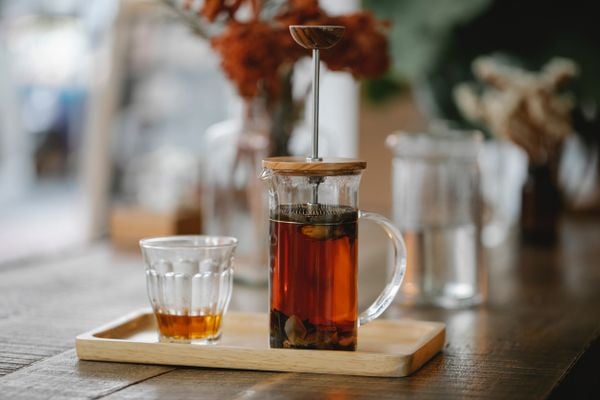 You can find a simple French press online from about € 20.-