The favorite hobby of the Culy editors is to wander around the Toko, looking for unknown products. The more mysterious, the better. And we always go for a nice packaging. Our Toko Finds inspired us to set up a new section. From now on we regularly share our favorite purchases from the Asian supermarket with you. This time: shio kombu
We recently attended Oof Verschuren's omakase dinner, in honor of his recently published book Homakase . With this cookbook you immerse yourself in the wonderful world of omakase (a Japanese culinary concept where you surrender to the chef's choices as a guest).
During his omakase dinner, Oof cooked some of the dishes from the book. There we were treated to new knowledge about Japanese cooking techniques and ingredients. Need we say that a world opened up to us?
Shio kombu: our latest discovery
For example, we discovered shio kombu: an ingredient that we will invariably put in our shopping cart from now on. Shio is Japanese for salt and kombu is Japanese for seaweed. So salted seaweed, in the form of licorice-like strings.
The taste is all umami, the texture chewy like candy. That texture is created by cooking seaweed (kelp) in a mixture of soy sauce, mirin and sugar. Making your own shio kombu turns out to be quite difficult, but luckily you can find a cheap ready-made bag of the stuff at the toko.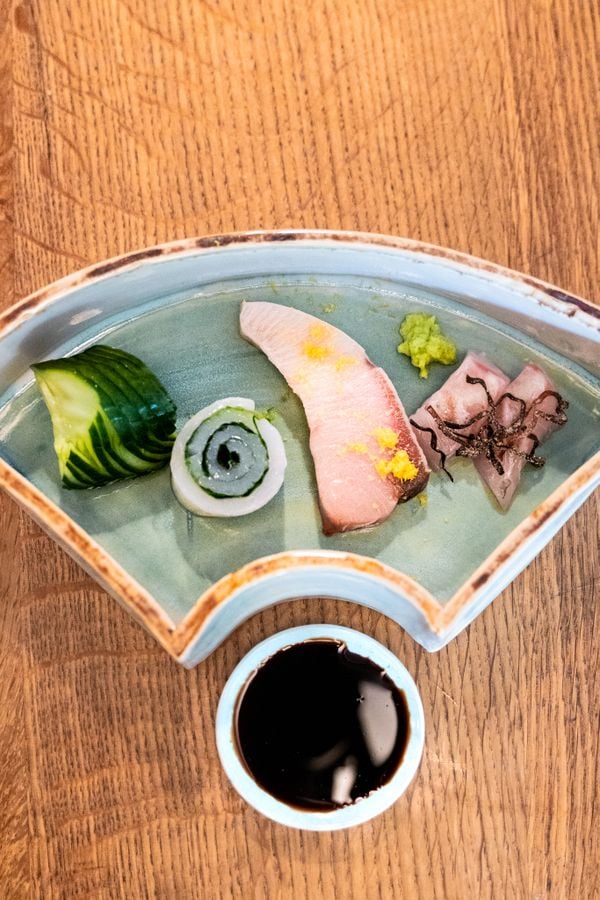 What can you do with it?
The licorice-like strands are addictive enough to snack on out of hand, but they're also the perfect garnish for dishes. For example, use shio kombu as a topping on sushi or fish.
It doesn't have to be that complicated: a few slices of raw and fresh salmon fillet with some shio kombu is already a great stylish snack (especially with some Tomasu soy sauce for dipping).
Also tasty: serve the strings with a homemade donburi (this teriyaki donburi with sticky mushrooms is great for example), or on this noodle salad with miso cauliflower . Stir it into your scrambled eggs, or use it in spice rubs for meat. You want to eat Shio kombu with everything from now on.