If you like to cook even a little, then you know that a good chef's knife significantly improves your quality of life. Although it often comes with the caveat that a good chef's knife usually has a hefty price tag. However, there are also affordable models on the market, which makes us all the more interested in their quality. That is why we are testing: an affordable Japanese chef's knife.
Japanese chef's knives
Japanese chef's knives are in a separate category by the way. Typically, for example, Japanese steel is harder than European steel and is ground at an angle of 15 degrees. This results in thin, incredibly nice sharpening knives. It should be noted that harder steel – in contrast to European knives – becomes brittle faster. Nevertheless, many professional chefs swear by Japanese ones, if they are properly maintained.
The knife that we are going to test is the new Pro Santoku Knife from Latalis. The notches in the blade promise to prevent slices of meat, fish and vegetables from sticking to your knife. The Japanese chef's knife is sold for less than €30. We are curious.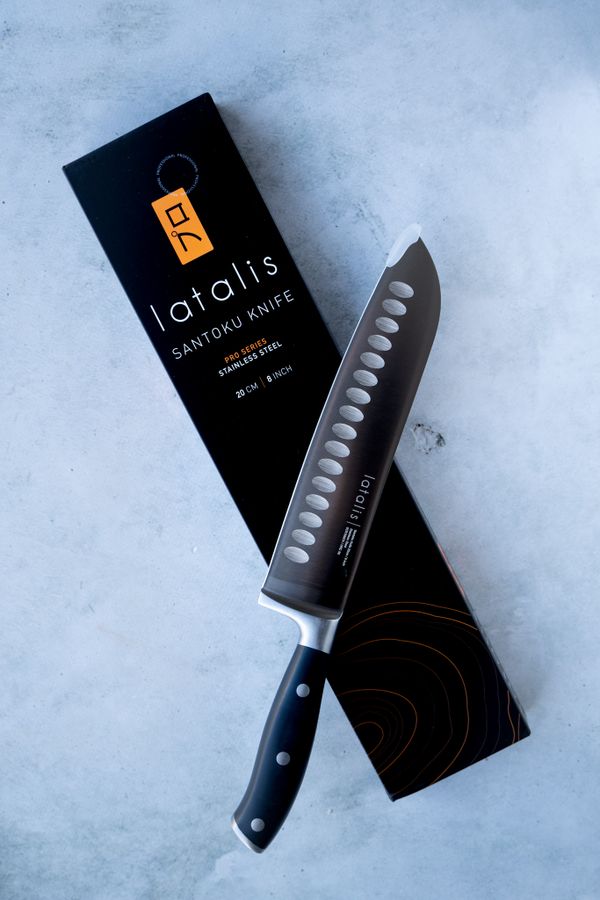 Culy tests: an affordable Japanese chef's knife
To test the Japanese chef's knife, we choose some classic tricks to test the sharpness of a knife.
The paper test
We start with the paper test. To do this, hold a sheet of paper with one hand at the top and with the other hand you cut lengthwise through the paper: from top to bottom. Good knives are said to glide through the paper without having to use too much force. It works here, and without too much effort. Test 1: passed!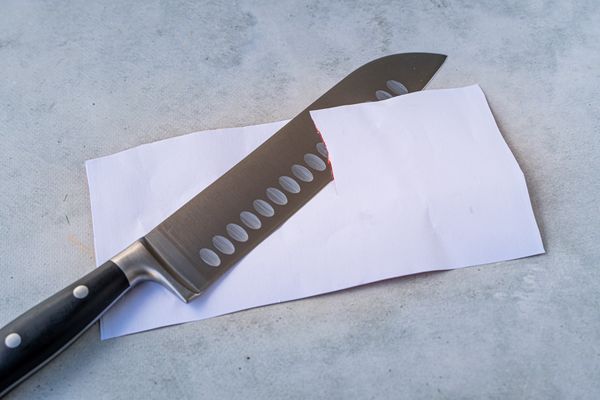 The tomato test
Then we are curious how smoothly the Japanese chef's knife cuts through the skin of tomatoes. To do this, we hold a cutting board in one hand and cut through the convex side of a halved tomato with the other hand. You can imagine that this is quite a challenge with the average knife, but here it works smoothly and smoothly.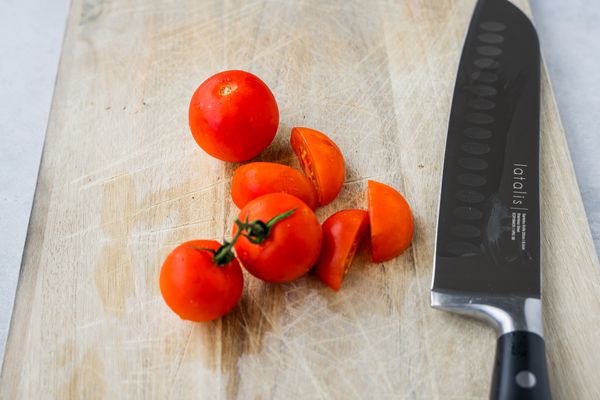 Daily ingredients
Finally, we cut a number of our daily ingredients with the Japanese chef's knife: cucumbers, peanuts, radishes, spring onions… What is striking is that the handle feels very easy in the hand and that the notches in the blade are indeed an added value.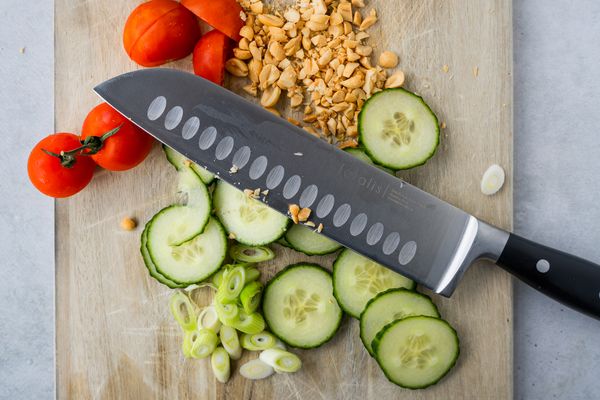 Conclusion
Finally, a few more findings:
Where in the past we liked to use a chopper to chop nuts into crumbs, now that we have this knife we ​​really prefer to chop these kinds of things ourselves. How. Flexible. Go. That. Namely?! Wow.

We also subjected hard ingredients (such as dry sausage) to the test. Here again the conclusion is: it all works without having to exert too much force. By the way, that makes it 

safer

 compared to blunt knives: because you exert less force, you will also cut your fingers less deeply in the event of an accident.

Of course it also applies to this knife that it is best to 

maintain it thoroughly

 . It is inevitable that this Japanese chef's knife also loses its sharpness over time. Nevertheless, it is a knife that we will gladly give as a gift to all our foodie friends. Tip!
The Latalis Pro Santoku Knife can be found in the online range of chef's knives from Latalis. Not a fan of Japanese knives? The standard Latalis Pro chef's knife is also recommended.