In 2014, Peruvian cuisine was already named one of the most upcoming kitchens of the coming years. As far as we're concerned, that advance could have gone a little faster, but the fact is that we already see a lot more of Peru in the current culinary landscape compared to the past. For example, the whole month of September is currently dominated by Pisco, a Peruvian pure spirit based on pisco grapes that you can use to make delicious pisco sour .
Peruvian pulpo
By the way, you can taste these throughout September in various cocktail (bar)s in our country (check the list here ). We ourselves were at the kick-off of the piscoma month and for the occasion we were served Peruvian snacks. These were provided by Katinka (of Mi Casa Peru ), whose cookbook also played an important role in the role of Peruvian cuisine in the Netherlands.
One of the snacks we got was pulpo al olivo, according to Katinka a textbook example from Nikkei cuisine. We tell you why you should try this dish.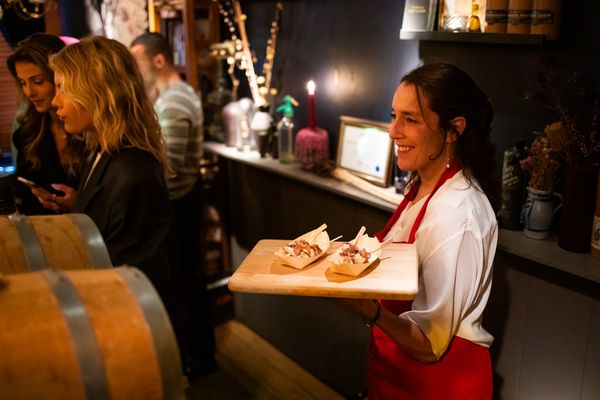 But first, Nikkei: what was that again?
Nikkei cuisine is in fact a culinary cross-pollination between Peru and Japan. Most people have no idea how great the Japanese influence is on the culinary traditions in Peru. Because where on earth did those two cultures come together? It all started in 1889, when some 7,000 Japanese miners emigrated to Peru in search of work.
Once arrived, the Japanese craved their own dishes. Lacking the right Japanese ingredients, they made do with what was at hand: Peruvian potatoes, local corn, limes, hot peppers and fresh seafood. And so they spontaneously gave their beloved Japanese dishes a Peruvian touch. This resulted in many brilliant flavor combinations, of which pulpo al olivo is one.
"Octopus in lead-colored sauce"
The origin of this dish goes back to Rosita Yimura, second generation Japanese in Peru. This female chef is one of the figureheads of Nikkei cuisine. To give you an idea, only eight cookbooks were published in Peru in the last century, one of which was by Rosita. In addition, the female chef ran a Nikkei restaurant in Callao, Lima's port.
When a regular guest of the restaurant had a chat with Rosita in 1987, he described a dish he had eaten somewhere some time ago. He had always remembered a certain "octopus in lead-colored sauce". Although this didn't immediately ring a bell with Rosita, she ducked into the kitchen anyway. The result of her experiment was what we know today as: 'pulpo al olivo'. In other words: boiled pieces of octopus in a lead-colored sauce based on black olives, garlic and cream.
A textbook example of Nikkei: pulpo al olivo
Now you may be thinking: what exactly is so Nikkei about that? Katinka explains: "The main thing in the Nikkei story here is that umami is added to the octopus – which is a typical Peruvian ingredient. That umami is already present in the octopus anyway, but it is reinforced here by the olives, which are typical umami bombs".
As a result, pulpo al olivo is actually double umami, in other words: a dish with an overwhelmingly delicious taste that is impossible to ignore.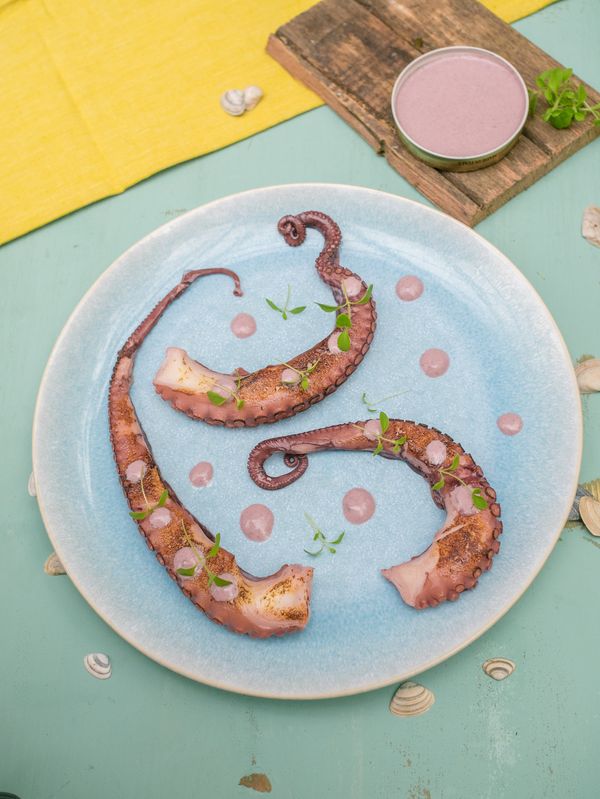 Making pulpo al olivo
Is it hard? Not according to Katinka, she now puts the dish on the table in just five minutes. According to her, the secret of good pulpo al olivo lies in a number of factors. Not only should the octopus not be too slimy (according to the myth you avoid that by throwing a wine cork in your cooking water), the sauce should be nice and smooth ("with a bad hand blender you will not get there") and all the flavors (salty , umami, sour) should be perfectly balanced.
Make it yourself? In Mi Casa Peru you will find Katinka's recipe. And don't forget that glass of Pisco, huh?