Flemish fries, French fries,  waffle fries, curly fries : it is almost impossible to count the types of fries on one hand. And then we're going to make it even worse for you: fries don't even have to be made from potato. In fact, that weekly day of fries can just as easily be done with celeriac. Or halloumi. Or zucchini.
In short: fed up with fries with potatoes? We have  plenty of options  for potato-free fries for you.
7x fries without potato
1. Sweet potato fries
Sweet potato fries are of course the  classic  replacement for the normal greasy bite. You can of course make it the traditional way , but also with a twist – with soy sauce and polenta the Vietnamese way, for example.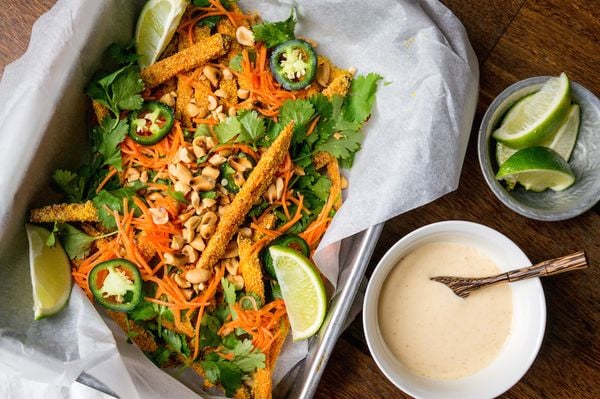 > Go to the recipe:  Culy Homemade: bánh mì sweet potato fries (Vietnamese style!)
2. Halloumifrite
Of course you can make fries from vegetables (like most in this list), but if you are really creative, everything can become fries. Even cheese! Halloumi fries have been popular in England for a while, but we see more and more appearing here as well. You can of course make it yourself, but at Sababa in Amsterdam they also have divine.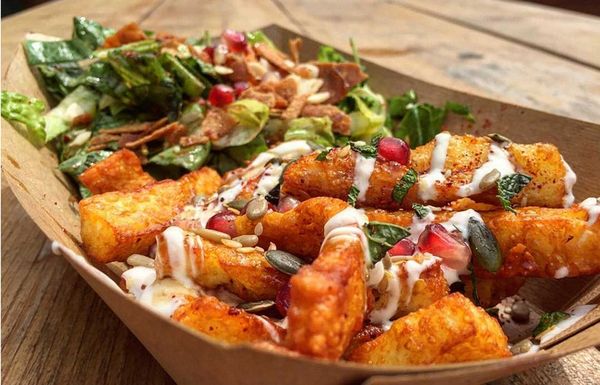 > Go to the recipe:  Trend in London: halloumi fries (and this is how you make them yourself!)
3. Haricot fries
Janneke Vreugdenhil has already written several books with vegetables in the leading role, and in We ♥ vegetables  she gives us the great (simple!) recipe for French bean fries. And as she says herself: "You eat with your hands, of course. You don't eat regular fries with a knife and fork, do you?"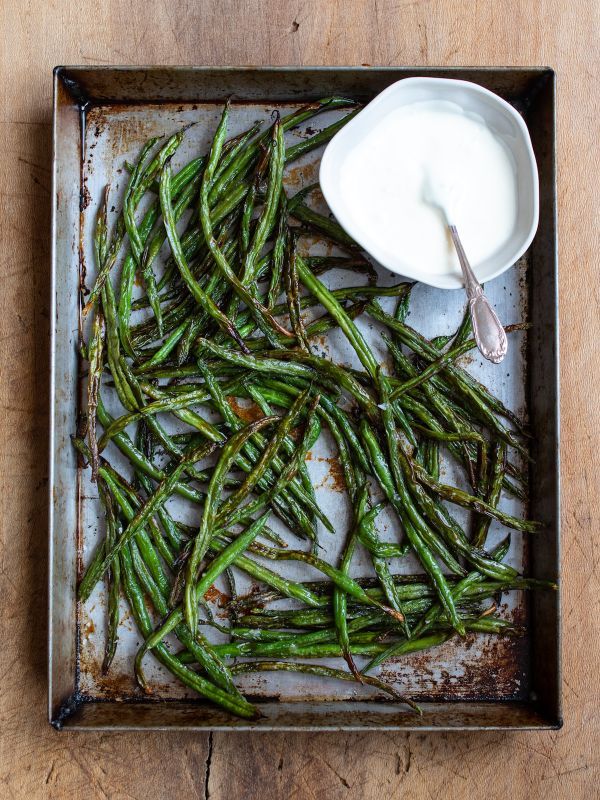 > To the recipe:  Haricots fries: cool fries from green beans
4. Celeriac chips
From Janneke Vreugdenhil we go to Janny van der Heijden , who also wrote a very cool book in which a lot of vegetables are used. Among her 50 simple yet delicious oven dishes are these celeriac fries.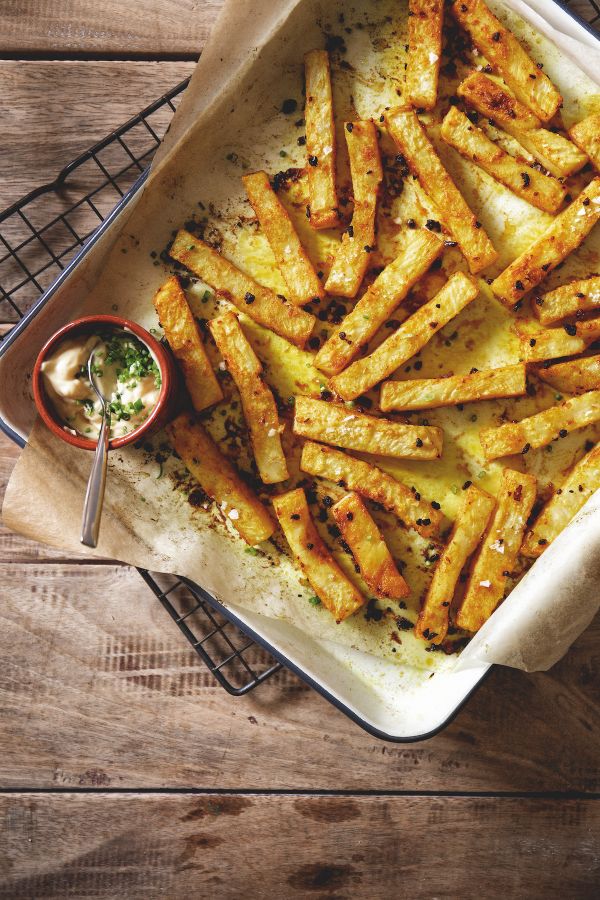 > To the recipe:  Celeriac fries from the oven of Janny van der Heijden
5. Turnip fries
You make kohlrabi fries in the same way as potato fries: peel, cut into fries and put in the oven with oil and salt. Extra tasty: add curry powder on top! Culy's Winnie served them with Jerusalem artichoke puree and sausages.
> To the recipe:  Culy Homemade: Jerusalem artichoke puree with sausages and kohlrabi fries
6. Polenta fries
With the Italian polenta, made from corn semolina, you can go in all directions. So also the fries side. With a good load of Parmesan and truffle mayonnaise, this is truly a  match made in heaven .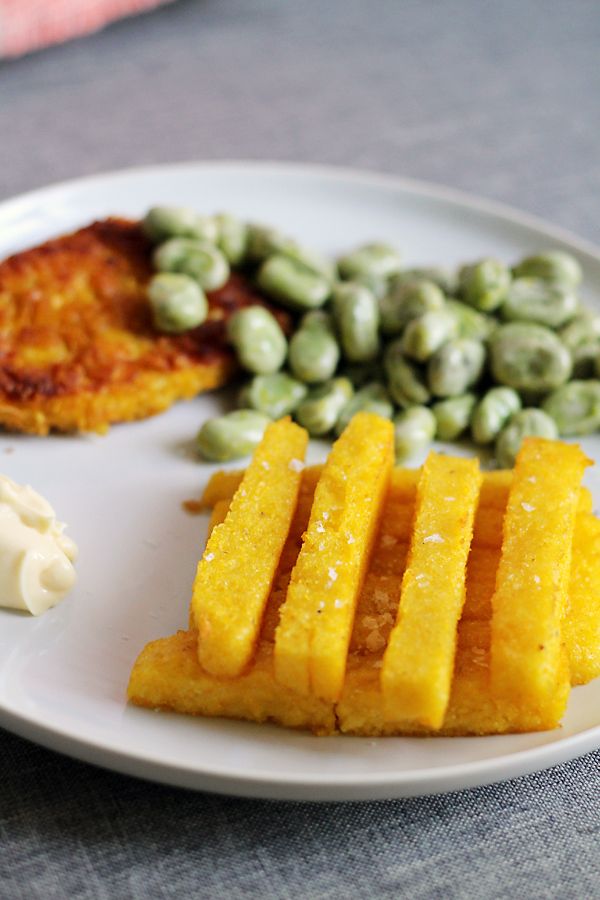 > To the recipe:  Culy Homemade: crispy polenta fries with Parmesan cheese
7. Jerusalem artichoke fries
Okay okay, actually this is a recipe for patatas bravas,  Spanish style. But if you cut them in the form of nice thick Flemish fries, you won't see it at all. (And is it just as tasty!)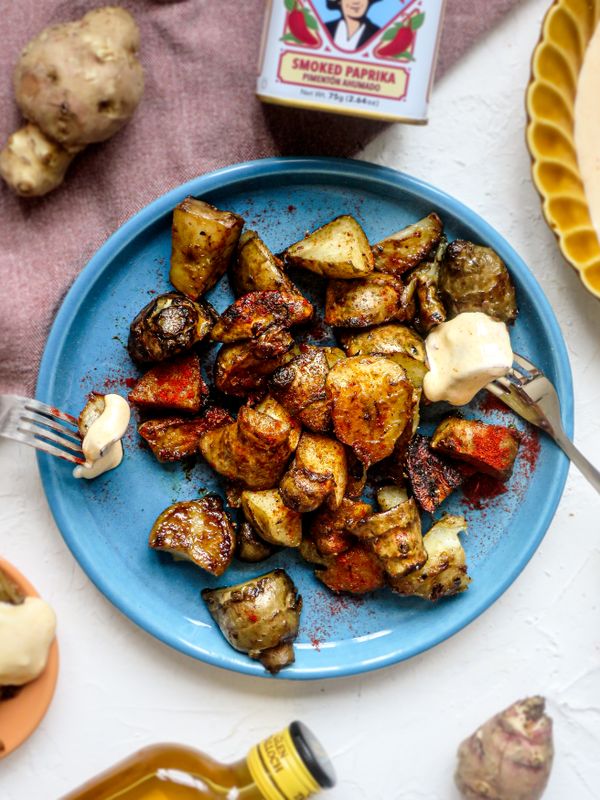 > To the recipe:  Culy Homemade: Jerusalem artichoke patatas bravas with whiskey mayo
Even more fries without potato
And that's not even all: you can also make crispy fries from zucchini , avocado , parsnip, pumpkin and so on. It's safest to choose vegetables that are relatively firm: with tomatoes, for example, it will be more difficult (but hey, we're not stopping you).