As the days get colder, we update not only our breakfasts (warm oatmeal!) and dinners (soup!), but also our lunch. Get rid of the strawberries and radishes, hello speculaas on bread. Are you ready with your cheese sandwich? Here are some ideas for fall toast.
7 x delicious autumn toast
Beet hummus and goat cheese
Beets and goat cheese are a top combo anyway, but apparently the same goes for beet hummus. We read this tip online and are a fan! Especially delicious with some fresh mint and olive oil.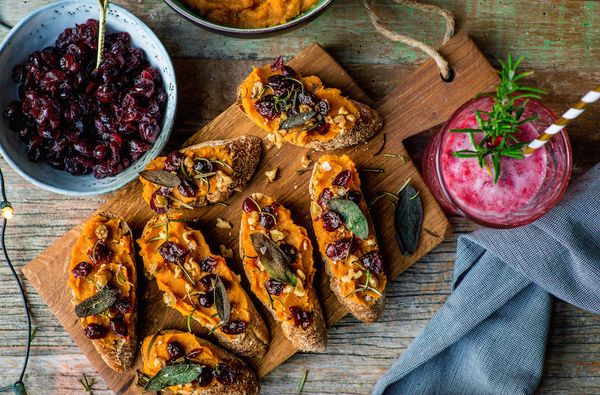 Pumpkin on toast
Autumn = pumpkin, no doubt about that. And yes, that is also possible on your bread. The simple version is with pumpkin hummus, the extensive version is this autumn toast with pumpkin , cranberry, walnuts and sage.
Not necessarily the simplest lunch you'll ever eat, but the most divine – Culy's Nancy even served the toast at Christmas.
Refried baked beans
You may have made refried baked beans for wraps or tacos, but they are also great on toast, as Culy's Freya discovered. Fry some black beans in a frying pan, season with garlic, cumin and salt and add a little water if necessary.
Extra tasty with avocado and fresh coriander!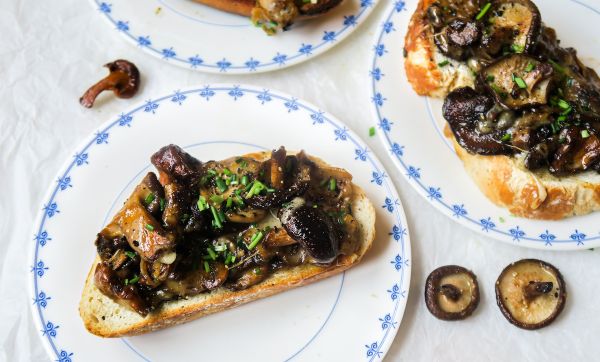 Toast Mushroom
Mushrooms on toast? Isn't that crazy? Well, at least not for our southern neighbors – the Toast Champignon is a classic that is standard on the menu in the average Belgian brasserie.
By the way, you don't just make it with mushrooms, but also with lots of cheese and butter. After all, you need nutritious meals for inclement weather, right?
Peanut butter, banana, dates and cinnamon
Peanut butter and banana is a well-known combo, but have you ever sprinkled cinnamon on top? Autumn toast at its best, and filling too.
Shakshuka… on toast!
The loyal Culy reader has undoubtedly inherited our love for shakshuka , a spicy tomato sauce with poached eggs in it. And it turns out that you can eat that not only for breakfast, dinner or (if you are us) snack, but also just on toast.
This easy shakshuka toast with hummus will warm your body and your heart. Promised.
tahini butter
Toast with butter is a true  classic , but not necessarily an original tip. What it is is tahini butter. Use about one and a half tablespoons of tahini on 3 tablespoons of soft, unsalted butter and voilà .
Miso butter is also a very good option for your autumn toast. We want Umami all year round, but a little more when it rains outside.