Thinking about what to eat every week can be quite a challenge. To ensure that you do not put the same dishes on the table every week, we are happy to inspire you with handy weekly menus. This week we put the baking tray in the spotlight, not specifically the baking tray itself, but all the goodies that you can throw on this plate in one go.
Give the animal a name: baking tray, casserole or traybake… It is especially useful that your dish – often with lots of roasted vegetables, yum – is simmering in the oven, while you are scrolling through Culy.
Need more inspiration? View all weekly menus
Oh, and are you preparing one of these recipes next week? Take a picture of it, share it on your stories (or your Insta-grid) with #culyhomemade  and  @culynl  and we'll share your picture via our  Instagram account !
Monday
Shakshuka has now become established in Dutch society and we are very happy with that. A delicious combination of tomato and bell pepper together with eggs and herbs. Easy, delicious and healthy. Perfect to start the week.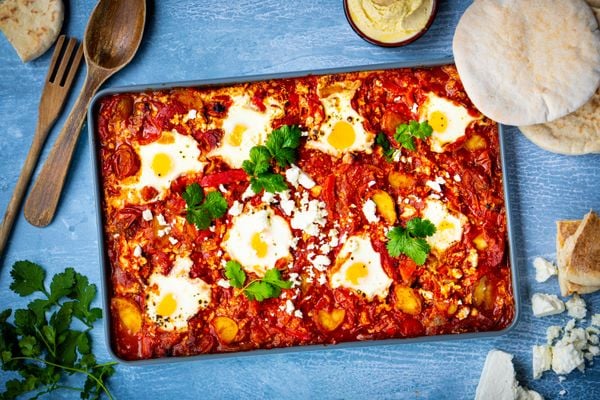 > To the recipe: Culy Homemade: shakshuka from the baking tray
Tuesday
A very tasty combination of chicken, cauliflower and mango chutney. The chutney makes the chicken nice and crispy and sticky, all in just 25 minutes of cooking time. What else do you want?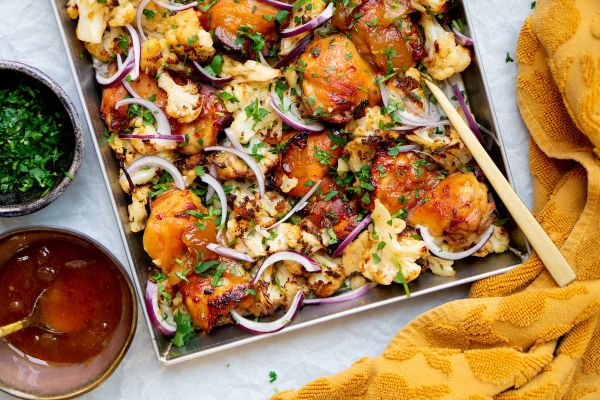 > To the recipe: Culy Homemade: chicken and cauliflower with mango chutney from the baking tray
Wednesday
A griddle full of divine vegetables, conceived by cooking queen Anna Jones that will be a standard item on your cooking list. Potatoes, chickpeas and leeks, accompanied by a finger-licking romesco sauce.
> To the recipe: Leek and potato casserole with romesco sauce
Thursday
A delicious baking tray full of celery, carrot, onions and radishes, topped with the most tender chickens (with secret ingredient: buttermilk) you could wish for. Together with sumac and pomegranate molasses, a very tasty dinner.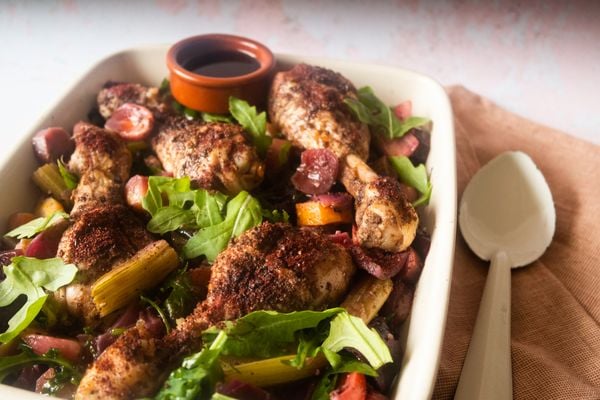 > To the recipe: Culy Homemade: chicken from the oven with sumac, radish and red onion
Friday
Of course you can also fill a baking tray with a pizza, and if you do that, you have to do it right! Like this plate pizza with ricotta and potato. Sounds strange, but is really gru-we-like. Another plus: you are guaranteed to be full!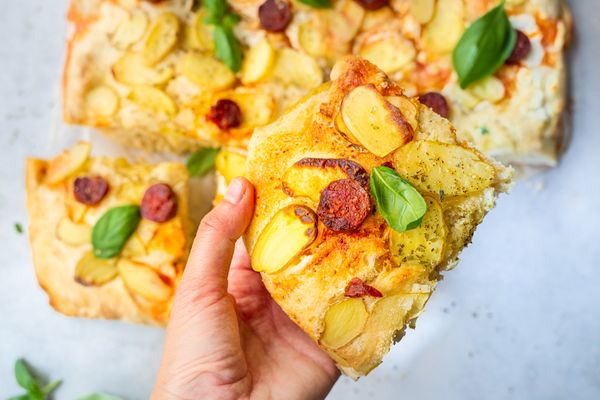 > To the recipe: Culy Homemade: plate pizza with ricotta, potato and chorizo
Saturday
You can put these puff pastry tarts together in no time and bake them on the baking tray. Super cool if you have a last-minute visitor and you still need to put something on the table. This variant is with green asparagus, ham and egg, but you can actually vary endlessly. The baking tray is the limit.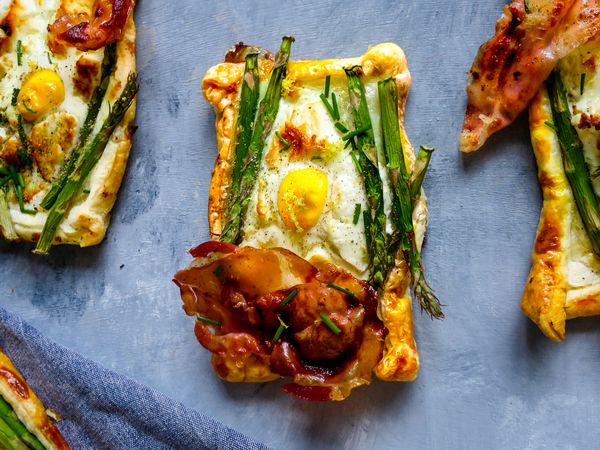 > To the recipe: Culy Homemade: Puff pastry tarts with egg, ham and green asparagus
Sunday
Instead of soup on Sundays, this is a very cool variation. All ingredients that you normally put in a chicken soup, you now put on an oven dish, including mozzarella. Hallelujah.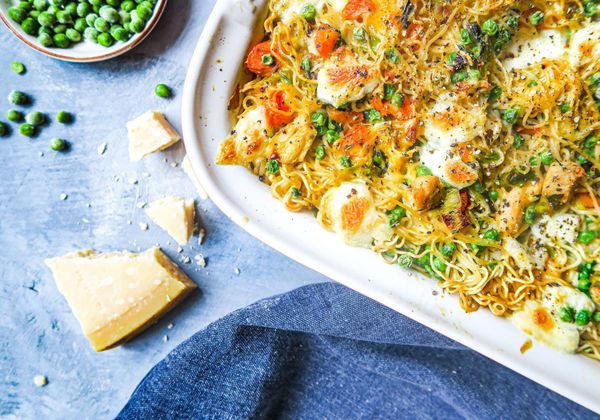 > To the recipe: Culy Homemade: chicken soup in the shape of an oven dish