Even the biggest (or smallest) food lover sometimes has an off day and then you really don't feel like stirring pans for hours. And we understand that very well. Hard work, whining kids, muscle aches from that workout, an annoying friend… Whatever it is, you're forgiven. That's why the list of lists for when you really don't feel like cooking: 11 quick recipes that will help you out.
Culy promises: maximum results on the table (or on the couch) with minimal effort in the kitchen.
11 x recipes for when you don't really feel like cooking
1. Oven dish of leek and potato and romesco sauce
Oven dishes score high in the quick recipe category anyway, especially because you can put all the ingredients on 1 plate or oven dish and the oven does all the work. How easy! This variant is a good and tasty example of that.
To the recipe: Oven dish of leek and potato with romesco sauce
2. Quick pasta recipe with feta from the oven from Tiktok
At the beginning of this year he went viral with this pasta with feta from the oven, so simple it is almost unbelievable. Culy made it a whole meal with tomatoes, olives, oregano and of course that feta hack sauce. A brilliant and quick recipe.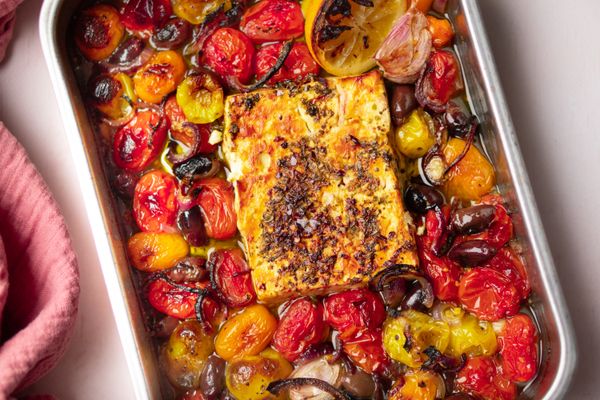 To the recipe: Culy Homemade: quick pasta with baked feta from the oven (TikTok hack)
3. Quick Tortellinni Soup with Spinach and Sausage
Tortellinni in your soup? It may be a strange idea, but it is a quick solution for a large bowl of comfort meal soup. Together with beans, spinach and good sausage, one that fits perfectly in the list of quick recipes.
To the recipe: Culy Homemade: quick tortellini soup with spinach and sausage
4. Chinese wonton soup
Another one from the quick recipes category: Chinese wonton soup. This soup is on the table in no time and is also perfect in terms of taste. It is filled with ready-made dumplings with cabbage in a fine stock. As promised: maximum results.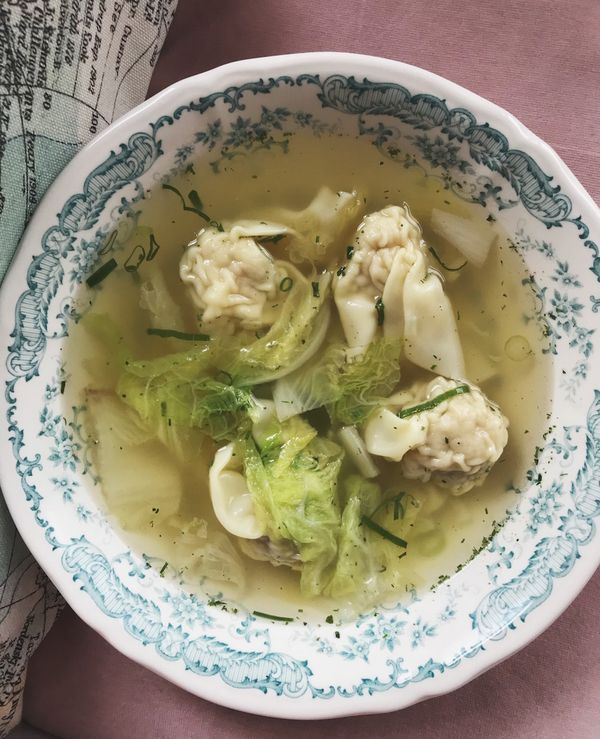 To the recipe: Culy Homemade: quick Chinese wonton soup
5. Tomato risotto with Parmesan and lemon
For this risotto you throw all the ingredients in a pan, stir a little while you scroll through your Insta Stories and you're done. Delicious, summery and on the table within 25 minutes, a real winner.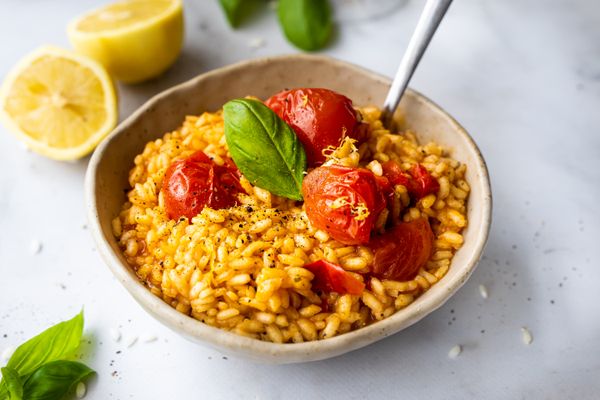 To the recipe: Culy Homemade: tomato risotto with parmesan and lemon
6. Prawns in Sriracha Sauce
You don't even have to set the table for these super fast prawns, because they are so delicious that you simply eat them with your hands. Feel free to throw in a bag of instant noodles, because this crack sauce makes even those tasty.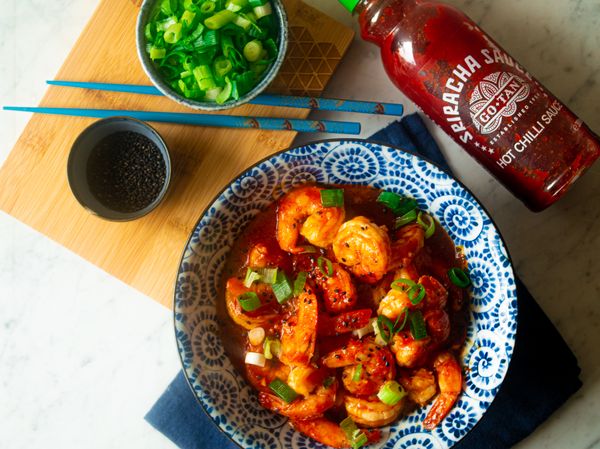 To the recipe: Culy Homemade: super fast king prawns in Sriracha sauce (on the table in 10 minutes!)
7. Watermelon Salad With Ham And Lemon Pesto
If the sparrows are falling off the roof, it's a great idea to make this salad. Ready very quickly, you only have to twist the pesto together, cut the melon and enjoy it at the same time.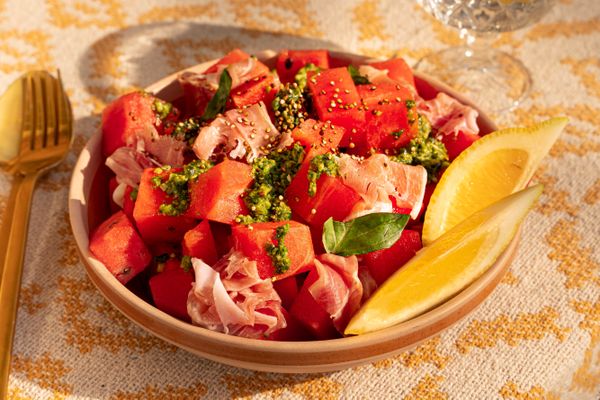 To the recipe: Culy Homemade: watermelon salad with ham and lemon pesto
8. Mexican Rice
Mexican rice with only 10 minutes preparation time? Admittedly, you have to wait a while while the rice cooks, but that's manageable. This red rice with fantastic seasonings is quick, easy and incredibly tasty.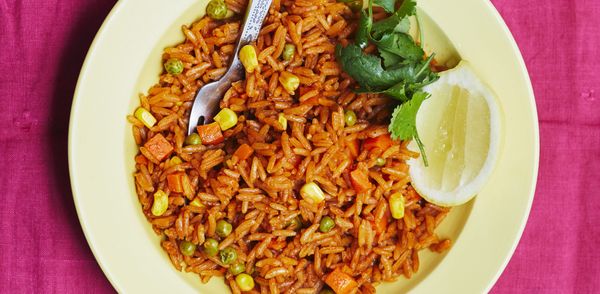 To the recipe: Arroz Mexicano (Mexican rice) from Comida Mexicana
9. Pasta with smoked sausage
You don't think of it quickly, but the combination of smoked sausage and pasta is really good. In this quick recipe with pointed cabbage and crème frache you also have minimal manual work, but a special pasta on the table. Hallelujah.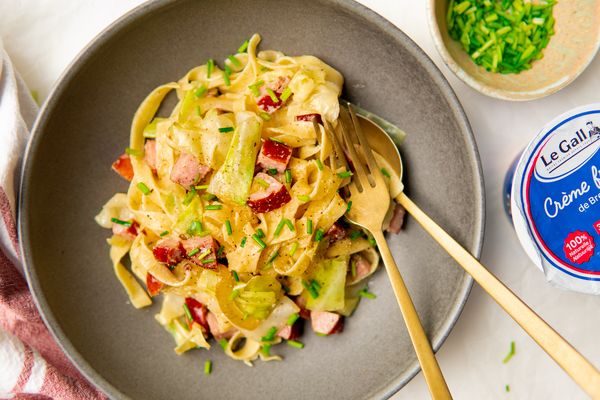 To the recipe: Culy Homemade: pasta with smoked sausage, pointed cabbage and crème frache
10. Vietnamese noodle salad with minced meat
In the quick dishes category, we present this fresh Vietnamese salad, which has it all: fresh, crunchy and juicy. You can almost call it the ultimate meal. Do you prefer a Thai version? Then take a look at this one from Feastingathome , also delicious!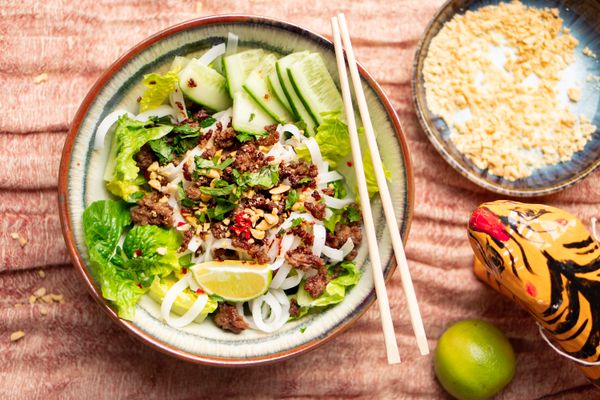 To the recipe: fresh Vietnamese noodle salad with minced meat
11. Quick recipe: Spaghetti al limone
Those Italians are really good at making the simplest but tastiest meals. One last, but perhaps the tastiest: spaghetti with lime, butter, garlic and cheese. Bring me to pasta heaven…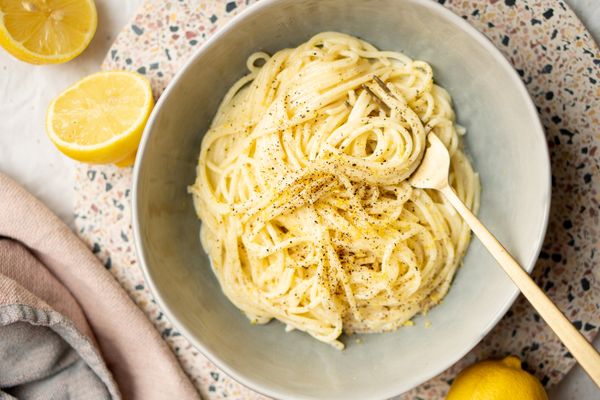 To the recipe: Culy Homemade: spaghetti al limone (quick and easy)