Behold, the steamer from Spain arrives again… Why Sinterklaas comes from Spain nobody knows exactly, but it is certain that it is. And what if we pretend that it not only brings a whole load of spice nuts, but also the richness of Spanish cuisine? Exactly: Sinterklaas evening is the perfect opportunity to put Spanish dishes in the December sun.
The best idea? Make it a table for 'tapas' (read: a buffet) so that everyone can enjoy all the deliciousness
Well, you have to give something to be included in the Big Book as a good child.
8 Spanish dishes for Sinterklaas evening
Spicy Spanish bean soup with chorizo
This bean soup is not only quickly ready, but also wonderfully warming; partly because of the heat, partly because of the smoked paprika. But warming, that also fits well with Pakjesavond.
The great thing about this dish is that you can vary the ingredients. Whatever vegetables you have in your fridge, you can just throw them in. You can also vary with the beans.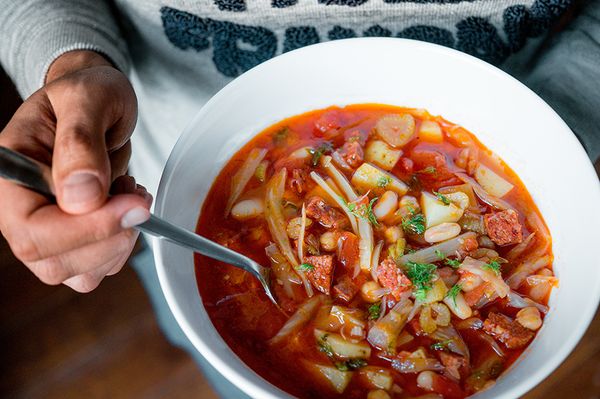 > To the recipe:  Culy Homemade: spicy Spanish bean soup with fennel and chorizo
Spanish Meatballs in tomato sauce
Move over  IKEA, Spanish meatballs are all the rage now! Especially in combination with jasmine rice and stir-fried spinach.
And let's be honest: homemade tomato sauce is always the best. You may have to wait for it, but then you really have something.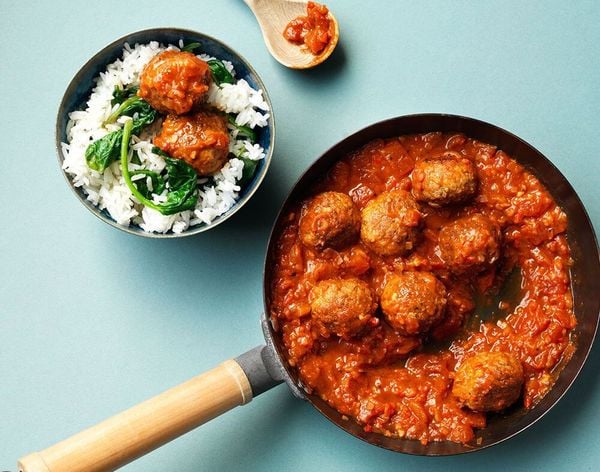 > To the recipe:  Spanish meatballs in tomato sauce
Patatas bravas with a fried egg
If there is one thing that reminds us of Spain, it is patatas bravas. Zachr on the inside, crispy on the outside and in a nice  spicy  tomato sauce: come on!
Culy's Nancy also added pieces of chorizo ​​and a fried egg to this recipe. So simple, yet so tasty: exactly what you want on Sinterklaas evening.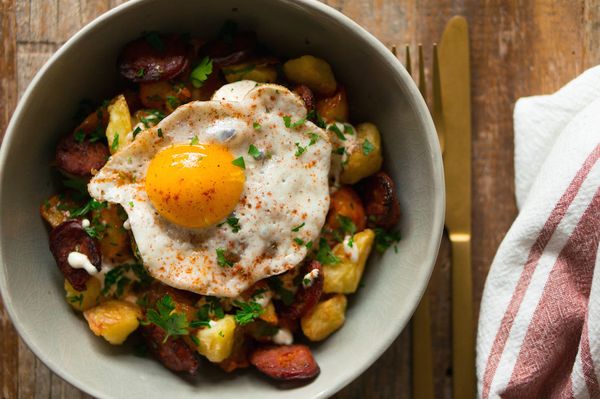 > To the recipe:  Culy Homemade: patatas bravas with chorizo ​​and a fried egg
The perfect Spanish omelette (tortilla)
The Spanish tortilla is an integral part of a table full of delicious tapas. Still, making them can be quite a bit of work; what if your potato omelette (because it basically is) suddenly falls apart completely?
This recipe is from Matt Preston, known for the Australian MasterChef. So, well, then you know it's good.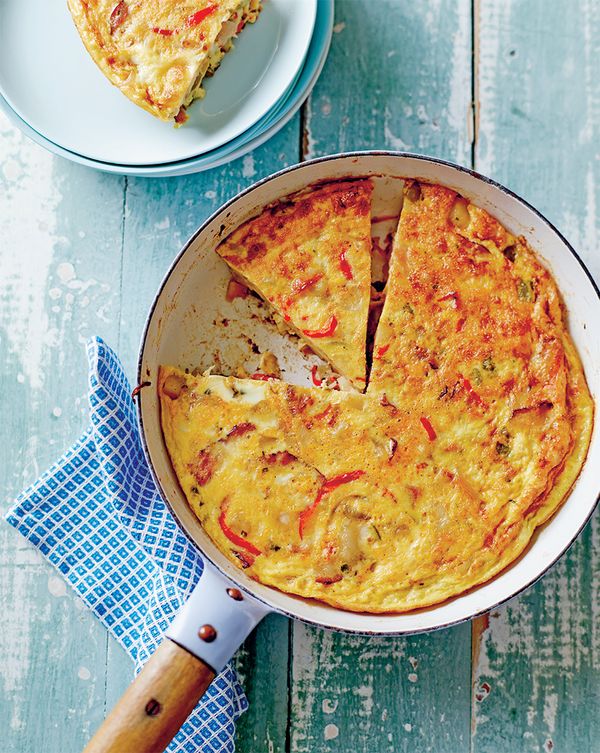 > To the recipe:  The perfect Spanish omelette (tortilla) by Matt Preston
Spanish couscous with salami and mussels
Couscous, mussels, salami, mushrooms, bell pepper, olives and peas: that's all you need for this quick Spanish couscous. It has a kind of paella vibe , but without the long stirring.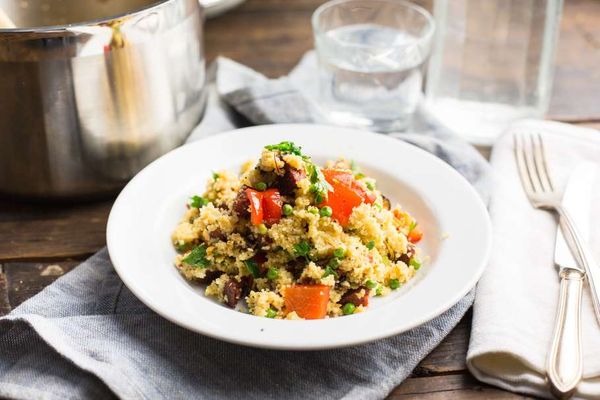 > To the recipe:  Spanish couscous with salami, mussels and olives
Spanish croquetas with spinach & goat cheese
After all, a drink is always one of the best times of the day, and that certainly applies to Sinterklaas evening. Of course we don't put boring bitterballen on the table, but  croquetas  that will certainly charm the saintly man.
We would almost consider traveling to Spain after Sinterklaas.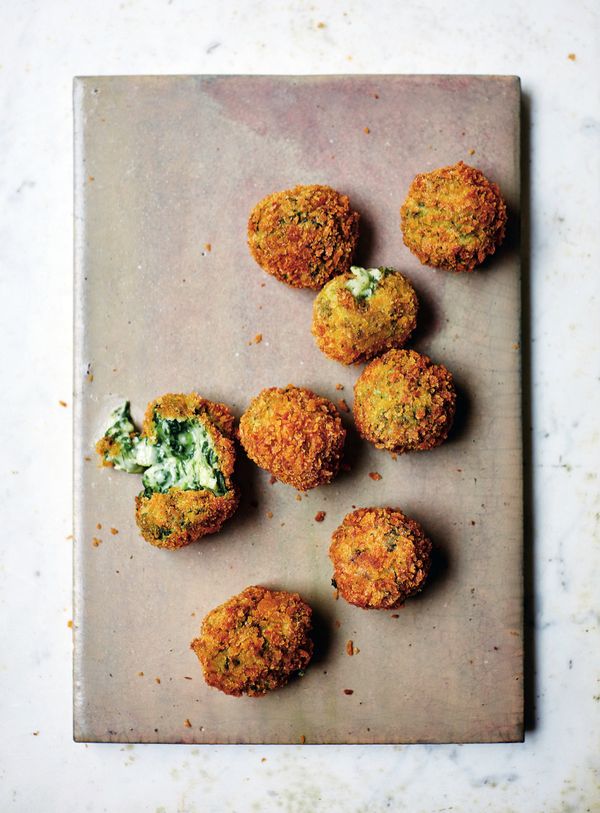 > To the recipe:   Spanish croquetas with spinach & goat cheese
Sopa de ajo (Spanish garlic soup)
The chance that you will kiss Sinterklaas is (fortunately) very small, so we see no reason not to eat this divine garlic soup on Sinterklaas evening. It might be his birthday, but then we can enjoy it too, right?
Extra nice: this Spanish recipe is simple too.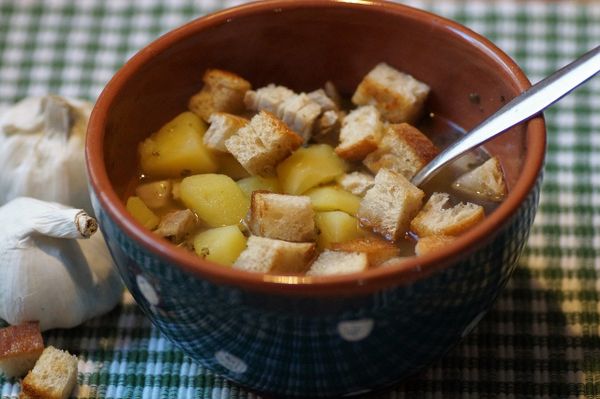 > To the recipe:  Culy Homemade: sopa de ajo (Spanish garlic soup)
Almond tart with limoncello (torta de Santiago)
It can hardly be called a dish, but: a good dessert should of course not be missing on such a Spanish evening. Extra pluses if it contains alcohol!
Tip: if you want to make your torta in the really traditional way, you can cut a cruz de santiago out of paper and place it in the center before dusting with icing sugar.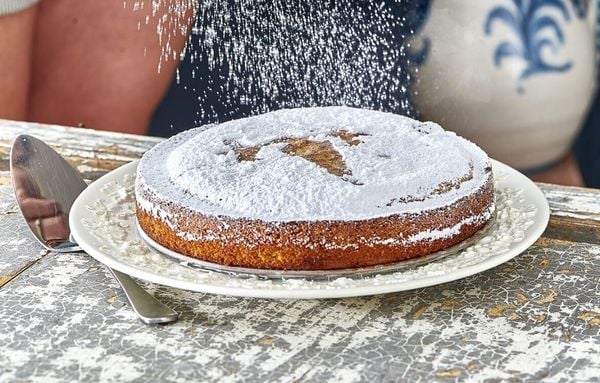 > To the recipe:  Almond tart with limoncello (torta de Santiago)