When we tell you that top chef David Chang – arguably one of the most famous chefs in the world, thanks to his Momofuku empire – microwaves almost everything at home, we have your attention. In his new book 'Cooking at Home' which he co-wrote with Priya Krishna, he teaches you not to worry about recipes and to love your microwave as much as he does. We tell you why this book is a must-have and: can give away 5 copies.
The new cookbook from culinary hero David Chang is not the type of cookbook you might expect. There is not a single recipe in ' Home Cooking '. Or well, it contains about 100 recipes. But those aren't recipe recipes, you know? David Chang and his co-author Priya Krishna (who you may know from the website Bon Appétit and The New York Times) mainly want to teach you how to cook without thinking, just like their parents did.
Learn to cook with David Chang
So Chang doesn't give you ready-made recipes, but instead shares his favorite dishes and multiple ways to make a meal. Flexibility is the magic word here. And yes: that often also involves the microwave.
For example, we often start with a basic preparation, for example cooking chicken thighs in the microwave or cooking oxtail, followed by ideas for dishes that you can make with it. Chang then urges you to use whatever ingredients (vegetables, spices, herbs) you have available or like. With the intention that you will eventually make your own collection of favorite herbs and seasonings. After all, that is cooking on your intuition and your own personal taste.
The goal of 'Home Cooking' is therefore crystal clear:
Embrace the microwave
The chapters of the book are organized into sober categories like "What I do in the microwave (I microwave almost everything)" and "If I don't eat rice, I probably eat noodles (often both: the more carbs, the better better)'. If you haven't already felt a soul mate with David Chang, you will now.
Also brilliant: because, according to the authors, everything revolves around learning to flavor your dishes, they let you discover your personal taste preferences on the basis of types of chips ("Do you like Sour cream & onion Pringles? Then you like strong, fresh sour , salty and a little sweet.").
They also share their favorite ingredients and utensils, teach you techniques for preparing meat and chicken, the best microwave cooking tips and how to cook the best rice. Also nice: the chapter on buying and preparing fish; something that many people still fear (Chang: "Who has a local fishmonger? Not me! A realistic view of preparing fish.").
For foodies and for dummies
Home Cooking is not only an ideal cookbook for foodies (and fans of David Chang), but also for dummies. You really learn to cook based on your gut feeling and the authors encourage you to make mistakes and learn from them. It's about cooking with what you have at home, about improvising and about cooking when you don't have a preconceived plan and little time. So really to become a better home cook.
As far as we are concerned it is a timeless book, in the same order as ' Salt Fat Acid Heat ' by Samin Nosrat and Cooking Bible by Niki Segit . Such a great book only comes along once in a while.
Win this book!
Does this sound like the cookbook of your dreams? Culy is allowed to give away 5 copies of 'Home Cooking' by David Chang and Priya Krishna by publisher Carrera Culinair to lucky Culy readers. So you can win it!
Do you want a chance to win this book? Send an email to info@culy.nl with 'Cooking at home' in the subject line and tell us what the dish is that you have always wanted to learn to cook (or something else you still want to learn in the kitchen).
Don't forget to include your full address details so that we can send the book to you.
The giveaway runs until November 25, 2021. The winners of the books will be notified by email. There will be no correspondence about the result).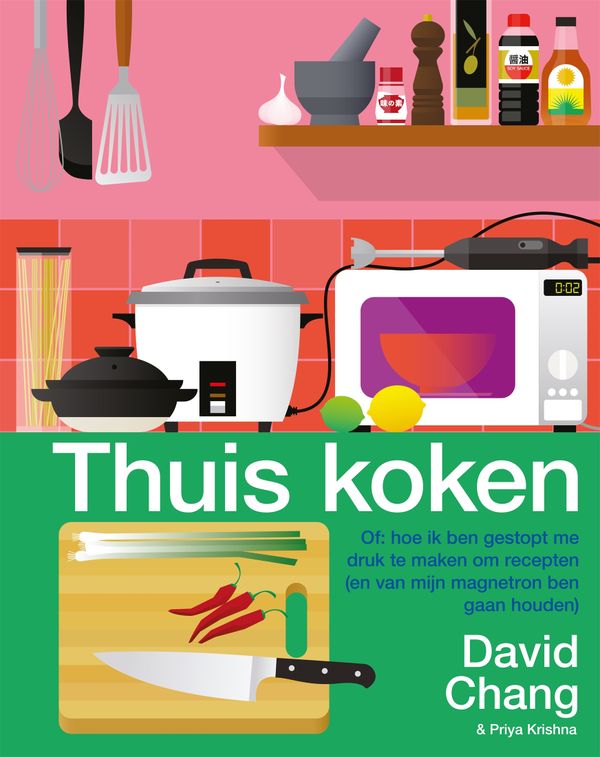 > Home Cooking by David Chang & Priya Krishna (Carrera Culinary) is now for sale for € 29.99