It may be a while until Sinterklaas evening, but we foodies love  nothing more than mouth watering about all the fine meals that are yet to come. Anticipation is the best fun, right? And then we mainly think of the snack board that we have in mind for a wonderful evening. If only Sinterklaas had his birthday more often…
Want to create your own serving board for December 5th? That's how you do it!
The perfect serving board for December 5th
something spicy
It is only a real Sinterklaas evening when we add the taste of kruidnoten. However? And that doesn't have to be in the form of real kruidnoten. How about  gingerbread for example ?
You can invest it with a variety of savory things; think of apple syrup and cheese, for example.
something hearty
Most snacks have at least one form of cheese and meat on them – including ours. Good (dried) ham is always a safe choice, but you could also go for dry sausage , for example , from which you cut thin slices on the board itself.
In terms of cheese, the possibilities are endless. If you really want to stay in the mood, order a cheese letter (something different than a chocolate letter) or put some cubes of cheese yourself in a nice S-shape.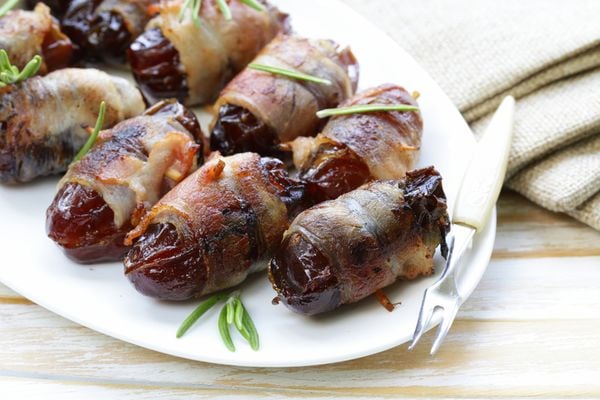 Something sweet
Something savory goes especially well with a subtle counterpart, for example in the form of these baked dates with bacon and goat cheese .
Other options: a ready-made ' fig bread ' of dried figs and nuts, pieces of chocolate fudge with  seasalt flakes  or even crackers with Speculoos paste . Or how about a good old  banquet letter ?
something salty
Something sweet, in turn, goes well with something salty. This can be done very simply, for example in the form of pretzels or salted nuts that you simply get in the supermarket (or from a good cheese and nut farmer).
Prefer something more original? Try serving salty popcorn with your serving board, or even miso popcorn . Bet that it matches very well with the rest?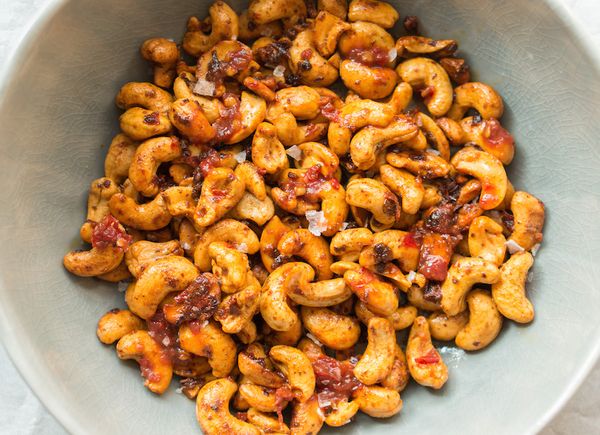 Popcorn already gives a nice bite, but we still want to highlight the crunchy addition to your serving board separately. Because gingerbread, cheese and dry sausage are all nice and nice, but they just lack that crunch we are looking for.
We do find them in, for example, roasted nuts, which you can flavor yourself. This is possible with herbs such as rosemary, but we have also made roasted cashew nuts with sambal in the past . You immediately have a bit of spice.
Something fresh
A good snack platter for Sinterklaas evening is not complete without a fresh element. Traditionally, these are often grapes, but you can also go for apple slices. Or – to stay in the mood – orange slices ? That also goes well with, for example, the gingerbread.
It is a bit of playing with all the ingredients, but one thing is certain: a good serving board consists mainly of sufficient variety. And hey, if you feel called to test the perfect combination in advance, we won't stop you. Someone has to do it, right?
> More inspiration for The Lovely Evening? Check out all our Sinterklaas recipes .