The Culy editors have been preparing for Christmas for weeks: coming up with recipes, spending hours in the kitchen and taking atmospheric photos. But what do we actually eat at Christmas? Today we are revealing our Christmas menu – hopefully with a good dose of inspiration for you.
From tasty main courses with meat to an entire vegan Christmas menu with vegetables in the lead: everything is covered.
The Christmas menu of Culy's Nancy
"Since I discovered this year how to make roasted almonds that are just as tasty as at the Christmas market, everyone around me gets a jar of those things. I like them best with Jonnie Boer's speculaas spices, but I can also make them in other flavors on request."
appetizer
"Because I make a lot of commissioned recipes throughout the year, Christmas is my license to go all out with the recipes I've always wanted to make. I really like it when I don't have to come up with a recipe myself, but can take something from a chef or from a cookbook.
So I'm determined to make Triptyque's famous tomato tartare this year . I just need to figure out how to pasteurize eggs myself. And maybe I can immediately turn that into a Culy article… look, there I go."
Main dish
"There are certain vegetables I have a passionate love affair with, including Jerusalem artichoke (underneath that rough appearance hides a handsome prince), parsnip (deliciously aniseed) and fennel (ditto, I'm even considering a fennel tattoo). So there is a good chance that I will make a nice main course with it this Christmas. My focus is now on candied fennel with gochujang , but parsnip with Mexican mole also keeps running through my head.
I think doing cool things with vegetables and making a main course with them is real kitchen art. More challenging than putting a luxurious piece of meat or fish on the table and therefore also more fun and rewarding ."
Dessert
"I'm not a dessert person; You make me happy with a coffee at the end. But there must be something delicious with it. Because I come from an Indonesian family, there is usually something from spekkoek or other Indian sweets, such as the Toko Lo ' spekkoekcake ' cake. My mother and I also pride ourselves on typical French delicacies such as canelés or madeleines , so they are often displayed on an etagère (usually homemade).
I can always rub my stomach very satisfied after a digestive, such as a nice glass of amaro . Drinking alcohol and that it also boosts digestion: a wonderful invention, if you ask me."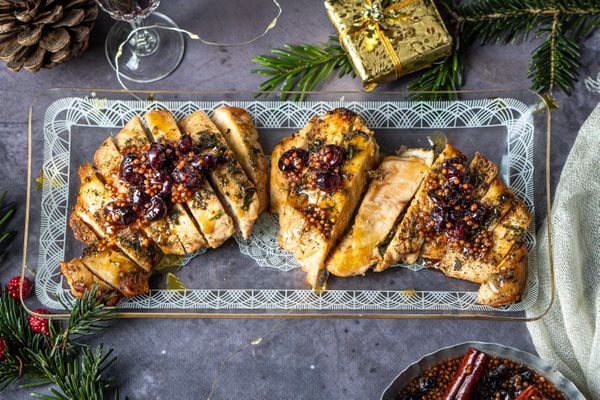 The Christmas menu of Culy's Winnie
appetizer
"After a series of appetizers, it's time for a starter. Half of the family is actually not hungry anymore, because they made 'the snack mistake' – a term that has become established in the family."
"In any case, we start every year with soup, often one that resembles this pumpkin soup with star anise from Culy. Or a classic salmon tartare , sometimes with avocado and apple. Or both! Christmas is not an opportunity to be frugal with food, although we never are in our family anyway. We do, however, make sure that no leftovers are lost."
Main dish
"With a large family consisting of different types of eaters, there are usually two main dishes on the table: a variant with meat and a vegetarian variant with lots of vegetables. The baked potatoes as a side dish connect the two."
"What's on the table then? That differs every year: from an oven dish with meatballs and tomato to vegetarian baklava or – more classic than classic – turkey ."
Dessert
"There are certainties in life and the Christmas ice cream cake in my family is one of them. Admittedly, we usually buy these ready-made (again: big family – and it also has to be practical, huh?), but you could actually just as well make it yourself. With our recipe for homemade Viennetta , for example."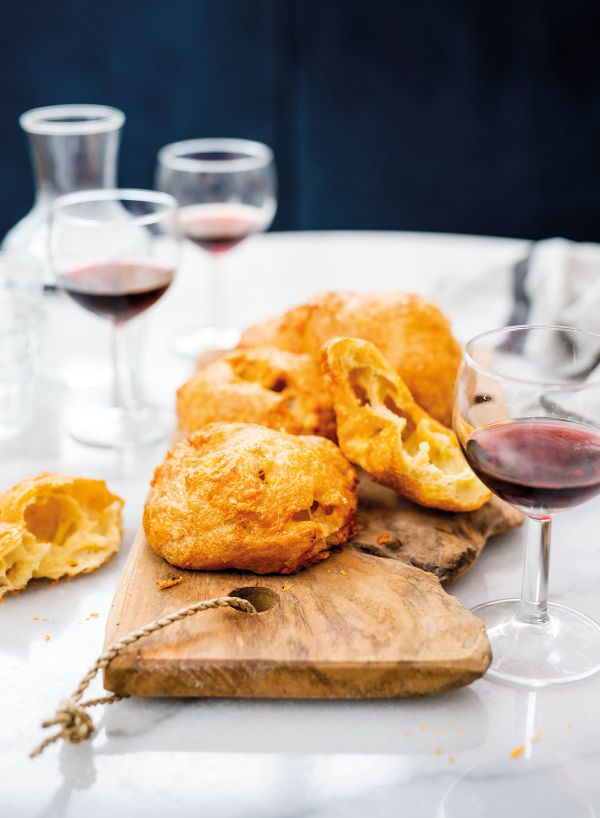 Culy's Auke . Christmas menu
"Divinely delicious bread beforehand, always. With  beaten butter for example, to which I add miso, or anchovies, dill and lemon zest. Or filled with herbs , that's also possible. My favorite breads? The pain gris of Keppler in Amsterdam-North or one of Gebroeders Niemeijer. Preferably with a Lillet Blanc or a Poiré on the side."
appetizer
"On to more carbohydrates, because actually I take every opportunity to put a load  of gougères into the oven. So also at Christmas! In any case, I am very happy with French starters at Christmas. Or actually at all. Chicken liver parfait, pâté-en-croûte, escargot… I could go on for hours. But let's start with the gougères, which you make with this recipe ."
"The French cheese puffs are easy to make and I've never met anyone who isn't happy with them. The same goes for oeufs mayo . Preferably in large numbers, so that I have breakfast the next day. The first bottles of wine from Vleck can also be opened for the starter."
Main dish
"Since everything is delicious with butter, there is a good chance that a lot of it can also be found in the main course. Like this  romanesco with beurre noisette  or  this roasted celeriac . I've also been thinking about fried capers for a few years now, so they're probably just around the corner."
Dessert
"Can I also slide a cheese board in between? Hereby. From Kef, with a lot of red flora. After that, I actually like it best to finish with coffee and a canelé – or an espresso martini and five canelés. I make them myself when I have time, but when I don't have time I buy the best ones at Holtkamp, ​​Le Fournil or AO bar in Amsterdam."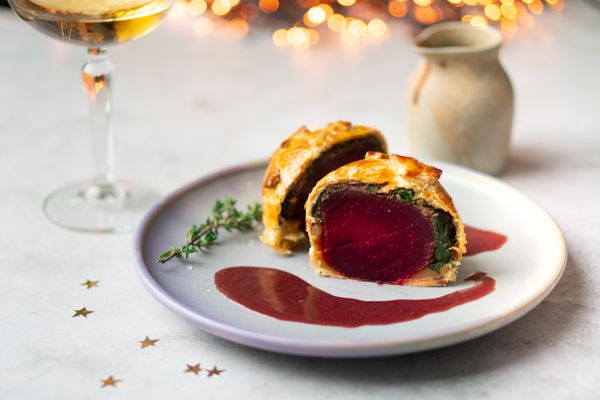 The vegan Christmas menu of Culy's Maaike
"No pork tenderloin or porchetta for me: my Christmas menu will be completely vegan. In other words: vegetables in the lead role! And you can do amazing things with that."
appetizer
"I often opt for two small starters: a soup and a salad. This vegan parsnip soup , for example, is fantastic. I am a big fan of anything with parsnips! Nice and earthy and a little sweet. I like to make the salad a bit oriental, with grilled eggplant , a tahini dressing and pomegranate seeds."
Main dish
"I think it's fantastic to amaze my family with vegan variants on traditional dishes for Christmas. For example, instead of a beef wellington I like to make a beet wellington or a mushroom wellington . Very tasty! A stuffed pumpkin always works well, for example this one with red onion chutney and fresh figs."
"As a side dish there are of course stewed pears – my father's contribution to the Christmas menu – and potatoes from the oven. Grilled vegetables, such as parsnips and fennel, also always work well. As an ultimate quick side dish I like to slide green beans in the oven with some garlic and lemon juice. Just vegetable fries!"
Dessert
"After the starter and main course, most people are already so full that they hardly fit a dessert. But a Christmas menu without dessert is of course nothing. A quick crumble with a scoop of plant-based ice cream is always good, and you can scoop as much (or little) of that as you like. I am also a fan of trifles : little effort, great effect."