There's no getting around it: with the way we shop, cook and handle leftovers, we can make a difference in the fight for a better world. Without compromising on taste. Because loving good food and dealing with it sustainably can go hand in hand. That's why we're highlighting a sustainable Christmas menu this year, with a broad focus on vegetables, local ingredients and plant-based options.
Vegetables and plant-based ingredients are not only very sustainable options, if you know how to prepare them, they also produce very exciting dishes.
Culy's sustainable Christmas menu
We have listed a number of sustainable options for each corridor. That way you can easily put together your own sustainable Christmas menu. Which selection will you make this year?
Sustainable amuse-bouche
Whether you go for the vegan samosas or the crispy cauliflower bites: in each of these cases the bowl of amuse-bouche will be empty quickly enough. As it should.
Vegan samosas with fennel, orange and beetroot

Oeufs mayonnaise with parsley oil

 (buy organic eggs)

Christmas hummus with kaki fruit and pomegranate

 (kaki fruit is now in season!)

Crispy cauliflower with Sriracha and Japanese mayonnaise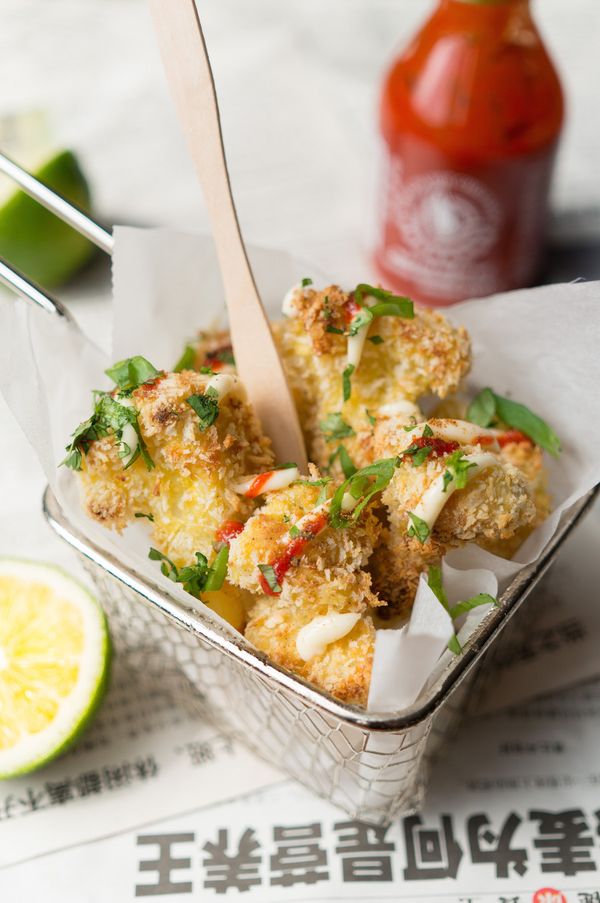 Sustainable starters
In fact, just about any vegetable-based soup is a good sustainable starter, but don't forget to check out the beetroot tartare: a sustainable nod to the classic.
Vegan parsnip soup with garlic and puff pastry stars

Jerusalem artichoke soup with almond milk and brown butter

 (use vegetable stock and organic butter)

beet tartare

Roasted garlic soup with green

 herb oil (use oat cream and vegetable stock)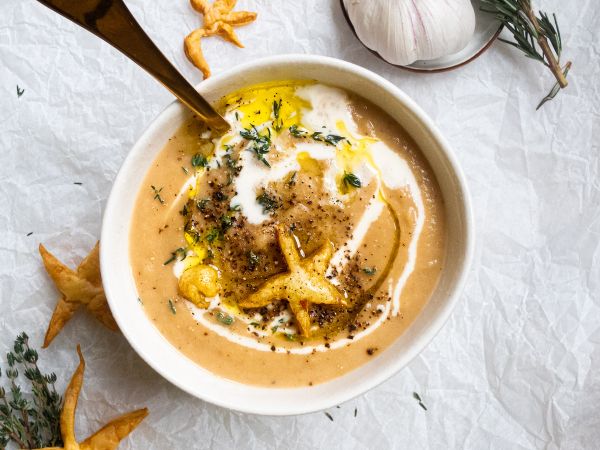 Sustainable side dishes
We cannot emphasize it enough: with the right interventions, vegetables become exciting flavor bombs with a high addiction factor. These cool side dishes provide proof.
Roasted & Crushed Beets

Hasselback potatoes with Christmas butter

Christmas salad with mandarin, red chicory and pecan

Caramelized courgettes with ricotta, mint and hazelnuts

Hasselback zucchini (a nice side dish!)

Sweet potato patatas bravas

Potatoes from the oven with garlic and Parmesan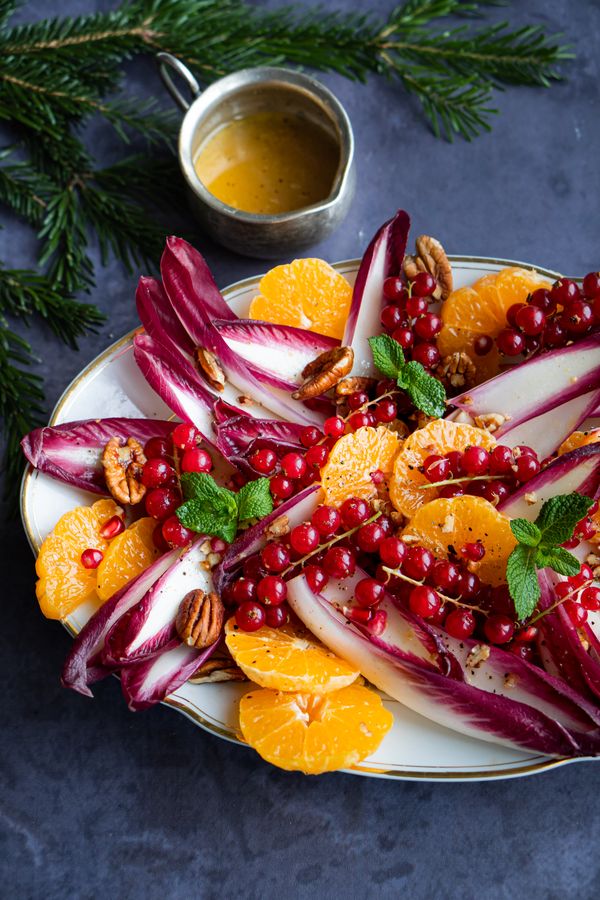 Sustainable main courses
Whether you're hasselbacking a pumpkin or making red cabbage steaks: with these main dishes you make vegetables shine as if they were Hollywood stars.
Whole roasted romanesco with beurre noisette and pistachio

Hasselback pumpkin with maple syrup and chili pepper

Cauliflower steak with romesco sauce and hazelnuts

Roasted celeriac with hazelnut pesto and curd

Red cabbage steaks with parsnip cream and gingerbread croutons

Vegetarian pie with sweet potato and mushrooms

Roasted kohlrabi with sesame dressing

Vegetarian savory baklava for Christmas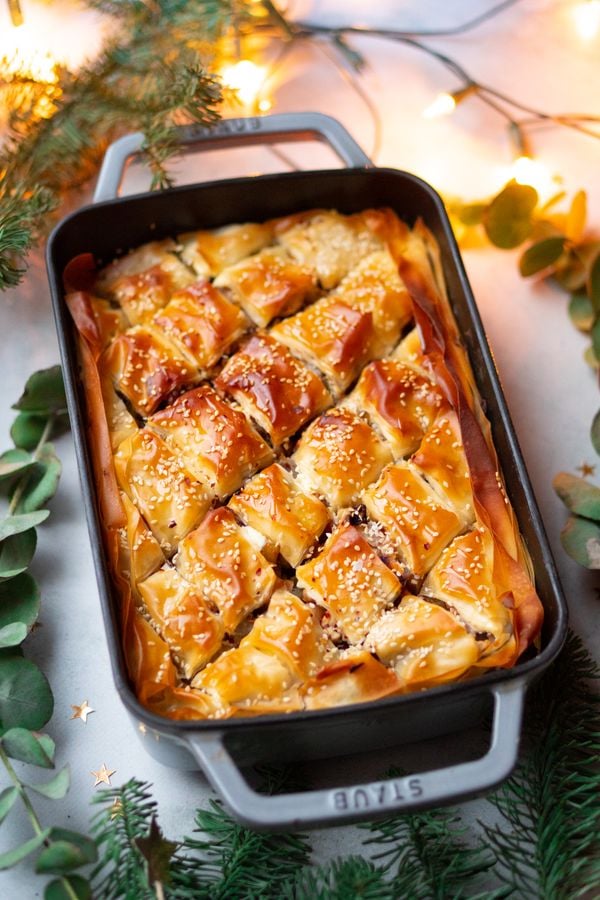 Sustainable desserts
In these desserts, we emphasize local and plant-based ingredients. One time a vegan brownie, the other time a dessert with locally harvested stewed pears. The common denominator? In addition to being sustainable, all these desserts are of course simply delicious.
Vegan soy sauce brownies with butterscotch

Stewed pears with oatmeal crumble & yogurt

Vegan meringues (made with aquafaba)

Easy banana ice cream

Raw cocoa cake with dates & walnuts

Vegan chocolate mousse with granola

Elderflower cake with raspberries

Sweet Potato Brownies (from Ella Mills!)

Vegan chocolate ice cream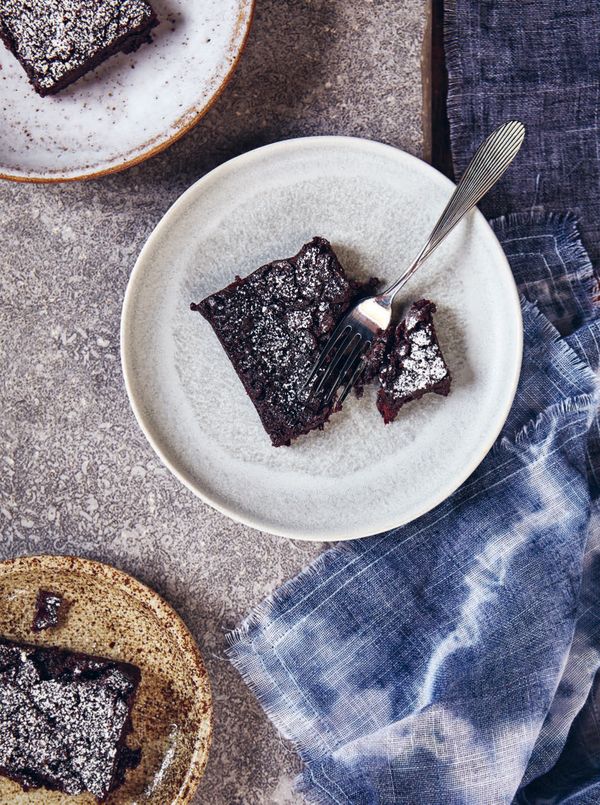 And the day after?
Sustainable cooking is of course also about being creative with leftovers. Do you have any left over the next day? You can make all of this with leftovers from your Christmas dinner .
Also handy: Too Good To Go is launching an e-book this year to prevent food waste during the holidays: REMIX. You can download this book for free via the site and it will teach you how to make croquettes from leftovers or how to ferment asparagus stems into a spicy side dish. Cool!