Don't say we're the only ones complaining that gin smells so good (in fact, we've considered dabbing it behind our ears). Fortunately, they also found that at the Amsterdam perfume label Adam Odor. Together with Tanqueray (from that gin Amy Winehouse sings about) they are now launching a home perfume with the scent of gin.
Gin home perfume
Adam Odor and Tanqueray came up with a perfume diffuser with the scent of the iconic London Dry Gin. The result is a luxurious bottle with sticks that spread the scent throughout your home.
The gin's four main botanicals – juniper, angelica, coriander and licorice – can be clearly smelled.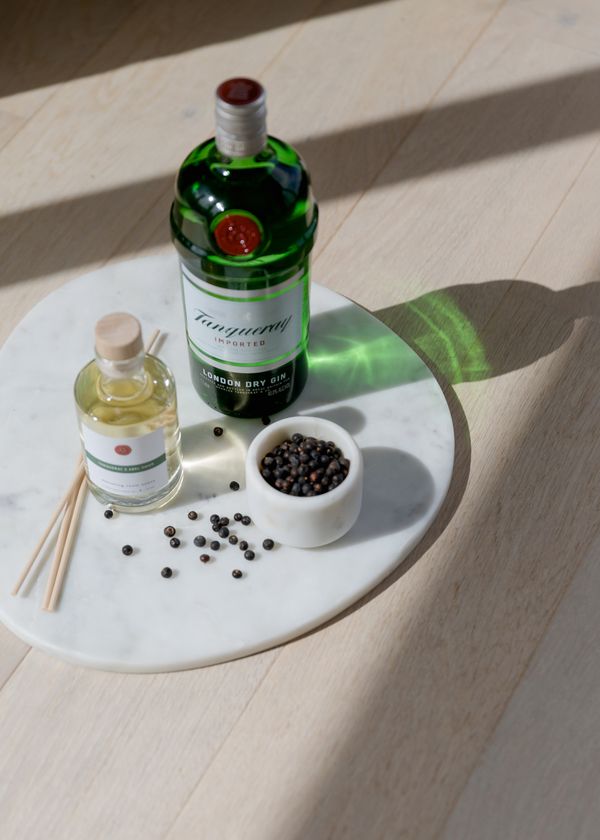 Abel Odor x Tanqueray
It seems to us that it is difficult not to get a huge appetite for a large cocktail glass with gin and tonic . But that's exactly the point.
Master perfumer Isaac Sinclair wanted to create a modern, invigorating scent that is lively and fresh: "A bit like the first sip of a perfectly mixed gin and tonic at sunset, on a terrace near the forest."
If it's not the perfect gift for yourself, then it certainly is for your gin-loving friends for the holidays. For 200 ml you pay € 100,-.
Where to buy?
> The Elevating Room Scent (home perfume) by Abel Odor x Tanqueray is now exclusively available via DeBijenkorf.nl  and  AbelOdor.com .