Of course you can look for recipes that are completely vegan, but sometimes you just really feel like a recipe with meat. But then, well, vegan. And although you will never get quite the same result, you can often mimic the structure and taste. Culy presents: this way you can replace the meat in a recipe with a vegetarian option.
From minced meat and chicken to shoarma: we've got you covered.
Replace meat with vegan
Replace chicken
Chicken is of course 'the most versatile piece of meat' ( chicken! ), so you can also replace it with a variety of vegetarian ingredients. If you want to replace chicken in a curry, try  chickpeas  or small cubes of  tofu . Both also have a light bite, and also a lot of protein.
Do you want to replace pulled chicken ? Then  pulled jackfruit is a very good option. Canned pieces of jackfruit can easily be 'pulled apart', allowing you to mimic the structure well. Make a good marinade and your sandwich will no longer need meat!
Do you want to replace chicken in Asian dishes, for example in a recipe for chicken soy sauce? Then  tempeh  is a very good meat substitute: you can marinate it just as easily, and it has a 'chicken' structure.
Replace steak
Few carnivores can resist a good steak. That texture is of course difficult to imitate, but instead of steak you can put a large piece of vegetables in the spotlight!
For example, make 'steak' from a slice of cauliflower, broccoli, celeriac or even red cabbage . The secret: roasting in the oven so your vegetables are soft on the inside and crispy on the outside. And serve with a tasty sauce, of course.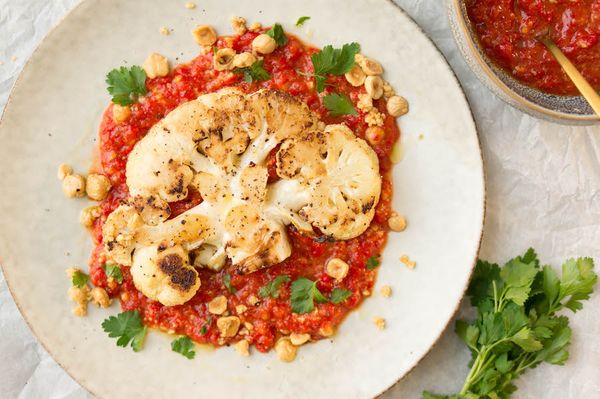 Replace minced meat
From boboti to tacos: minced meat is multifunctional. Fortunately, you can also replace it with a lot of things. For example, choose crumbled tofu , which you fry over high heat in a lot of oil. Just make sure you season it well; you can just do that with minced herbs.
Another substitute for minced meat are  pulled oats . This is a meat substitute based on oats with the texture of gently cooked beef. Just a bit more special than regular vegetarian mincemeat! Seasoned lentils  are also a good option to replace meat in some recipes, for example in your tacos.
Replace satay
Everyone has heard of tofu, but do you already know tempeh? That is fermented soy – super healthy. Like tofu, you need to marinate tempeh well to make it flavorful, but it has a much meatier texture. Long story short:  tempeh satay is super tasty.
Make your satay extra tasty by marinating the pieces of tempeh for a long time in homemade satay sauce. Tip from Culy's Winnie: feel free to start a day in advance and let the tempeh absorb the flavors overnight in the fridge.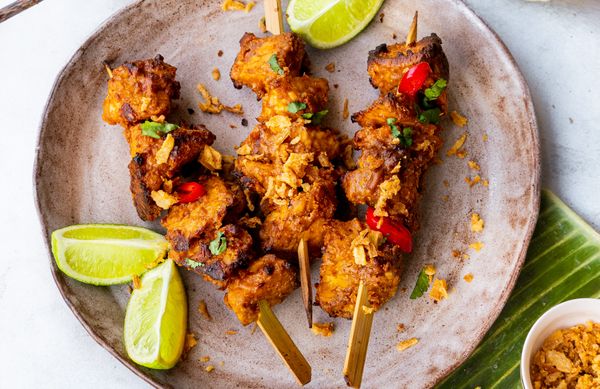 Replace shawarma
On Friday evening, after a night out or just random  during the week: shawarma is always a good idea. And it turns out that you can also make  oyster mushrooms !
'Pull' the mushrooms apart and mix in oil and shawarma spices. Roast for about 20 minutes at 200 degrees and then your oyster mushroom kebab is ready to serve as a sandwich filling. Don't forget the (homemade) garlic sauce.
Replace burger
Instead of your burger, you can choose from a variety of veggie burgers. Not only the ready-made ones from the supermarket, but you can also make them yourself. This can be done, for example, on the basis of black beans, white beans , lentils or chickpeas. You can even make them from ground pasta – yes, really!. BOSH  has a good recipe for that.
If you make your own vegan burger, make sure you always (yes, really always) use a binding agent. You can use egg, but also flour, breadcrumbs and even oatmeal. It can also help to pre-cook the burger in the oven; then it will fall apart less quickly if you bake it brown in the pan afterwards.