The Christmas decorations can go out again and we are eager to decorate the Christmas tree. But a real foodie styles his Christmas tree in a food theme. How do you do that? We'll show you that. From sausages to your most beautiful food photos: it can all go up the tree.
The only challenge is trying not to eat all your Christmas decorations before Christmas Day.
6 x ideas for a foodie Christmas tree
Christmas decorations for foodies
If you pay attention to it, you will only see how many Christmas balls and other food-themed Christmas tree decorations have surfaced in recent years. The Amsterdam bauble brand Vondels led the way, but many culinary baubles followed. From chili peppers to garlic bulbs with glitter , as well as the Christmas ball croquette (there is the egg ball Christmas ball especially for Groningers , this year also in a sustainable jacket).
The choice is again huge this year, for example, we spotted a can of anchovy bauble at AH, a Ratatouille-like chef mouse and even a piece of lasagna and a chocolate chip cookie . Also striking is the large range of sushi Christmas pendants , which can be expanded with a dim sum steam basket if desired .
Perhaps not the most affordable option, but if you just expand your Christmas tree every year with one special foodie bauble, you will naturally build up a nice collection over the years.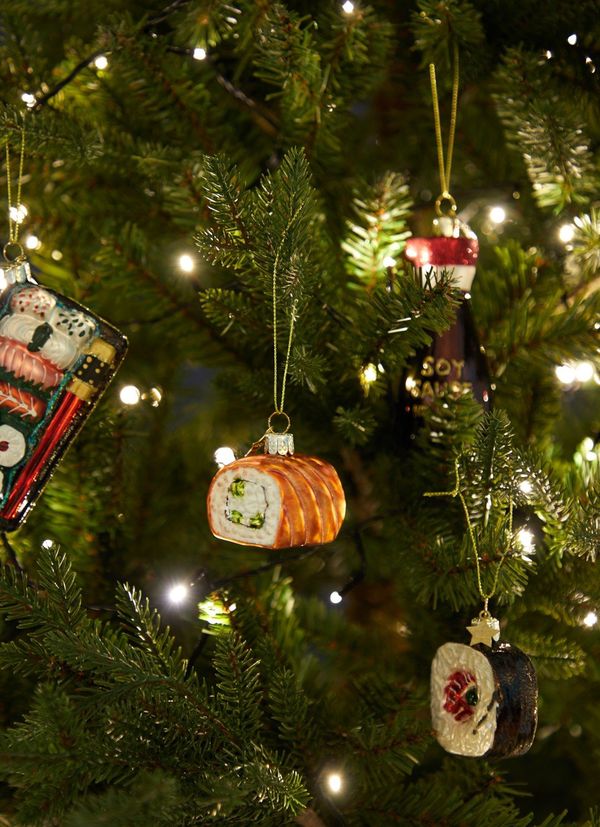 Tony's Christmas bar
You may never have noticed because you were too busy stuffing that bar in your mouth, but Tony's Chocolonely's Christmas bars (available in mulled wine , ginger cookies, and mint candy cane flavors ) are made for hanging on the Christmas tree.
The chocolate bar contains a Christmas tree that you can break out. There is a small hole in it, through which all you have to do is thread a string. Et voilà: your Tony's Chocolonely Christmas tree hanger is a fact. Indispensable for the real fans.
SAUSAGE POST sausages from Brandt & Levie
Of course you know Brandt & Levie for the tastiest sausages in the Netherlands. Indispensable with a drink; we always have them at home. If you want to make someone else happy with this delicacy, you can now do so with WORST POST: three dry sausages that simply fall through the letterbox.
The December edition with five sausages with luxurious surprise flavors is of course completely festive. Even so festive that we would just hang them on the Christmas tree. For sale via the Brandt & Levie webshop .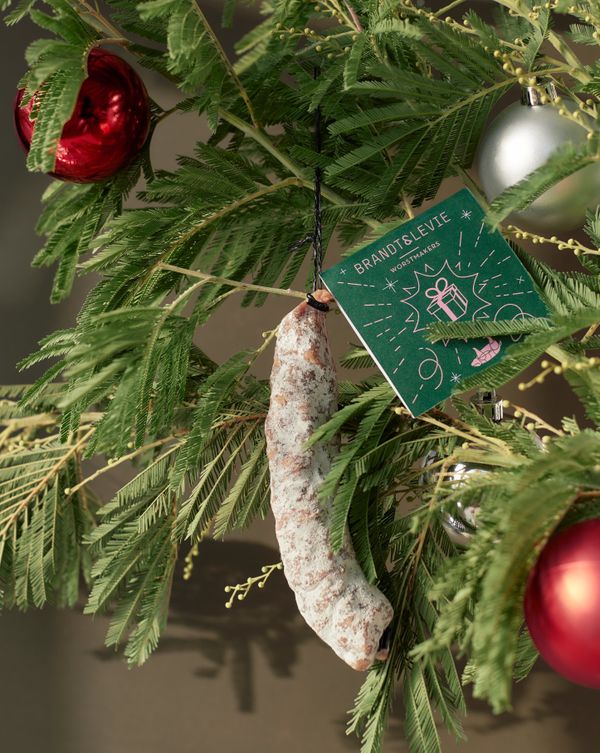 Your most beautiful food photos
Are you one of those people who always hangs over their plate of food first to take a food photo? Your dutifully waiting table companions will probably wish you up the tree regularly, but at Christmas you can also just hang those beautiful food photos in the tree. Print them out in Polaroid format (Lalalab, for example, we find a handy app for this – pay attention to the delivery time), make a hole in them and hang them with a ribbon on the Christmas tree. You're either a foodie or you're not!
Also fun to do with the photos of your favorite meals with friends and family that you have fond memories of.
Christmas cookies
For the ultimate Christmas feeling, just like in the past: bake Christmas cookies, make a hole in them and hang them in the tree. It doesn't get any cozier in life.
You can easily hang these Christmas star cookies with lemon zest from a ribbon in the Christmas tree, but we also have other recipes for Christmas cookies for you. You can make the hole, for example, by cutting a hole with a mini cookie mold (think of an asterisk) through which a ribbon can go. But you can also use a skewer for it. After baking, thread the ribbon through it.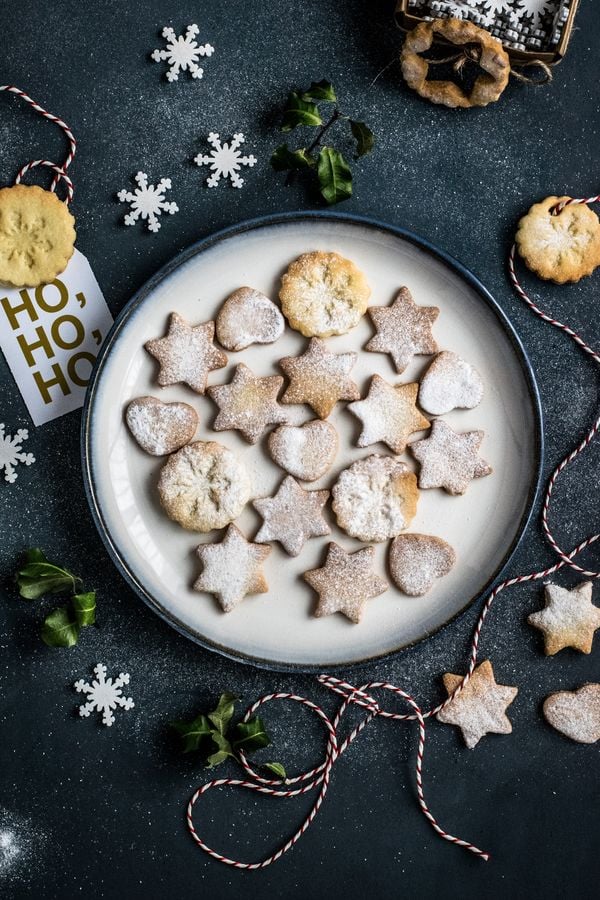 Make a food garland
In the past – especially in America – popcorn was sometimes hoisted on a wire as a Christmas garland. With a little imagination, the white puffed corn kernels look a bit like snow. And that is surprisingly nice.
The ultimate wine fan can also imitate this trick with a mountain of wine corks. Also very nostalgic: cinnamon sticks or orange slices that you first let dry in the oven ( that's how you do it ). Smells good too, be careful.
> Nice side effect: it also keeps the cat out of the Christmas tree.
Christmas over again? Eat your Christmas tree
No, don't immediately put that Christmas tree outside in the trash! Because did you know that spruce needles are great seasonings for the most diverse dishes? Beer brand Lowlander (who also made beer with spruce needles before ) let us experience it together with top chefs Joris Bijdendijk ,  Samuel Levie , Rudolf Brand and René van der Weijden with dishes such as carbonara with oil from spruce needles and a dessert with Christmas tree foam.
In case you are eager: there is even a book made about it, entitled ' How to eat your christmas tree '. Bon appetit!