Thinking about what to eat every week can be quite a challenge. To ensure that you don't put the same dishes on the table every week, we like to inspire you with handy weekly menus. This week we fill with the spicy, warm deliciousness of Indian recipes.
But it's not just curries on the table; soup, röti and even a kind of veggie burgers are also reviewed. Ah, the richness of Indian cuisine. <3
Need more inspiration? View all weekly menus!
Oh, and are you preparing one of these recipes next week? Take a picture of it, share it on your stories (or your Insta-grid) with  #culyhomemade  and  @culynl  and we'll share your picture via our  Instagram account !
Monday
Yes, we're keeping soup day on Monday! And delicious, that is certainly this Indian tomato soup. You make it with ginger , turmeric, cayenne and coconut milk.
Extra nice: canned tomatoes go in the soup instead of fresh ones. Don't you have to skin all those vegetables (or fruit? We 'll never know… ).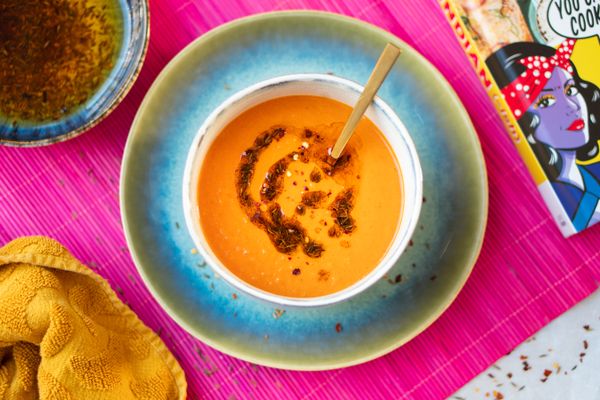 > To the recipe:  Culy Homemade: spicy Indian tomato soup with coconut milk
Tuesday
"The combination of sweet and regular potato with caraway, cardamom and curry gives this rösti a twist that you can never get out of your head," says Culy's Freya. This is India in top form!
The rösti is extra delicious with the apple chutney; it provides a fresh counterpart to the spicy recipe.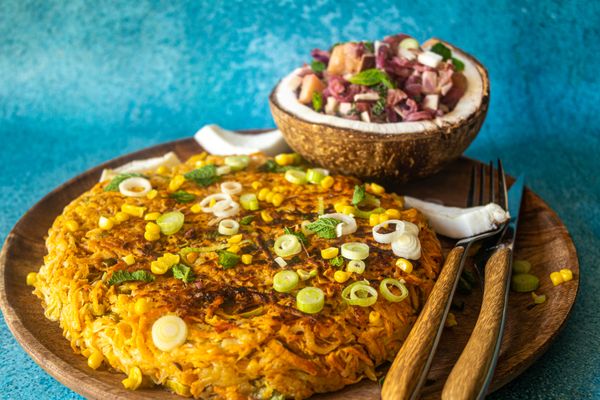 > To the recipe:  Culy Homemade: Indian rösti with apple coconut chutney
Wednesday
What could be better than a good dip with bread or chippies? Exactly: nothing. You can eat this Indian baingan bharta (a purée of smoky aubergines) with naan or papadum. Blown to enjoy!
Add the ginger, chili pepper, turmeric, mustard seeds and coriander to et voilà : a spicy dish that warms your heart.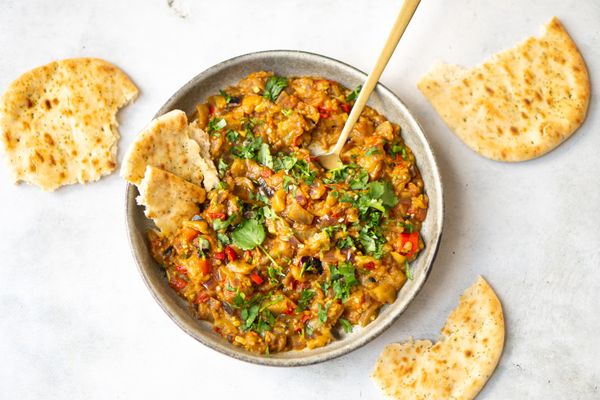 > To the recipe:  Culy Homemade: Indian baingan bharta (divine puree of smoky aubergines)
Thursday
A delicious (and) photogenic meal with only 7 ingredients: that's about the description of this Indian baked potato. Serve with a salad or a quick curry .
The filling also contains chaat masala : a spice mixture of, among other things, cumin, black salt ,  amchoor  (dried mango powder), chili powder and, for example,  asfoetida  (devil's dung). You can find the mix at most Asian supermarkets.
> To the recipe:  Culy Homemade: Indian baked potato to die for
Friday
Paneer is in the spotlight in this curry: an Indian cheese that you will encounter in dishes like saag paneer . The taste is light and a little salty, which goes very well with spicy curries. You can find paneer in most Appies, but you can also replace it with feta or tofu.
The paneer provides a light bite to the creamy curry, which is again delicately spicy. A good start to the weekend.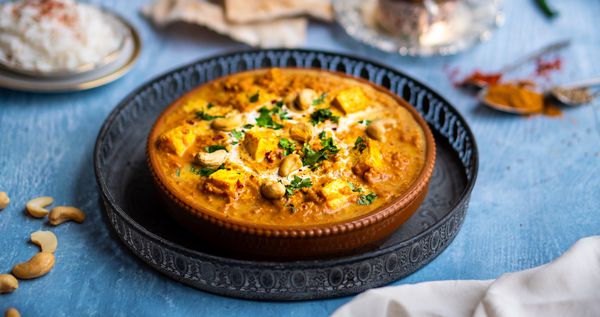 > To the recipe:  Culy Homemade: Indian red curry (butter masala) with paneer
Saturday
Citizens without citizens? Sounds crazy, but it turns out that you can easily replace your (vegan) meat with Indian vegetable curry. On bread, yes!
Pav  bhaji is a well known Indian street food. The thick vegetable curry is eaten with a lick of butter, fresh lime juice and onions. Good as a snack, but if you use large sandwiches it can also be used for dinner.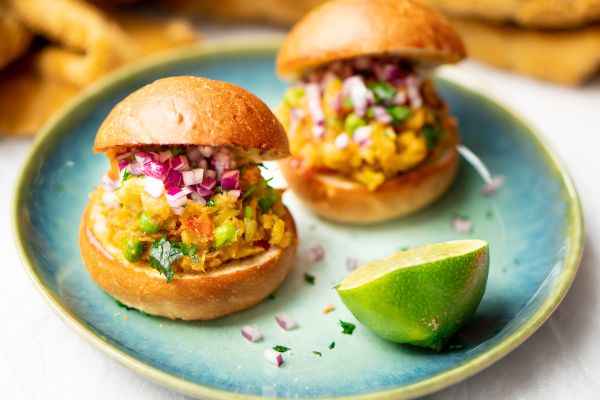 > To the recipe:  Culy Homemade: Indian pav bhaji (sandwiches with vegetable curry)
Sunday
This biryani is a typical Sunday dish: it takes some effort, but then you have something! The list of spices is long, but with a bit of luck you already have most of them at home. And together they make for a  fingerlickin'  Indian dish.
A good Indian biryani is actually not complete without a series of great side dishes. You can serve this vegetarian biryani with a spicy mango chutney and a simple side dish of cucumber, yogurt and black pepper.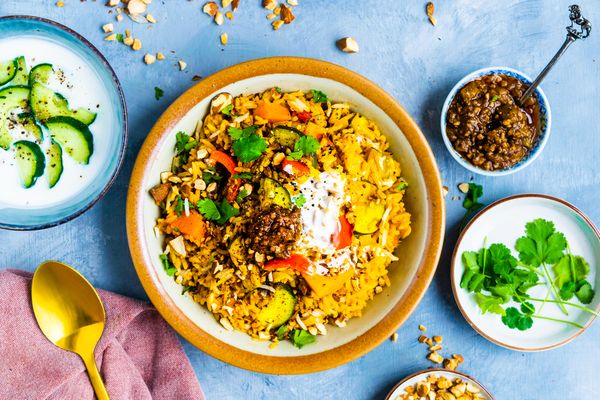 > To the recipe:  Culy Homemade: Indian biryani with sweet potato and toasted almond