Yes, this is cool: Jonnie and Thérèse Boer (from De Librije*** in Zwolle) have let their creative brains spin again. This time they came up with a new line of spirits: Botanical Spirits by Jonnie & Thérèse.
They already had a gin and Thérèse had her own wines for some time . Sitting still is not really for the two anyway. Because after their newly opened Bar Senang, it was announced last week that from January they will also take over brasserie Janssen – a catering business that is opposite their two other businesses in Zwolle.
Team spirit symbol
And now they also have their own line of spirits, a project that symbolizes the team spirit between the power couple:
" This line is about walking uncharted paths together , and discovering limitless possibilities. Because what happens to the taste sensation when you enrich one with the other ? What are the possibilities for perfecting the already special classic flavors of rum and genever with a special macerate from the hortus botanicus? it sounds.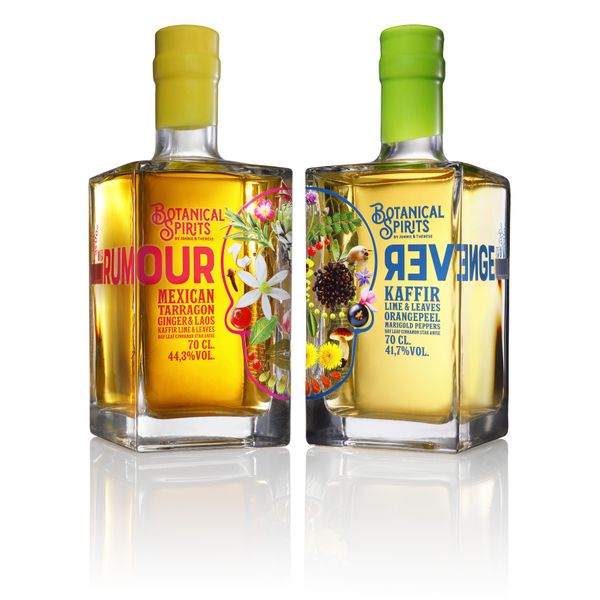 Botanical Spirits by Jonny & Thérèse
Botanical Spirits by Jonny & Thérèse is the result of this loving exploration, consisting of two bottles: Jonnie's Revenge and Thérèse's Rumour .
Revenge

 is a sensational genever with a bite and flavors of 

kaffir lime

 , orange, lemon marigolds and pepper. Rough 

meets

 exotic.

Rumour

 is a sensual rum with Mexican tarragon, ginger and galangal: a kiss from Thérèse.
Where do I buy the spirits?
The spirits are available in Librije's Winkel in Zwolle and online (gift tip!).
Jonnie & Thérèse also serve their spirits in their restaurants De Librije, Brass Boer Thuis and Bar Senang , and later also in their restaurants on Bonaire and Curaçao.
Cheers to love!