We still have to recover from our online masterclass with cooking queen Nadiya Hussain, because that was so fan-tas-tic! The love for Nadiya was already quite big, but meeting her in person has if possible made even more impression. Afterwards we spoke to Nadiya about her new book , about her pets and about her kitchen disasters.
Don't know who Nadiya is yet?
This is why you should (get to) know Nadiya Hussain
What does food mean to you?
Nadiya: "For me, eating equals home. Actually, food is like a binding agent between all the beautiful memories from my life. As a child, as a teenager, as a mother, as a woman: every beautiful memory has something to do with food. Those memories almost always took place at home. So food is simply… at home."
Are there any dishes your kids beg you for?
"My oldest son loves curries. My second son is indifferent: he doesn't care what's on his plate, he just eats everything. My daughter loves eton mess . Whenever I'm making meringues, she's guaranteed to come to the kitchen to taste them. She is also very good at baking herself."
Do you think your daughter will follow in your footsteps?
"No definitely not! She has a really hard time with the fact that I can't be with her all the time because of my job. I think she aspires to a career where she wants to make a difference for others, she already says very wise things at a young age.
My kids really hate my work, they really show minimal interest in it. Sometimes I ask if they want to have their picture taken for one of my cookbooks, but they always refuse. They really don't want anything to do with it, but I don't mind. All I can teach them is that they should do something that makes them happy. I give them a good example by doing my job with full dedication and passion. If they understand that that is what makes you happy, then my mission is accomplished."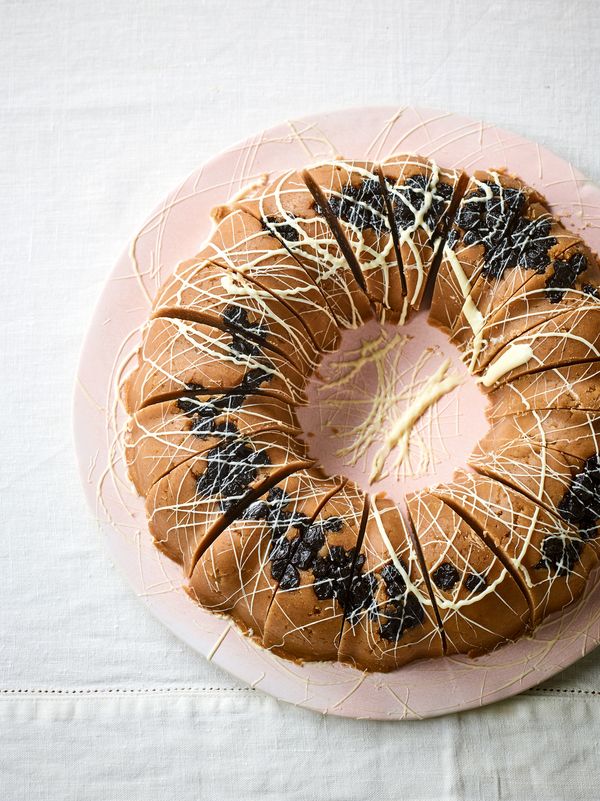 What are the biggest difficulties in your job?
"I think the fact that as a British-Bengali Muslim woman I wanted to conquer my place in an industry where there was really no place for me yet. Before I started there was never a cookbook published by a woman with a similar background, I really had to clear that path myself.
I also still find it difficult to admit that I am good at what I do, although I try to commit to it every day. I now try to say with full conviction that I am very good at what I do, but as a woman it feels super unnatural to say something so positive about yourself. So a reminder: we really need to learn to say to ourselves more often: we are damn good at this."
What was it like to be elected as the most popular candidate of The Great British Bake-off?
"I'm often asked that, but success is such a personal thing. I honestly don't see myself as a successful person: I consider myself very lucky to be able to do these kinds of things. My husband hates it when I say that and then corrects me: "It's not a matter of luck, you're in this place because you're so great!"
You have been voted one of the most influential people in the UK: what kind of influence would you like to have?
"Six years ago I mainly talked about my career and my cookbook, but of course as a Muslim woman and immigrant there is much more to it than just that. I represent many different types of people. What I most want to do is create space for these people to do the same as me.
I want people to say, 'Nadiya started this, Nadiya has contributed to a world with people like me: with different skin colors and religions – you name it – where everyone looks a little different'. Creating that space, that is the influence I want to have."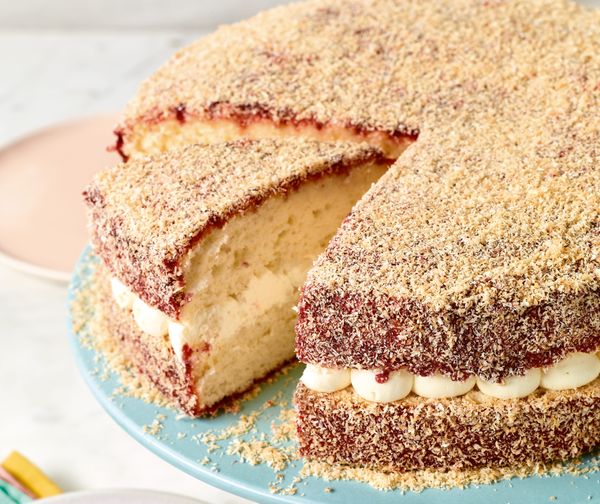 You only started baking at a later age, where did that love originate?
"I grew up without an oven: all cooking was done on the stove. So indeed I had hardly any experience with baking, until my husband showed that he is fond of cake. That's why I started baking around the age of twenty-one, simply because he loved sweets so much. Since then, it has become almost the norm to make both dinner and cake or other pastries every day.
It has really become a hobby that got out of hand. Plus, baking calms me down. My thoughts often go in all directions: not only because I am a mother of three, but also because I suffer from anxiety. Baking has a therapeutic effect. Even after a busy day of production, I will still dive into the kitchen to make banana bread."
Many people find baking quite scary and intimidating: how can you approach this in a more relaxed way?
"This is exactly why I wrote the book: to make baking easy and accessible. The recipes really go from very easy to something more challenging, something for everyone. However, I also want to emphasize that making mistakes is part of baking. How else are you ever going to develop self-confidence? It's really important to allow mistakes in your life, that's what you learn from. And that's what life is all about in general, not just baking.
And if you have little baking experience, start with things that don't need to go in the oven. Some recipes are just a matter of measuring ingredients and mixing them, like the Rocky Road in my book. Those are very good entry-level models to get familiar with baking."
The shinnicake in the book is a reference to your roots in Bangladesh. Is Bangladesh known for its sweetness?
"No. As a child I never really got sweets, except for super sweet Indian snacks. Although my mother often made handesh: these are fried balls with coconut and fennel, but these are also made without an oven. I think the shinnicake is very special because we eat it both for births and deaths."
Isn't that the power of baking: that they make both sad and happy events better?
"Absolute. People who come together without cake: I don't see the point in that at all. Cake is always what it's all about, isn't it?"
Have you also experienced many kitchen disasters?
"Oh gosh yeah ! But that's all part of it. I once made chocolate cake. When I poured the batter into the springform, I hadn't noticed that the springform hadn't clicked into place properly. Only later did I discover that the entire batter was oozing out of the springform when it was in the oven. My husband wanted to save the batter at all costs, even though it was now baking on an oven floor smeared with chicken fat. That's what I consider dedication."
What do you hope to achieve with this book?
"When I wrote the book – my first baking book, by the way – we were all in lockdown. People then discovered en masse how wonderful it is to bake. With my book I hope that people will not forget that. Baking is simply a wonderful activity for anyone who wants a new hobby, or as an antidote to stress and anxiety."
Which recipes should people make first?
"The Rocky Road – because it's so easy – and the teriyaki noodles. The plum cobbler is also wonderfully simple. The croissants with ice cream pudding are one of my personal favorites. You consciously melt ice cream yourself to make pudding out of it."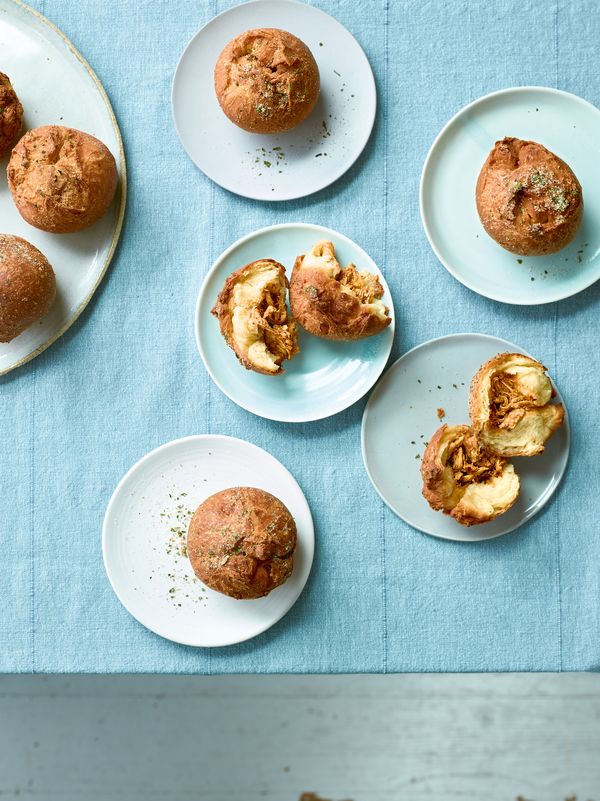 How on earth do you come up with such genius ideas?
"No idea! Ideas almost always come naturally, and most of the time they happen at night. Much to the chagrin of my husband, of course, who is of the opinion that I should not always think about food. In any case, what I think is important with my ideas is that they make life easier. As a mother of three, I want to wash as little dishes as possible, without sacrificing taste."
What do you make when you have absolutely no energy to cook?
"You would think we would opt for take-away, but we rarely do. What do I do then? Nothing: I just let my kids cook for me, I'm lucky. My oldest son's hummus or curry with chicken are great, for example."
How do you actually do that: encouraging children to cook?
"Start early enough! And of course also lead by example. My children grew up among the great chefs like my mother and my sister. That is why they find it very natural to be in the kitchen. I also think it's important to break through the classic stereotypes: I don't want to raise sons who let their wives do all the work."
What is your earliest memory of food?
"When I was 4 or 5 years old, my father came home with a sheep. He slaughtered it himself and then he cooked the entire sheep in a gigantic pan on an open fire. The pan was so big that we could crawl in it with five children at a time. What an adventure!
My father made all kinds of goodies from the mutton. The whole family joined us the next morning to eat sheep curry for breakfast. That's great isn't it?"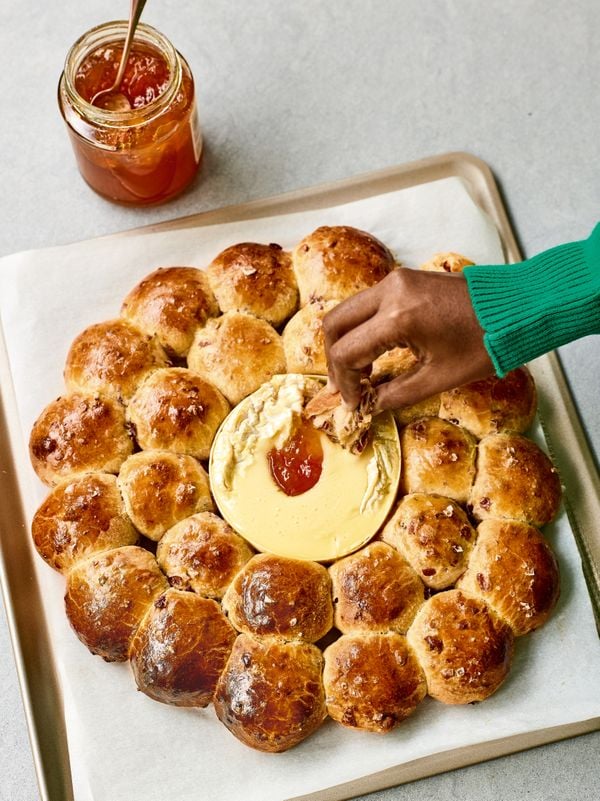 Do you enjoy learning about new ingredients?
"Oh gosh , yes! Food simply dictates where I go. Also here in Amsterdam I have a list of things I still want to taste."
Like?
"Poffertjes, licorice, bitterballen, speculaas, stroopwafels…"
What could you eat every day?
"Bread and cheese. But no sourdough bread, I really had that. Okay, it's tasty, but the crust always hurts in your mouth. Then I prefer focaccia, for example with olives, rosemary, brie and honey."
Have you also seen that people have started making focaccia art during the lockdown?
"Yes, I saw it. But I have three children, a household, a husband, two chickens, rabbits, a parrot and turtles."
So you are an animal lover!
"Exactly, and that is exactly the reason I don't do focaccia art ."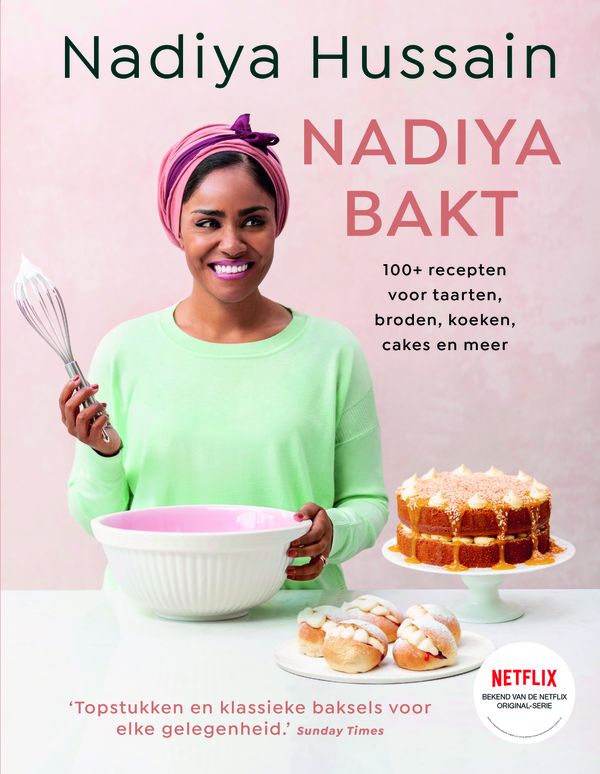 Nadiya Bakt by Nadiya Hussain (Luiting-Sijthoff) is now  for sale for € 27.50