There is a good chance that you have come to this page because you are now in a restaurant, have checked the menu and have just googled 'sweetbread'. Logical too, because sweetbreads are not something you come across in the first supermarket. But what is it? Culy explains it to you in great detail. Spoiler: it is – if properly prepared – delicious.
Let's get straight to the point: sweetbreads are officially organ meats. Those are the cuts of meat that typically don't get the praise they deserve. We quickly turn our noses at it, while a little chef would much rather work with a nice piece of organ meat than with, say, a boring chicken breast or a pound of minced meat. Moreover, eating organ meats is more sustainable than constantly reaching for the steaks and fillet steaks
If that hasn't convinced you yet, here's another hymn to the flavor and texture of sweetbreads. If you love pork belly, you can't help but fall passionately in love with sweetbreads.
What does sweetbreads taste like?
The Great Larousse describes the consistency of sweetbreads as "smooth and creamy (melts on the tongue)" which is exactly why we compare it to pork belly. The taste is described as delicate and refined and real: we wish we could let you taste through this article how delicate and refined exactly. Don't be put off by the term organ meats: unlike, for example, liver and kidneys, it doesn't have a strong taste. Rather soft and creamy.
Sweetbread is usually braised, baked or prepared in a sauce. It's delicious when the sweetbreads are poached first and then soaked in cornstarch to make them crispy. Frying (or baking in a layer of hot oil) is the way to go . The combination between that soft, creamy meat and that crispy layer is heavenly. But we probably don't have to tell you that.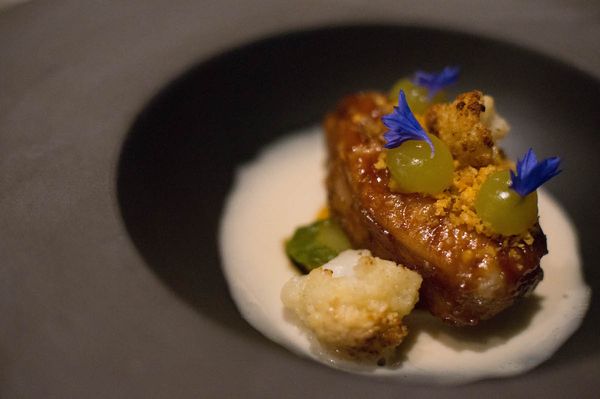 But what exactly is it?
We often see sweetbreads made from veal, but it can also be made from lamb. It is, in fact, a gland found in all young mammals. The gland is located in the neck, where it shrivels over time.
In the cookbook Bij Bijdendijk Thuis by Joris Bijdendijk it is written that a distinction can be made between the neck sweetbreads and the heart sweetbreads. The latter is larger and thicker and of better quality. It is therefore best to buy it if you want to serve it as a nice piece of meat. The neck sweetbreads are more likely to be used in a sauce or cream.
Do you dare to use it at home, for example for a nice dinner? Check out how to prepare sweetbreads in the video below from Jules Cooking. And give it a try if you see it on the menu. You will not regret it.