There are so many iconic formulas in the Amsterdam food scene. As far as we're concerned, the Waldorf Astoria afternoon tea is one of them. With an impressively high quality in taste and creativity, this is simply the best high tea in our country. For the current edition, pastry chef Vipin Charly & Sidney Schutte conceived their creations around the Italian fashion label Dolce & Gabbana. Culy went to find out.
Waldorf Astoria is an oasis of tranquility in the center of Amsterdam. Via the steps you enter one of the most impressive canal houses, where you are warmly welcomed in the Peacock Alley: the beautiful reception area of ​​the hotel. There you then settle down in a royal armchair, near the grand piano where the concertos are played live for you. And then the pampering has yet to begin…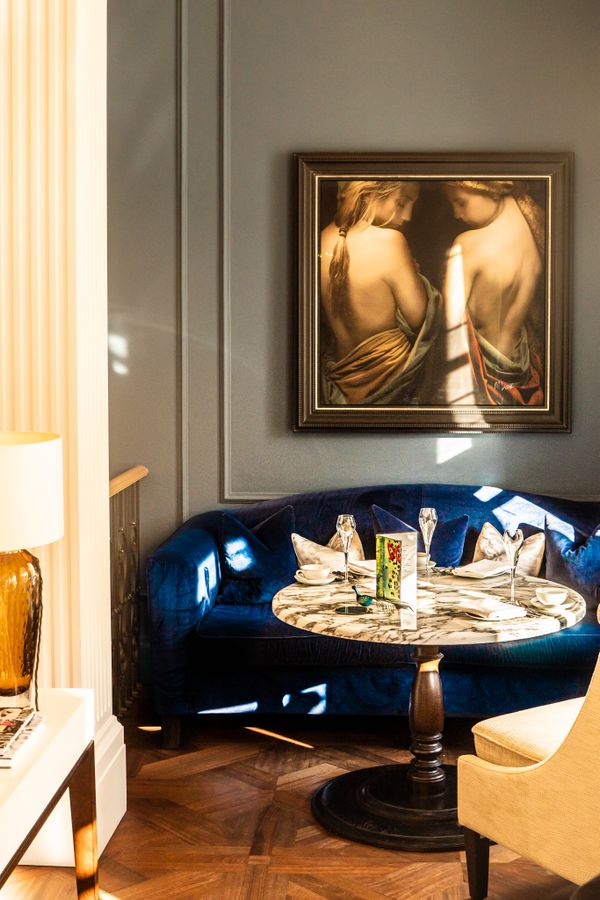 Dolce & Gabbana afternoon tea
This indulgence is kicked off with an amuse-bouche accompanied by bubbles. It is a savory panna cotta with cauliflower, pistachio and lemon. The combination of full creamy with a subtle sourness makes us want to order a second portion right away, were it not for the fact that we have to save our stomachs for the pastries that follow later.
The panna cotta is also a nod to the underlying theme. Because in addition to icons from the fashion world, Dolce & Gabbana naturally come from Italy. The result: the pastries from the high tea will contain a lot of Italian and – more specifically – Sicilian (in reference to Domenico Dolce's birthplace) ingredients. You don't hear us complaining.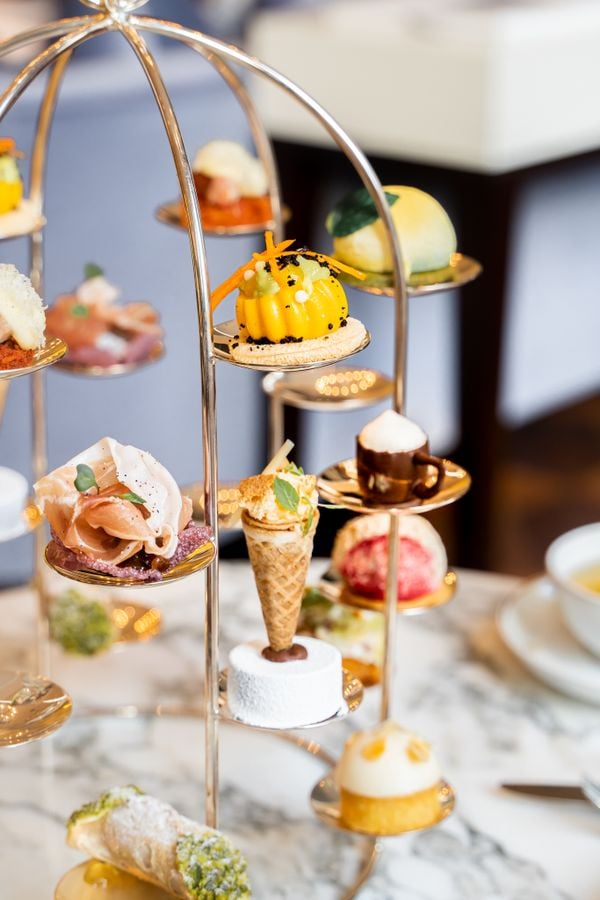 On the edge of our seat
According to the well-known pattern, we first start with a series of savory pastries as a stepping stone to the sweets. The six hearty creations guide us through the flavors of Italy, performed so excitingly that we are constantly on the edge of our seats. There is a fried focaccia with charcoal-roasted octopus and artichoke. Not only does that sound crazy, it is.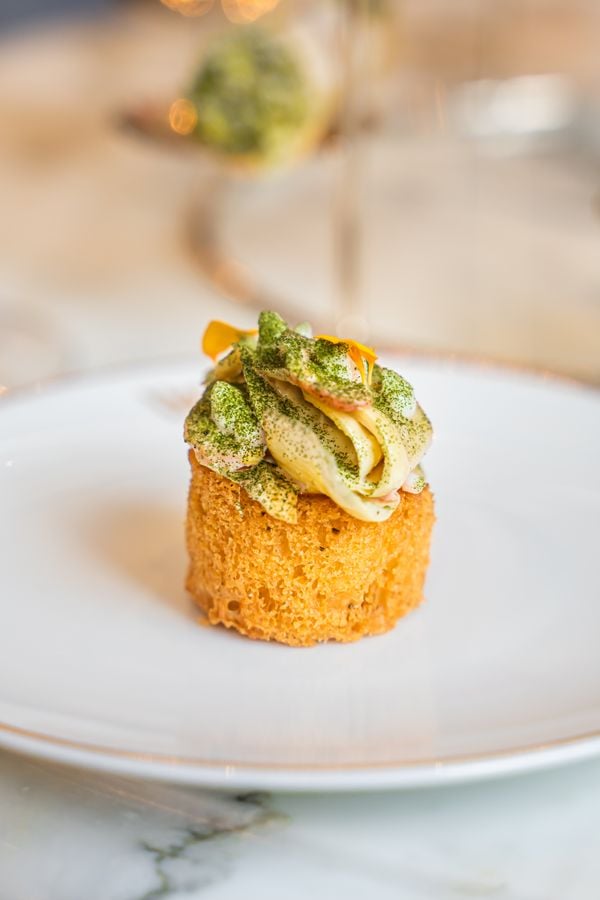 The snack with fig leaf, bacon, fig compote and caramelized onion also stands out in our opinion. Of course, such a sweet-savory combination always works well and here too our taste buds contract with enthusiasm.
In terms of presentation, we are in love with the mousse of sun-dried cherry tomatoes with green olives. Almost a shame to put such a beautiful work of art in our mouths, although we wouldn't want to miss that super-umami bomb for anything. And all of this is of course delicious with the accompanying tea.
Amaretto, cappuccino and gelato
Like the previous snacks, the sweet creations again contain references to the Italian roots of the designer duo. Cake with amaretto, a tiny cup of chocolate cappuccino, an ice cream-shaped snack as a nod to Italian gelato… Italian delicacies are used to the full and there is little not to like .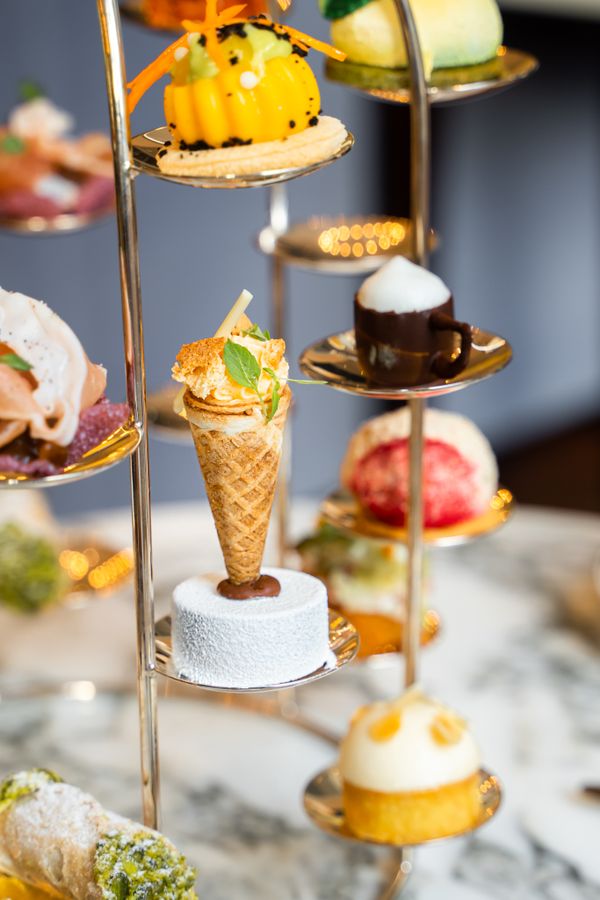 Here again we have a few personal favorites, although not a single bite disappoints. So we can assure you that the cannoli with pistachio and orange zest is one of the tastiest things you will taste in your life, thanks in large part to that addictively delicious shortcrust pastry it is made of. The bite of – hold on – ricotta, bergamot, lemon, orange and chocolate chips impresses us with its overwhelming citrus aroma.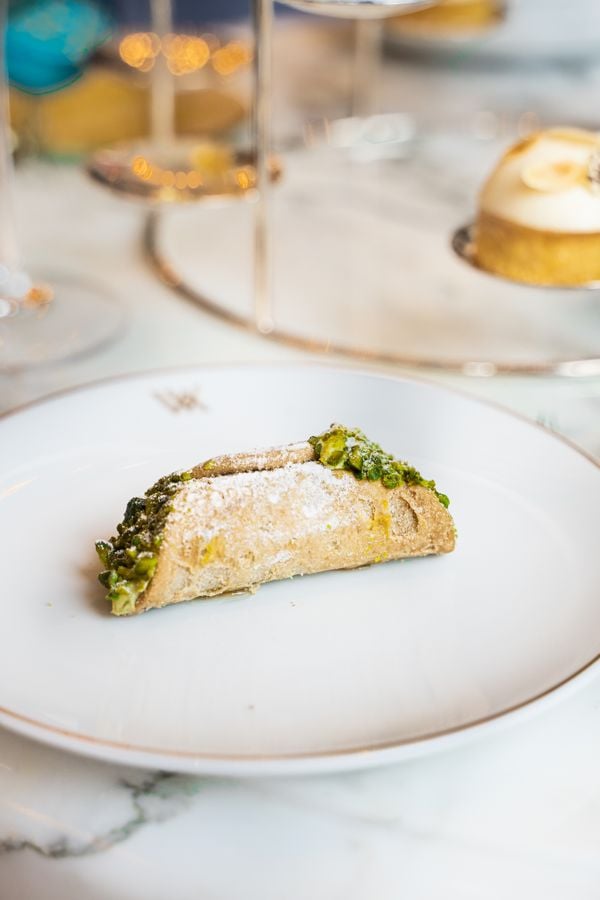 Fascinating voyage of discovery You understand: every bite of the high tea is a journey of discovery and that keeps the afternoon tea fascinating until the last minute.
The end of such an afternoon is traditionally closed with scones. And whether your stomach still has room for it or not: you won't refuse it in Waldorf's version. When you hear that they are presented in smoked almond and lemon-pistachio flavor for the occasion, you understand why…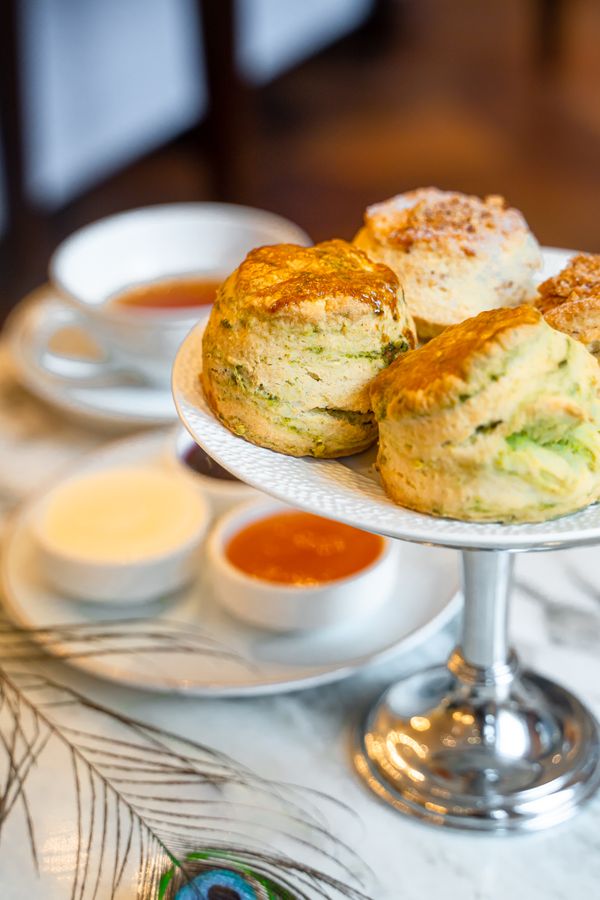 Dolce & Gabbana afternoon tea at Waldorf Astoria
Also enjoy all those divinities? The Dolce & Gabbana Afternoon  Tea costs € 58.50 per person and runs until December 5, 2021, after which another theme will follow. 
Book in advance by calling +31 (0) 20 718 4643 or send an email to restaurants.amsterdam@waldorfastoria.com.