Areally good cast iron pan is an investment for a while, but also a friend for life. The Dutch pan label Combekk (of those pans made from old train tracks) is now making this even more attractive with a new, affordable line of pans, under the name 'Sous-Chef'. Culy tried it out.
The name Combekk might ring a bell with you and especially if we also mention 'pans'. The label has already made those cool Dutch Ovens from 100% recycled material (they are the only ones in the world to do that, by the way!): train tracks and old bicycles, for example. The pans are produced locally in our own country.
We were allowed to try them out once and even then called the pans "an investment, but a friend for life".
Affordable cast iron
Yet they also find it important at Combekk that 'sustainable' is also affordable. That's why they launched two new labels (besides Combekk Original – see above): Combekk and Combekk Sous-Chef. All made from 100% recycled materials. Striking: all pans have been developed for both professional chefs and home cooks.
You can imagine that in addition to durability, quality is also very important. The Combekk cast iron pans are therefore provided with a strong enamel coating. The aluminum pans in turn were given a professional ceramic coating (without PFAS or PFOA – chemical substances).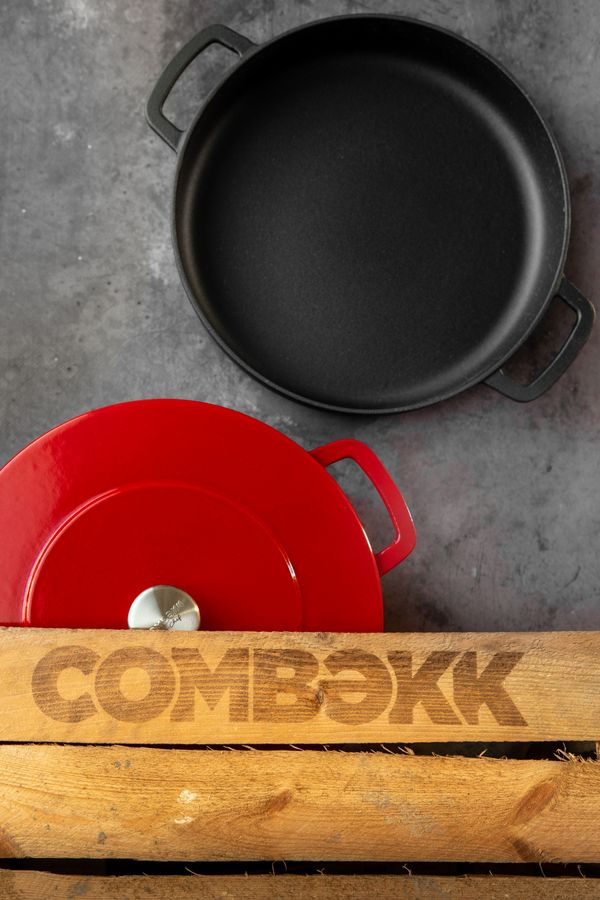 The cast iron double handle pan
The showpiece of the new collection is in any case the cast iron double handle pan: a beautiful, solid cast iron pan with two handles. This makes it not only great for baking a piece of meat, fish or vegetables, but also ideal for stews and oven dishes. Because the pan doesn't have a long handle, you can slide it straight into the oven. You can even bake an apple pie or tarte tatin in it, for example.
The pan is available in a 24 and a 28 cm version, is made entirely from recycled waste from steel mills and costs € 65 (24 cm) or € 79 (28 cm). Available in black, red and orange. It can be used on all heat sources, from induction to gas to the barbecue (!). If you also own the Dutch Oven from Combekk, know that the lid fits exactly on the double handle pan.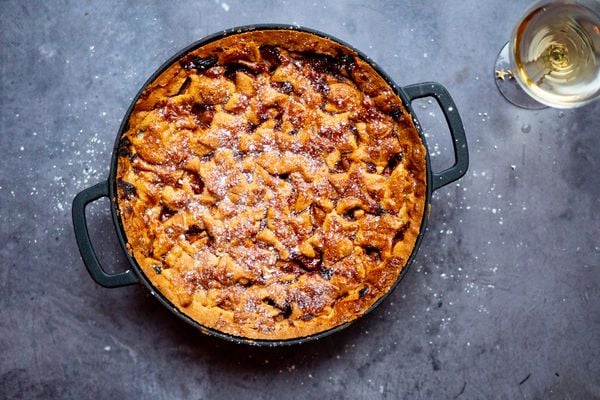 The ideal pan
Our conclusion after a few test rounds? Perhaps this is the ideal pan. Cast iron has a good heat distribution and retains heat well. You can bake fantastic meat (burgers for example) and fish in it, because cast iron gives a great Maillard reaction. But also searing vegetables or baking homemade bread (such as naan or other flat bread) in the pan is great. Or how about a toastie?
However, cast iron is often cumbersome and heavy and more challenging to maintain. Combekk has come up with something for that: a thin, enamelled coating (on the inside and the outside) and double handles. This makes it easier to move the pan, both on your stove and from the stove to the oven. It is a handy example for a cast iron pan.
It still can't go in the dishwasher, but that's not recommended anyway for strong, good kitchen tools (don't ever throw your kitchen knives in the dishwasher!). If you treat such a cast iron beauty well, it can last a lifetime.
And that is exactly the intention of Combekk: to conquer the world with durable, sturdy pans made of various materials. The fact that all this is still happening in the Netherlands with a typical Dutch design is, in our opinion, something to be proud of.
Discount on Combekk
Do you also want such a cool Combekk pan? With the code CMBK30 you get a 30% discount on all pans on combekk.com .