Thinking about what to eat every week can be quite a challenge. To ensure that you do not put the same dishes on the table every week, we are happy to inspire you with handy weekly menus. This week we are going wild with mushrooms: from ordinary mushrooms to shiitake and oyster mushrooms.
Mushrooms:  you either love 'em or hate 'em. If you  love them , you're in the right place here.
Need more inspiration? View all weekly menus!
Oh, and are you preparing one of these recipes next week? Take a picture of it, share it on your stories (or your Insta-grid) with  #culyhomemade  and  @culynl  and we'll share your picture via our  Instagram account !
Monday
Fancy a sushi bowl, but don't feel like putting in a lot of effort for the perfect sushi rice? Donburi is the answer! That's the Japanese answer to the rice bowl – super tasty, yet very easy. We made it with avocado, a fried egg and fantastic sticky teriyaki mushrooms, which are almost meaty in texture.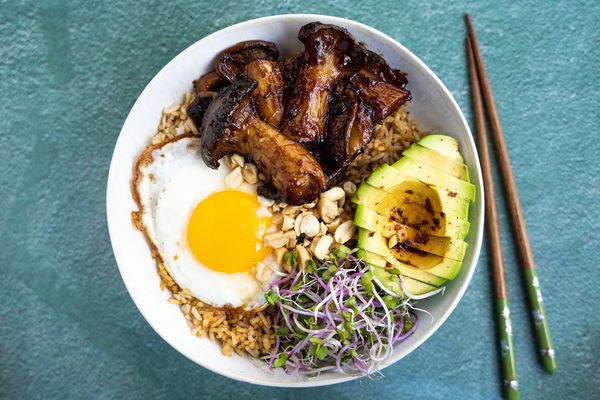 > To the recipe:  Culy Homemade: donburi with sticky teriyaki mushrooms
Tuesday
Kale from the oven? Yes, you can! It makes it wonderfully  crispy  , and that is a good combination with the texture of the mushrooms. And oh yes, another reason why this recipe is so nice for a rainy day: there is cheese through the stew . just saying .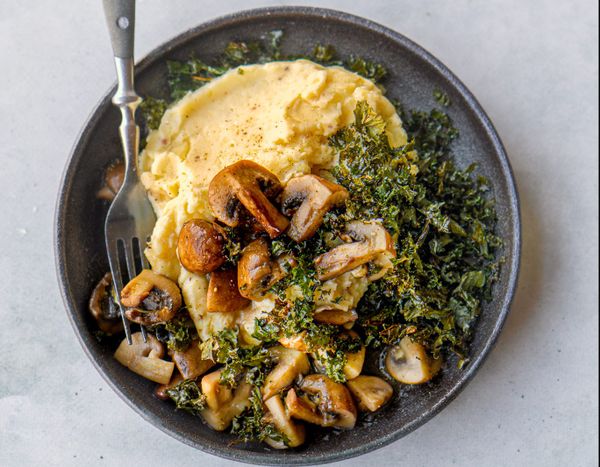 > To the recipe:  Culy Homemade: parmesan stew with mushrooms and kale
Wednesday
Even if you have a dishwasher, little beats weekday dishes that only require one pan. Like these pork chops in mushroom sauce! The sauce is a simple roux , which you make by frying mushrooms and onion in butter, adding flour and then making a sauce with beef stock. Good comfort food for Wednesday.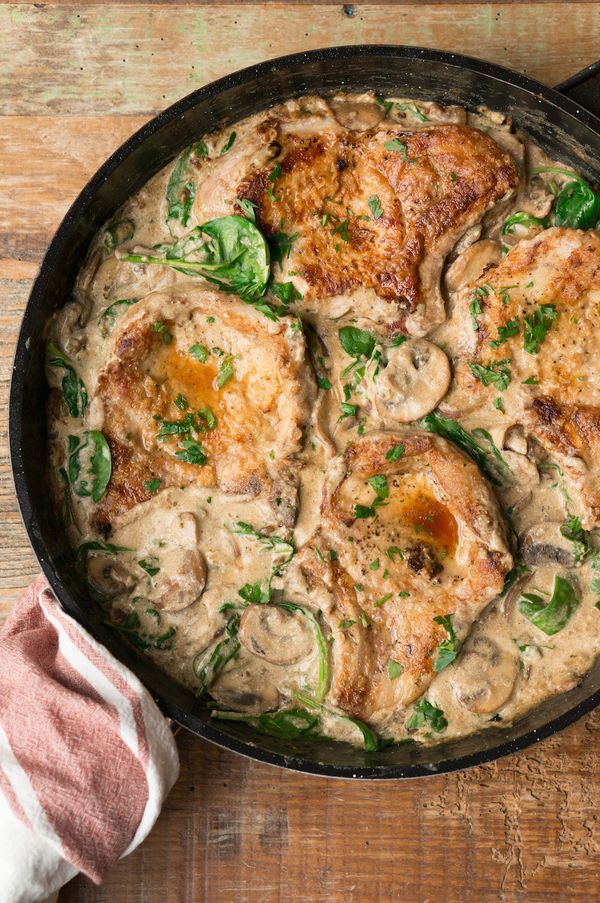 > To the recipe:  Culy Homemade: pork chops in mushroom sauce in one pan
Thursday
After a trip to the Dutch kitchen we return to the Japanese atmosphere, where mushrooms simply fit very well. They also play a nice role in these  'crack' noodles  – not with real drugs, but they are definitely addictive. You  can find the Szechuan pepper that makes this dish spicy at the Asian store.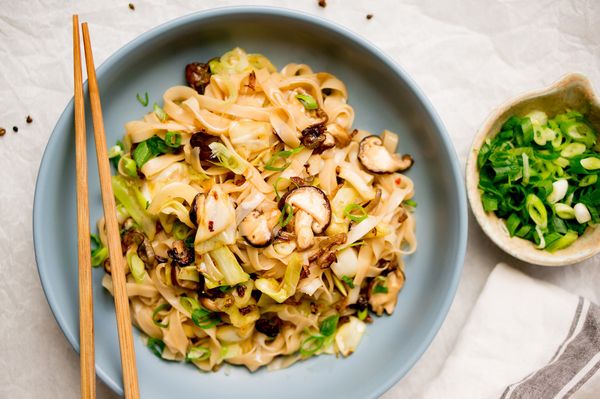 > To the recipe:  Culy Homemade: "crack" noodles with cabbage, shiitake and Szechuan pepper
Friday
You may have seen or made large  hasselback potatoes .  But you know what really looks nice? If you also make those notches in your potatoes! Then you get real hasselbacks . Not only do they look nice, but the potatoes also absorb the flavors of the bacon and oyster mushrooms. All in all delicious.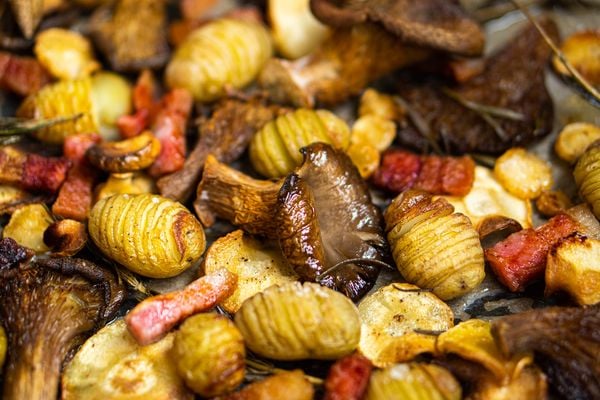 > To the recipe:  Culy Homemade: autumn traybake with small potatoes, bacon, parsnip and oyster mushroom
Saturday
Do you cook for someone who doesn't like mushrooms? Then you could be fine with this recipe. You chop the mushrooms completely fine, and then grill them and hide them in a tomato sauce. Just like an Italian ragù! Then remove the dried (whole) mushrooms. If you are not dealing with mushroom haters, however, we would heartily recommend that you visit the Asian store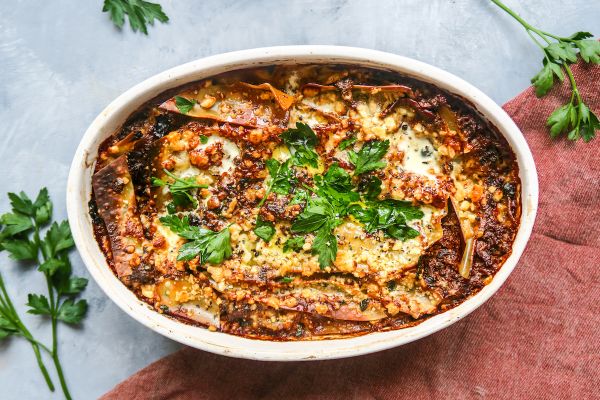 > To the recipe:  Culy Homemade: vegetarian mushroom lasagna from Ottolenghi
Sunday
Are you on the hunt for dried mushrooms? Great, because then you can immediately use them for these windows. For this you make the dashi yourself , a broth full of umami. The ingredient list is not short, but the outcome is well worth it.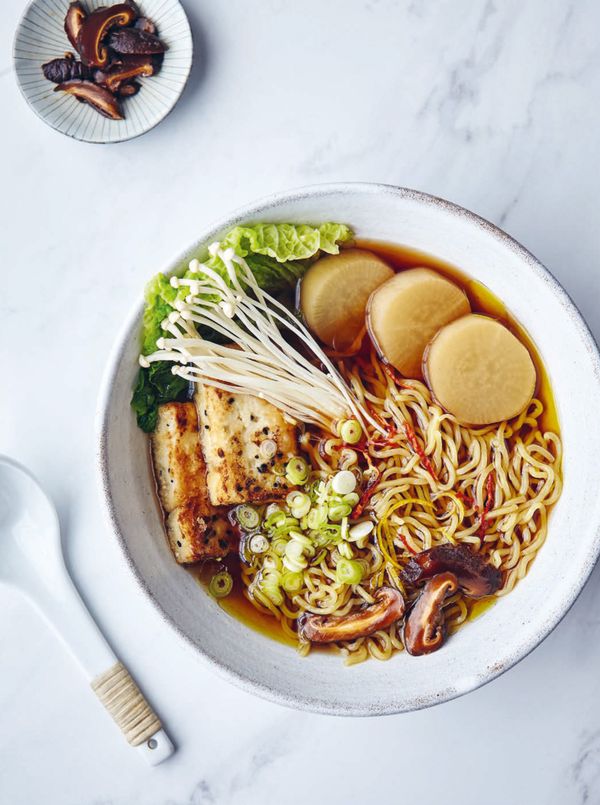 > To the recipe:  Mushroom dashi ramen with vegetables and fried tofu