Thinking about what to eat every week can be quite a challenge. To ensure that you don't put the same dishes on the table every week, we like to inspire you with handy weekly menus. This week we take our inspiration from well-known top chefs and other culinary heroes.
From Jamie Oliver to Nigella Lawson: they are all covered.
Need more inspiration? View all weekly menus!
Oh, and are you preparing one of these recipes next week? Take a picture of it, share it on your stories (or your Insta-grid) with  #culyhomemade  and  @culynl  and we'll share your picture via our  Instagram account !
Monday
Any leftovers from last week? You can get them all in Matt Preston 's (that MasterChef judge , yes) chow mein now . That name is derived from a dish called tsap seui , or 'various leftovers'. Ideal for Monday!
With the dish you have to imagine a kind of tjap tjoy with noodles, but better. Don't be alarmed by the ingredients list; the chow mein now is ready really quickly.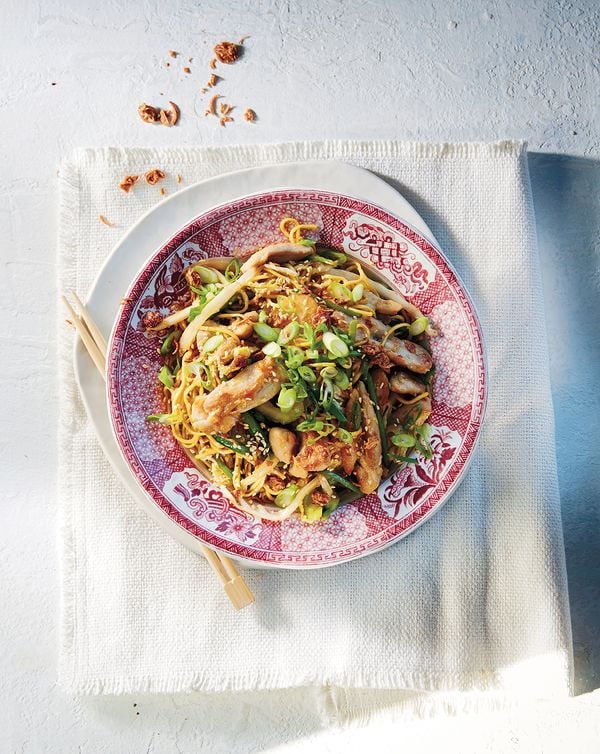 > To the recipe:  Chinese chow mein now (tjap tjoy with noodles) by Matt Preston
Tuesday
Jamie Oliver has a new cookbook! Of course with recipes that dragged him (and his family) through the lockdown. That was, among other things, this casserole with a lot of vegetables . Vitamins are good for the immune system, right?
Jamie: " Tasty ways to get our daily dose of healthy things are always welcome, so this makes me happy." We also!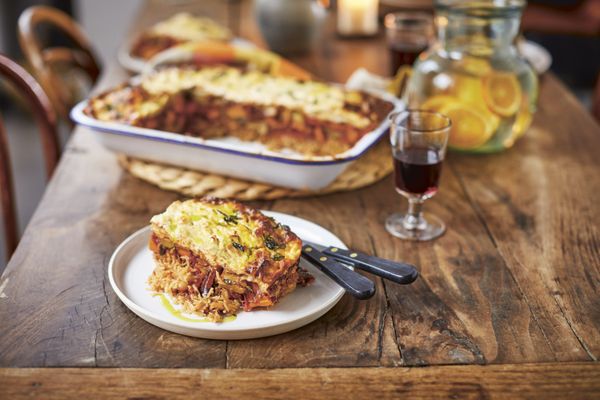 > To the recipe:  Delicious vegetables from the oven (from Jamie Oliver's new cookbook)
Wednesday
Ottolenghi and Oliver turned out to have the same idea: a lockdown – proof  cookbook by the Israeli chef is now also in the shop. Again with lots of vegetables, of course.
For example, the chef created this salmon with za'atar , sumac, tahini and lemon juice – a typical Ottolenghi flavor that effortlessly takes your Eastern cooking skills to the next level.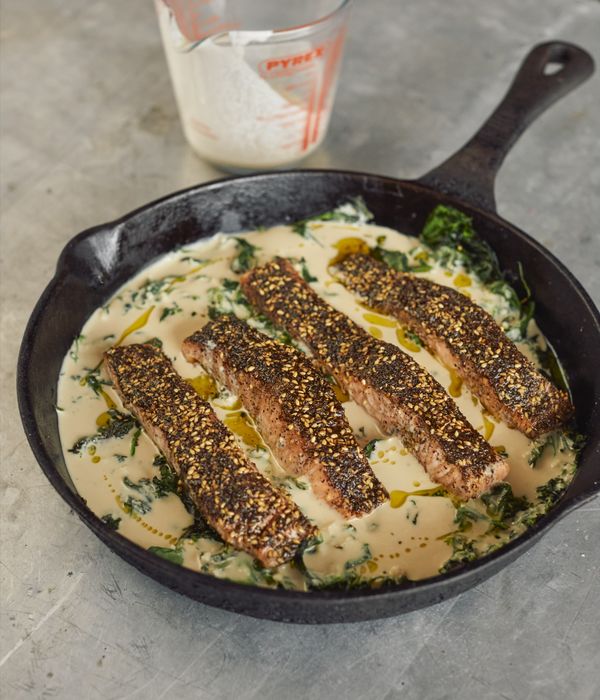 > To the recipe:  Za'atar salmon with tahini from the new Ottolenghi: Shelf Love
Thursday
Time for some Dutch pride! Star chef Syrco Bakker has been running the kitchen of Pure C** in Cadzand since he was 25 (!) and adds some Zeeland tones to this weekly menu.
With this Indonesian fried rice with shrimps from Zeebrugge, Syrco Bakker pays tribute to his roots and his hometown. Fusion  at its best, so to speak.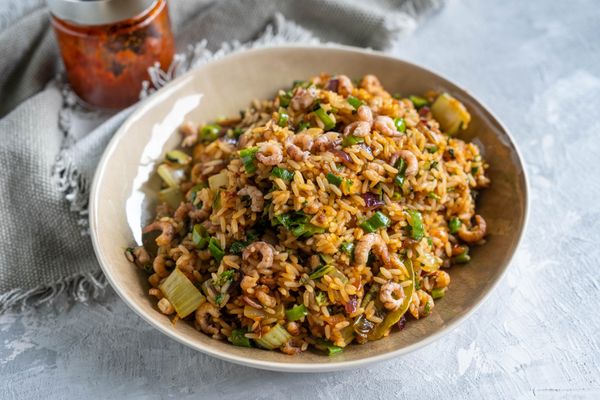 > To the recipe:  Nasi goreng with shrimps and pak choi from star chef Syrco Bakker
Friday
Yes, even top chefs eat fast food. And how! Nigella Lawson's fried chicken burger is divine. You make the burger yourself, from chicken thigh fillet marinated in kefir (or yogurt) and herbs.
Yes, it will take you a lot more time than a drive along the McDrive. But we promise you won't regret it.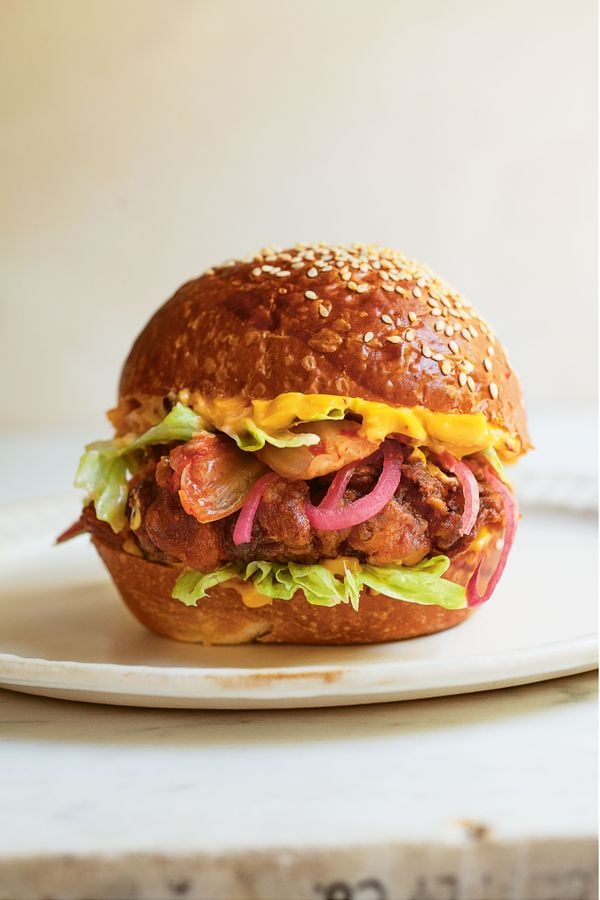 > To the recipe:  Nigella Lawson's divine fried chicken sandwich
Saturday
Guanciale. Garlic spread. Sergio Herman . Are you already over? If not, it will undoubtedly happen when you taste this fantastically tasty pasta. Really, that's how you suddenly understand how Herman's restaurant Le Pristine* in Antwerp already received a Michelin star within a year.
Also a very nice recipe for those who have friends or family over for a visit – with 
Italian
 you make everyone happy.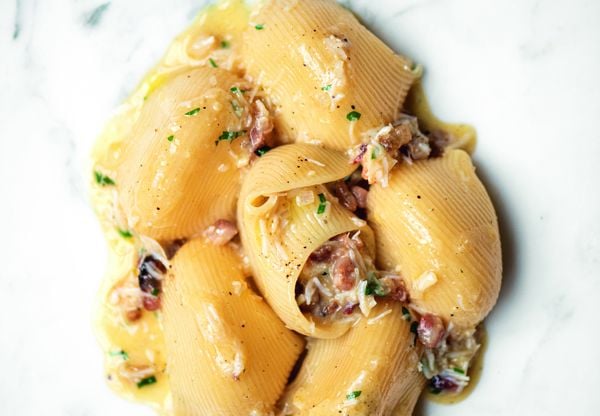 > To the recipe:  Pipe rigate with guanciale and crab from the new Sergio Herman
Sunday
Do you normally have a half-mouldy leftover grated cheese in your fridge and are the cucumbers only just recognizable when you throw them in the green container? Then you must have Van Bovens Leftovers at home. Yvette van Boven provides you with a make-up recipe for each recipe, which you can eat for lunch the next day, for example.
So: do your Monday self a favor and make this watercress salad with duck and orange on Sunday. You can enjoy wraps with duck salad & avocado watercress mayo the day after!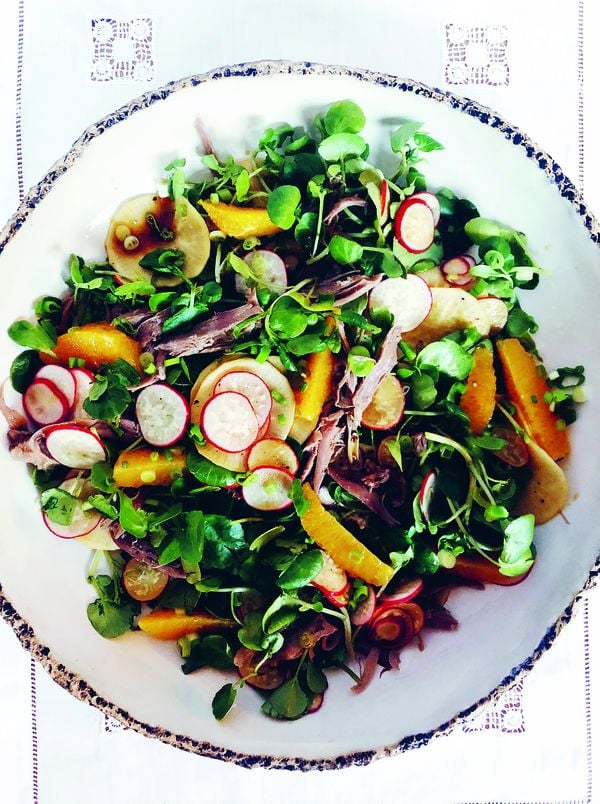 > To the recipe:  Watercress salad with duck and orange (+ make-up recipe) by Yvette van Boven