Thinking about what to eat every week can be quite a challenge. To ensure that you do not put the same dishes on the table every week, we are happy to inspire you with handy weekly menus. This week we enjoy a wide variety of Dutch recipes – with a twist, of course.
How about kale soup or stew with apple syrup? Long live Holland!
Need more inspiration? View all weekly menus!
Oh, and are you preparing one of these recipes next week? Take a picture of it, share it on your stories (or your Insta-grid) with  #culyhomemade  and  @culynl  and we'll share your picture via our  Instagram account !
Monday
Have you got a taste for our weekly menu full of forgotten vegetables ? We are such a fan of the simple yet delicious parsnip stew that we are only too happy to put it on the table often this season.
Our tip: stew and curry go very well together. Not only in this parsnip stew, but also, for example, in a Brussels sprout stew with curry .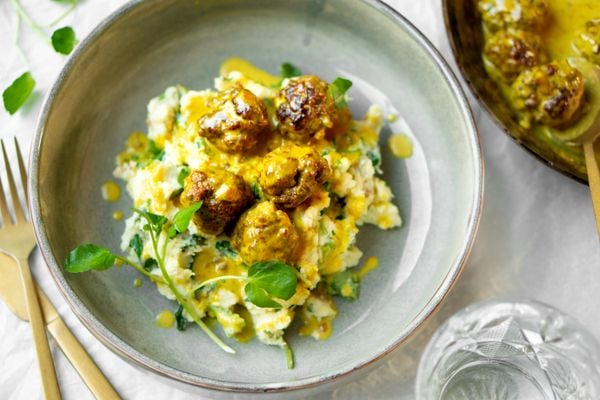 > To the recipe:  Culy Homemade: stew with parsnip, watercress and curry balls
Tuesday
On Tuesday it's time for kale – not in a stew, but in a hearty soup! And that's surprisingly delicious. Or, as Culy's Winnie wrote, this kale soup with smoked sausage and bacon is the definition of concentrate.
This Dutch recipe is everything you expect from kale: firm, warm and of course with the addition of bacon and smoked sausage. And yet: as a soup it is just that little bit more special.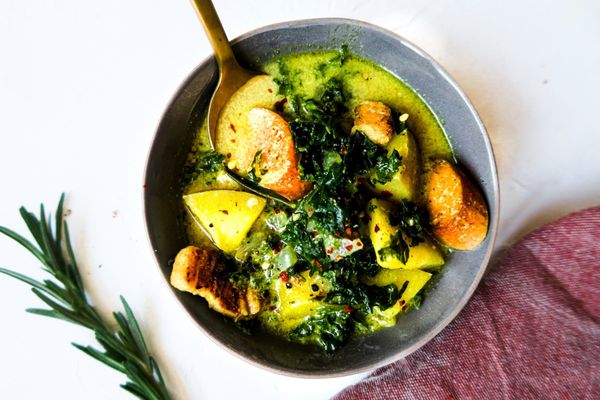 > To the recipe:  Culy Homemade: kale soup with smoked sausage and bacon
Wednesday
Anyone who thinks Dutch cuisine is boring is clearly not used to eating stewed pears – or maybe just not outside of Christmas. Yet you can use the spicy traditional Dutch pears in all kinds of dishes, both sweet and savory.
All tastes are represented in this fantastic meal salad: the stewed pears are sweet, the Parma ham is salty, the pecans give it an earthy twist. Fall has never been so delicious!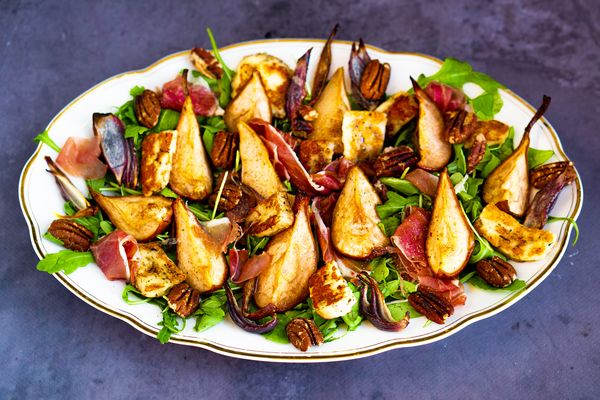 > To the recipe:  Culy Homemade: Salad with savory stewed pear, halloumi and Parma ham
Thursday
More stew? Yes: more stew. But whoever thought we would conjure up an ordinary endive stew with bacon on the table is wrong. This sweet potato and chorizo ​​version is much more surprising, and we love that.
Frying chorizo ​​finely and mixing it with breadcrumbs gives it a crispy touch. Very tasty to decorate your stew – we promise you won't miss your beloved bacon.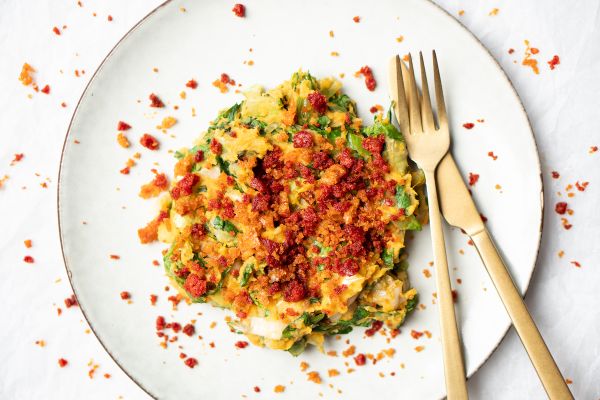 > To the recipe:  Culy Homemade: endive stew with sweet potato and crispy chorizo ​​crumb
Friday
Celeriac is one of those typical Dutch vegetables that is still rarely eaten – far too little, if you ask us. Because roasted celeriac is especially fan-tas-tic. We like to serve it with hazelnut pesto and curd.
A great recipe especially for those who work from home on Friday, by the way: the celeriac has to be in the oven for 1.5 hours. But in the meantime you can just keep working, and enjoy a good start to the weekend 1.5 hours later.
Let the curds drain for at least 4 hours, but that is also possible from the morning. Then you put some yogurt in your bowl of muesli for breakfast, and the rest in a colander for dinner.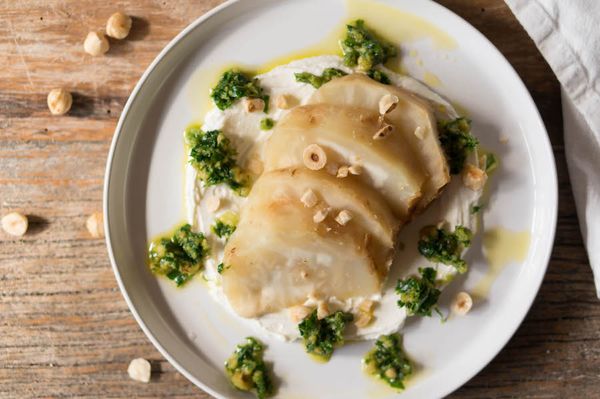 > To the recipe:  Culy Homemade: roasted celeriac with hazelnut pesto and curd
Saturday
Beer is not only tasty with your food, but also in it! You can do everything with it; it even works in the risotto . In this list of Dutch dishes, however, it is the stew, combined with the sweet hint of apple syrup.
You have to wait a while for it to cook – 3 hours, to be exact – but then you have something. And in the meantime you can just read a book under a blanket on the couch, of course.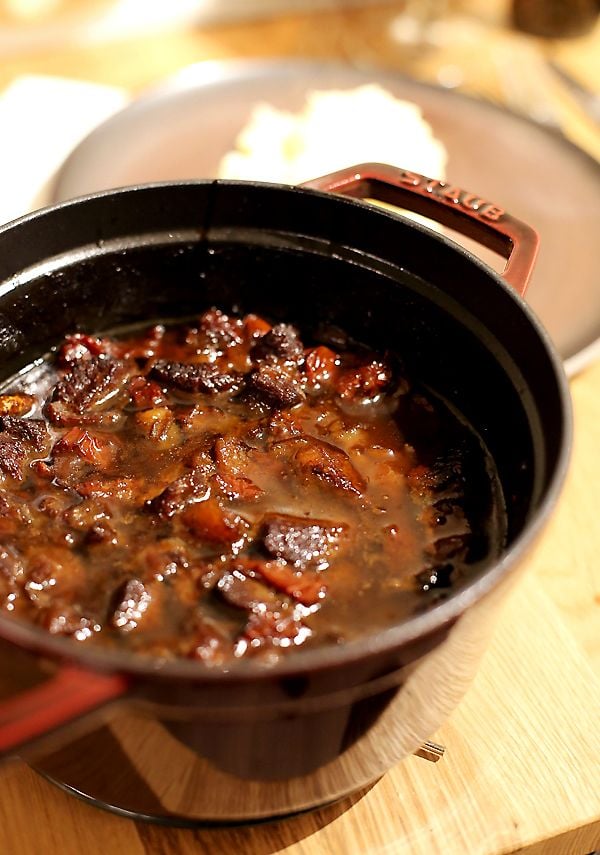 > To the recipe:  Culy Homemade: beef stew with beer & apple syrup 
Sunday
We actually made this vegan salad with Jerusalem artichoke, kale and pomegranate for Christmas dinner, but who says it doesn't work on an ordinary day in November? The kale, Jerusalem artichoke and hazelnuts create a delicious earthy taste that is always good.
This salad is extra tasty (and chic) ​​when served with hasselback potatoes . In a video we explain how to make it the easiest. Enjoy your dinner!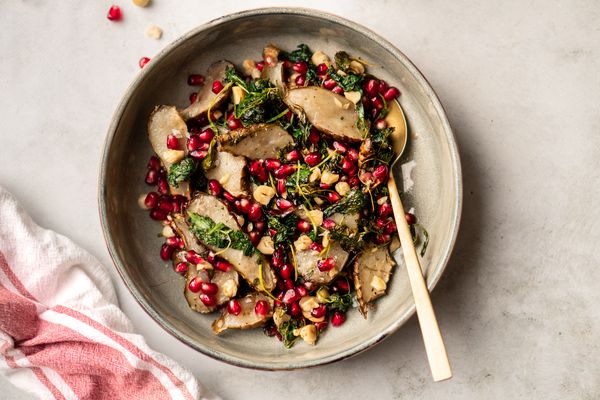 > To the recipe:  Culy Homemade: winter salad with Jerusalem artichoke, kale and pomegranate