Thinking about what to eat every week can be quite a challenge. To ensure that you do not put the same dishes on the table every week, we are happy to inspire you with handy weekly menus. This week we are putting a traditional Dutch tuber in the spotlight: the potato! But not next to vegetables and meat, but in surprising dishes.
Because of the neutral taste, you can combine potatoes with almost anything – and that's what we do.
Need more inspiration? View all weekly menus!
Oh, and are you preparing one of these recipes next week? Take a picture of it, share it on your stories (or your Insta-grid) with  #culyhomemade  and  @culynl  and we'll share your picture via our  Instagram account !
Monday
On Mondays we like to keep it nice and simple: cut vegetables, aim on a baking tray, slide into the oven, plop on the couch and wait for a beep to free us from our staring mode. And let potatoes from the oven not only be simple, but also very tasty!
For this traybake we combined them with chicory, red onions, cherry tomatoes, fresh thyme and camembert. The latter, of course, melts in the oven, giving you a free – fantastic – cheese sauce.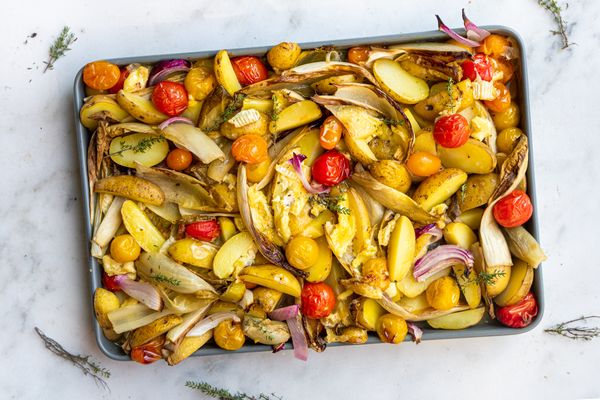 > To the recipe:  Culy Homemade: vegetarian traybake of chicory with Camembert and potatoes
Tuesday
Most people stir milk and a knob of butter into their stew to make it creamier. Works great, but it's even better to add some parmesan! Especially if you get such a good cheese string  every now and then when you take a bite – pizza is nothing.
We combined the stew with crispy baked kale and creamy mushroom gravy. Delicious.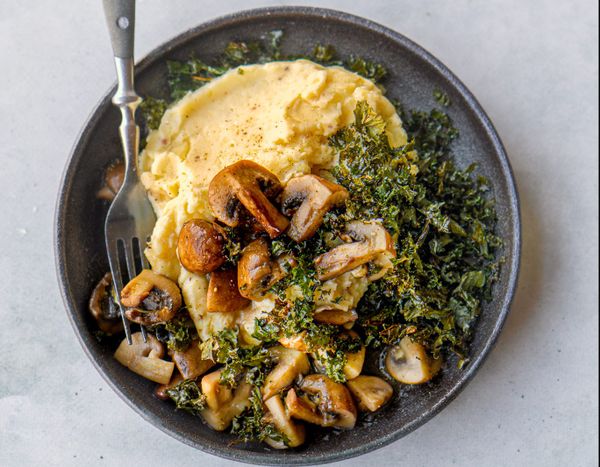 > To the recipe:  Culy Homemade: parmesan stew with mushrooms and kale
Wednesday
It might be a bit of cheating, because you don't use fresh potatoes for this recipe – but technically, gnocchi are just potato. However?
We made this delicious autumn recipe with gnocchi, with pumpkin (the star of autumn), chorizo ​​and a cream sauce from Grana Padano. Easy, comforting and it looks fancy  too.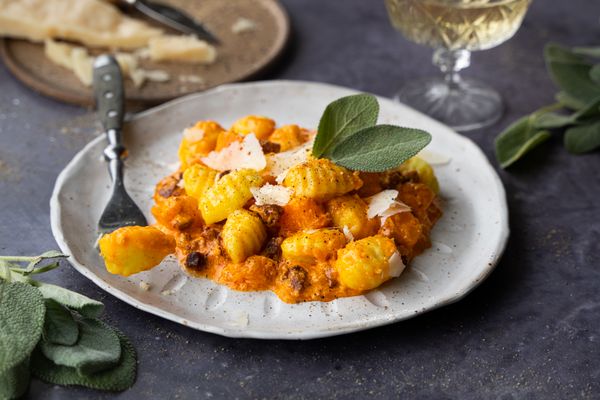 > To the recipe:  Gnocchi with Grana Padano, pumpkin and chorizo
Thursday
Huh, risotto and potato? Isn't that a bit… duplication? Maybe, but it's so delicious! Because if you cut the potato cubes finely enough, they will melt so nicely on your tongue, just like risotto should do.
Also very nice: you simply make this dish with ingredients from your pantry. Do you also have a bag of natural chips lying there? A few crumbled chippies are secretly very tasty as a garnish.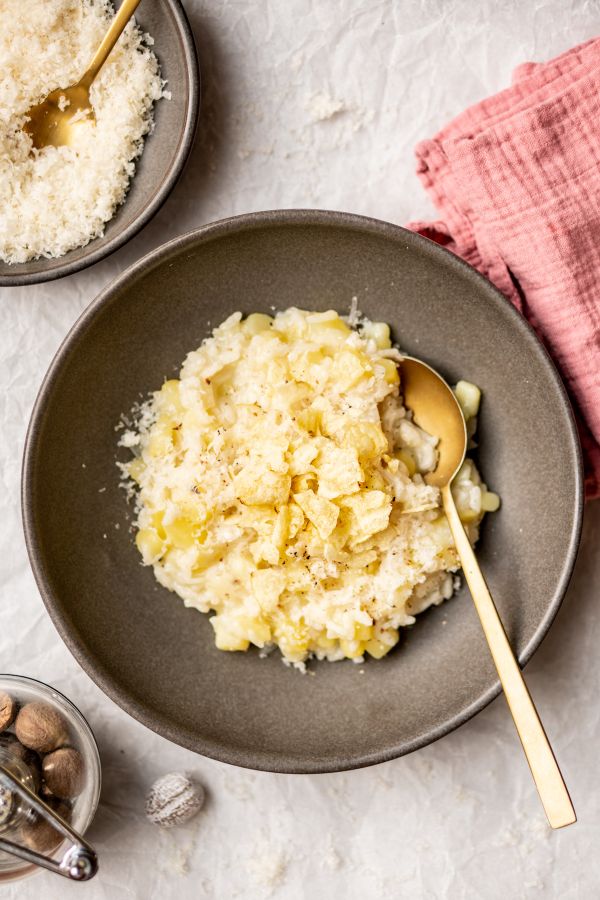 > To the recipe:  Culy Homemade: crisis-proof potato risotto from the pantry
Friday
You may know baked potato, but have you ever tasted an Indian variant? We made these with  chaat masala : a spice mixture consisting of commonly used Indian spices such as cumin, black salt ,  amchoor  (dried mango powder), chili powder and, for example,  asfoetida  (devil's dung).
Combine that with sour cream, ginger, red onion and you have a fantastic potato filling. Delicious as a side dish with a simple Indian curry, such as this vegan pumpkin curry .
> To the recipe:  Culy Homemade: Indian baked potato to die for
Saturday
Potato gratin is a true classic – and yet the crispy oven goodness is rarely on the table lately. Time to change that! And with this recipe from  the naked chef , who combined the gratin with braised vegetables, tender chicken and crispy bacon.
And you know: Jamie's recipes are always good.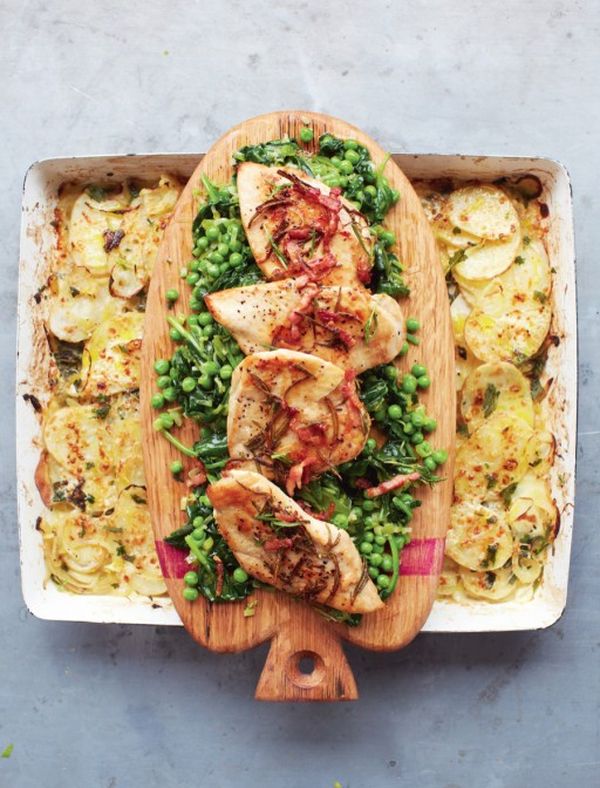 > To the recipe:  Jamie Oliver's golden yellow chicken with braised vegetables & potato gratin
Sunday
This week's menu should also include  smashed potatoes  , our newest addiction. By giving boiled potatoes a good whack before they go into the oven, they become extra crispy with a soft inside.
And that's not only fantastic in an avg, but also with the additions of bacon and Parmesan. Watch out  hair salon, this recipe is our new favorite.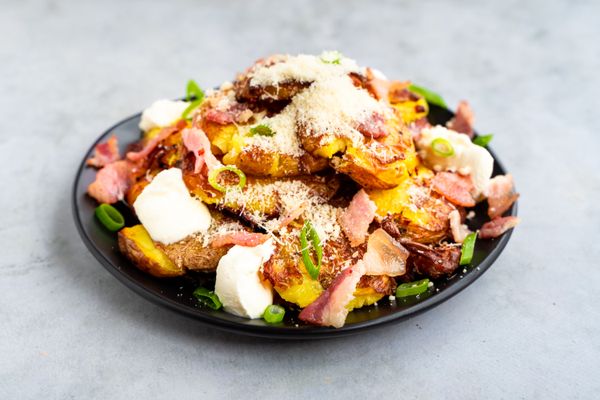 > To the recipe:  Culy Homemade: loaded crushed potatoes with bacon and Parmesan