If there is one place they know about vegetables, it is at restaurant Triptyque in Wateringen. In this restaurant of chef Niven Kunz and Virginie van Bronckhorst-Kunz they cook according to their famous 80/20 philosophy. In other words: 80 percent vegetables, 20 percent meat or fish. We asked Virginie and Niven for inspiration for cooking with pumpkin.
Niven & Virginie: "Vegetables! You can't really make us happier. Vegetables are so beautiful, so much fun to cook with and to vary. Not only do we love to cook with vegetables in our restaurant, we also enjoy vegetable dishes at home.
To share our dishes with you and hopefully inspire you, we have released our new cookbook this year full of beautiful vegetable menus. All matching dishes that ensure a festive evening, or just a wonderful evening alone or together. No time to prepare the entire menu? Don't worry, all the dishes can also be easily made on their own. Accessible yet surprising recipes for at home!"
Pumpkin cooking inspiration
What do Niven and Virginie like to do with pumpkin? Their answer: stew, soup with a twist, fry, fill and coat.
Virginie & Niven: "Pumpkin is a delicious autumn vegetable, they are available in all kinds of shapes. You can vary a lot with pumpkin, for example you can use pumpkin:
Stew

 into a delicious 

curry

The well-known but oh so delicious 

pumpkin soup

 is always an absolute must (tip: add some spicy blue cheese as a twist).

Something that is done less often, but we simply love, is 

pumpkin fries

 !

Don't forget to 

fill

 a beautiful mandarin pumpkin with our feta, freekeh, black olive and mint. This recipe can be found in 

Vegetable Menus

 . The principle is simple: hollow out the pumpkin and cook the pumpkin in the oven, fill the pumpkin with the salad, 10 minutes before it is fully cooked. Now put the whole thing in the oven for the last 10 minutes.

Last but not least, our favorite pumpkin preparation for a festive evening: pumpkin 

hasselback

 ! This recipe can also be found in our book and we are happy to share it with you."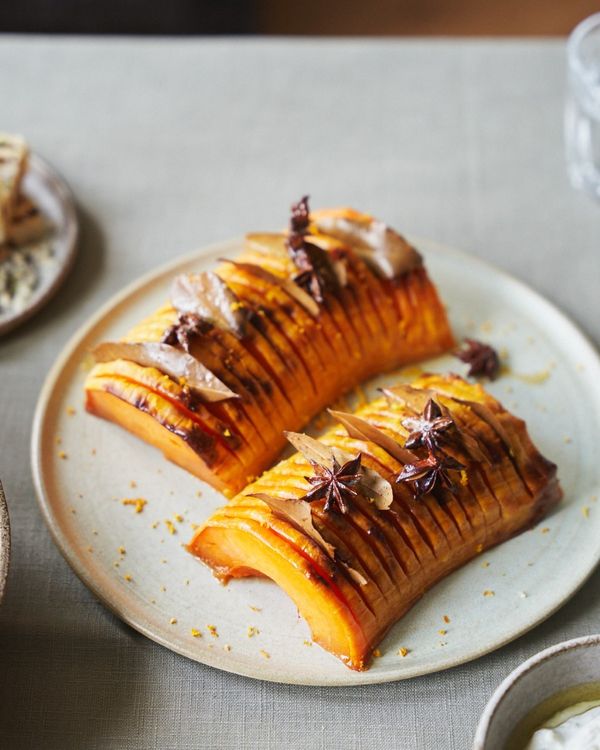 Pumpkin hasselback with laurel
Ingredients:
2 butternut squash (approx. 1.3 kg)

12 bay leaves

8 pieces star anise

125 grams of butter

125 grams of honey

Salt and pepper

Grated zest of 1 orange
Preparation method:
Preheat the oven to 200°C.
Peel the pumpkins, halve them lengthwise and remove the seeds. Place them on a baking tray and bake them in the oven for 20 minutes. Then cut them every 0.5 cm. Tear the bay leaves and insert them into the cut parts of the pumpkin. Also add two pieces of star anise to each pumpkin half.
Melt the butter in a saucepan and mix in the honey. Brush the pumpkins with this mixture. Bake the pumpkins in the oven for 10 minutes and then brush them again with the mixture. Repeat three times (total oven time: 30 minutes).
Add salt and pepper to taste. Sprinkle with the orange zest.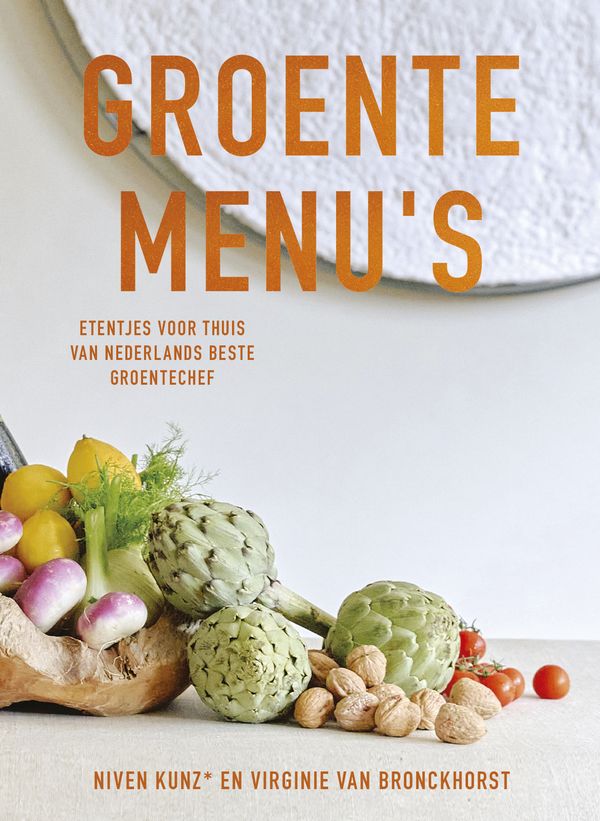 > Vegetable Menus (Kosmos Uitgevers) by Niven Kunz and Virginie van Bronckhorst-Kunz is  now for sale  for € 29.99.