If there is one place they know about vegetables, it is at restaurant Triptyque in Wateringen. In this restaurant of chef Niven Kunz and Virginie van Bronckhorst-Kunz they cook according to their famous 80/20 philosophy. In other words: 80 percent vegetables, 20 percent meat or fish. We asked Virginie and Niven for inspiration for cooking with cauliflower.
Niven & Virginie: "Vegetables! You can't really make us happier. Vegetables are so beautiful, so much fun to cook with and to vary. Not only do we love to cook with vegetables in our restaurant, we also enjoy vegetable dishes at home.
To share our dishes with you and hopefully inspire you, we have released our new cookbook this year full of beautiful vegetable menus. All matching dishes that ensure a festive evening, or just a wonderful evening alone or together. No time to prepare the entire menu? Don't worry, all the dishes can also be easily made on their own. Accessible yet surprising recipes for at home!"
Cauliflower cooking inspiration
What are Niven & Virginie's tips for cooking with cauliflower? Grilling, in the oven, in a mousseline, sweet and sour, and croûte.
Virginie & Niven: "A traditional Dutch vegetable, cauliflower! In the past often made with a cheese sauce. We like to prepare it:
… on the 

BBQ

 with a touch of nutmeg and stew 

on the side

In a cauliflower 

mousseline

 with some almond oil and crunch of smoked almonds.

A festive preparation of cauliflower? Then make a nice 

en croûte

 .

Prefer a smaller preparation? Then choose 

sweet

 and sour , very tasty with a drink or as pickle at the Indo table from our book.

Our favorite? Cauliflower 

from the oven with harissa dip

 . Easy to prepare and above all very tasty. With what to combine? You will find that in our book!
Cauliflower from the oven with harissa dip
Ingredients:
For the harissa dip:
3 red peppers

3 red peppers, diced

3 garlic cloves, crushed

2 shallots, chopped

1 tablespoon cumin seeds

1/2 teaspoon caraway seeds

3 teaspoons smoked paprika powder

Grated zest of 1 lemon

3 tablespoons olive oil

2 tablespoons red wine vinegar

125 grams of sour cream

Salty
For the cauliflower
2 greenhouse cauliflowers

Olive oil

Salt and pepper

Grated zest of 1 lemon
Extra supplies: stick blender + measuring cup
Preparation method:
Preheat the oven to 200°C.
Start with the harissa dip. Roast the peppers in the oven for 30 minutes and remove the skin. Do not switch off the oven. Cut the peppers into pieces and place them in a measuring cup, followed by all the other ingredients for the harissa except the sour cream and salt. Puree to a smooth paste. Then stir as much or as little harissa into the sour cream as you like; the more harissa, the spicier the dip. Add salt to taste.
Blanch the cauliflowers whole for about 4 minutes. Then brush them with olive oil and sprinkle with salt and pepper to taste. Bake the cauliflowers in the oven for 5 minutes. Finally, sprinkle with the lemon zest and eat the cauliflower together with the harissa dip!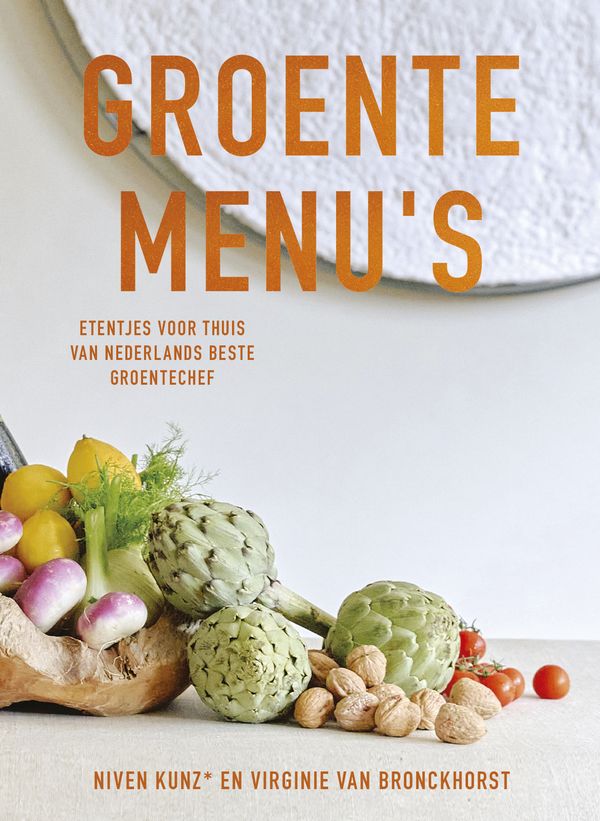 > Vegetable Menus (Kosmos Uitgevers) by Niven Kunz and Virginie van Bronckhorst-Kunz is  now for sale  for € 29.99.