Culinary and baby food don't seem to be two words that we often see together in the same context. Yet chef Jasmine of Babe Baby Food manages it. She develops baby food jars of culinary quality and even devised flavors together with star chefs Jonnie Boer (Librije***) and Sidney Schutte (Spectrum**). Culy's Nancy (8 months old) son loves it.
When we heard that star chefs Jonnie Boer and Sidney Schutte had started developing baby food, we were immediately triggered. Because let's face it: in the field of ready-to-use baby food there was not much to choose from.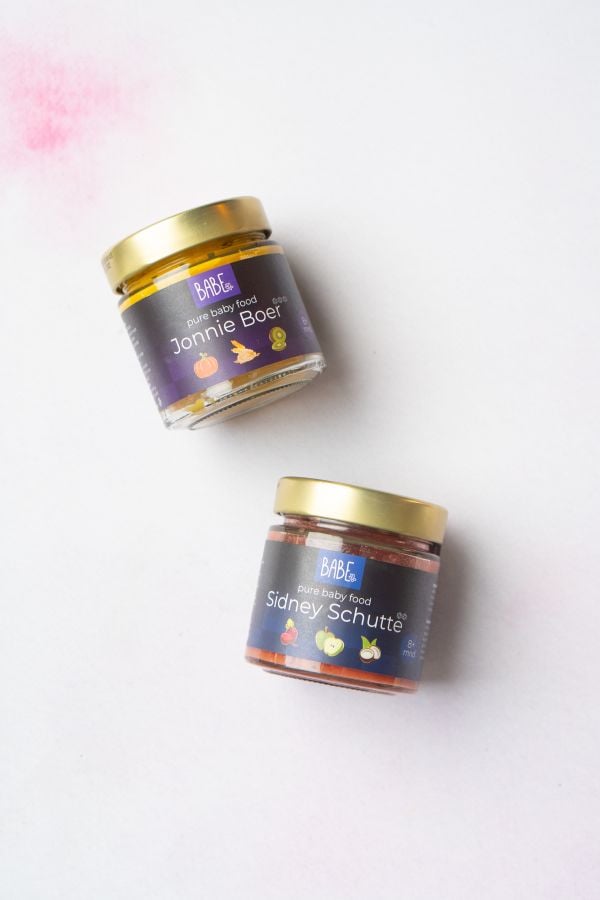 Culinary baby food
Jasmine van der Weele, founder of Babe Baby Foods, has always been surprised that the baby food in the supermarket is often included in the non-food products. She always made her own baby food at home and gave jars of it to family and friends. Jasmine: "My sisters all have careers and little time and loved what I made."
After six years of research and cooking (including at Librije's Atelier ), Jasmine has gathered a team of experts and Babe Baby Foods is a fact. With this she promises the very first baby food of culinary quality with maximum vitamin retention and shelf life at room temperature.
The first six flavors were launched in September, followed soon after by the two chef's editions: collaborations with star chefs Jonnie Boer and Sidney Schutte.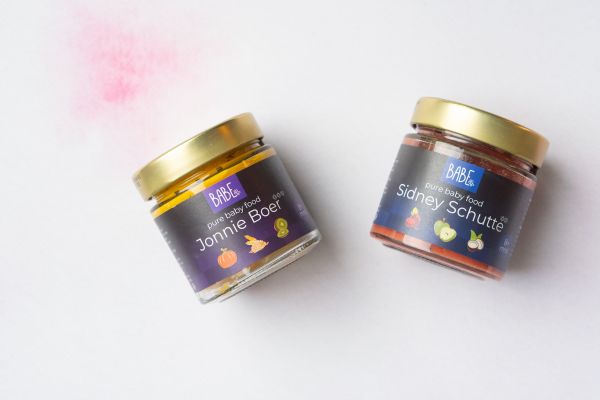 Babies with taste
Jasmine mainly wants to make a difference in taste with her baby food: "Of course I bought a lot of jars of baby food in the supermarket to research. There wasn't one that I liked. It starts with the smell, but I also didn't like the taste. And my motto is always: if you give something to your baby, taste it yourself. If you don't like things yourself or don't like the smell, don't give them to your baby."
The baby food from Babe's Baby Foods comes in flavors such as pumpkin with acerola cherry and carrot, which also introduces your child to ras-el-hanout . Or think of chickpea with sweet potato and pomegranate. Or the taste lentils, coconut and mango, with turmeric and curry madras spices.
The recipe contains many different spices, herbs, fibres, vegetables and fruits. The food is pure, without the addition of E numbers, preservatives, starch, sugar and salt. To preserve it naturally, it is slightly acidified with lemon juice from organic lemons from Italy. For this, Jasmine works together with  Oos Kesbeke , also known for pickles. Everything is steamed instead of boiled and the vitamins and taste are well preserved.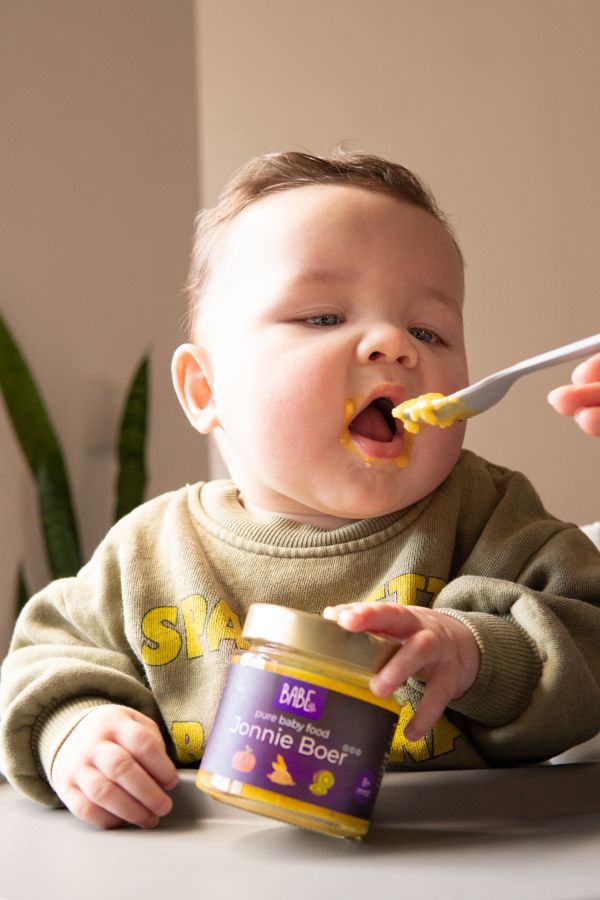 Serving in a star restaurant
And yes: she also let star chefs Jonnie and Sidney taste her baby food. They responded very enthusiastically. Jasmine: "They said: if I decorate this nicely with flowers, I can serve it as an amuse-bouche in my restaurant. When I heard that, I knew I had to ask them as partners."
For example, Jonnie Boer came up with a flavor with pumpkin, mango, kiwi, coconut milk and banana. Sidney Schutte just dived into the beetroot, apple, coconut milk, ginger, cinnamon and cardamom.
The biggest difference with other baby food is in the taste. Children get a range of flavors from the moment they start with snacks (the food is suitable for children from 8 months). Jasmine: "You stimulate their taste buds. In doing so, they will learn to recognize and appreciate those flavors. When they get older and grow up, they take that with them. If they only get food that all tastes the same, they don't know any better."
And that, according to the chef, contributes positively to their experience of food. Jasmine: "Then hopefully you won't get those phases of 'I don't like this' anymore. As a parent you don't have to let your child taste everything in a compulsive way later on. Let your baby become a culinary hero who wants to taste and eat everything at the table."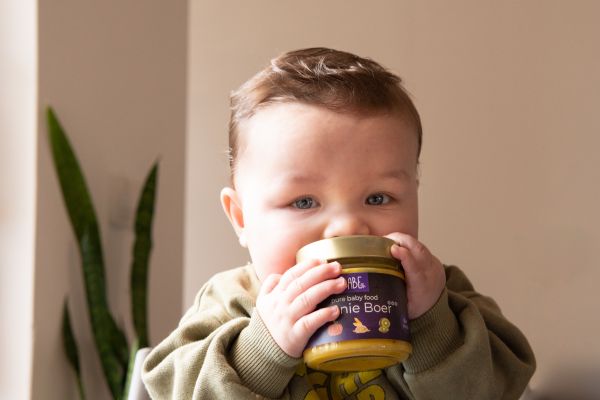 Culy('s Nancy's baby) discovers…
Last summer I became a mother of a son. Of course, even during my pregnancy, I had visions of an unwise Culy baby who would eat like a king. "He will soon be raised on sweetbreads and gin!" our friends joked. And secretly I hoped that the love for food would already be ingrained in our DNA.
When my son was still in my belly, he got to taste the most fantastic, diverse (star) meals through the umbilical cord. Part of the job of course. And once he was born, I made up my mind to keep him tasting as much as possible, all homemade.
I still have that ambition, although any busy parent will agree that a few jars of ready-to-use baby food would make life a lot easier. For days when I don't get around to cooking myself, or forget it. To give to the babysitter. Or for the road for example. You don't have to be a professional gourmand for that either:
Babe baby food jars are definitely a hit in my household. My son didn't like boring vegetable snacks of one type of vegetable (prescription from the health clinic…). But give him a blend of flavors such as beetroot, apple, coconut milk, ginger, cinnamon and cardamom and he will eat his dinosaur plate in no time. Not only does he like the flavors of the star chefs, he also likes the other variants.
Not only does it make me feel good that he is getting a healthy, varied diet – I also enjoy letting him taste so many beautiful, pure flavors. My baby is already eating ras el hanout, curry madras and pomegranate…! With this I hope to lay the foundation for a life full of eating pleasure.
Babe Baby Foods is for sale via Bol.com , Amazon and Gorillas. The chef's edition of Jonnie Boer and Sidney Schutte is available for € 26.95 (six jars). For more information, visit babefoods.nl . 
Recipes for Babies:
Easy Peasy Mini: cauliflower with avocado sauce and cod (for babies)

Culy kids: green vegetables with chicken toffees (ideal recipe for toddlers!)