Wrap yourself in a blanket, put on a pair of goat's wool socks and light the candles, because we only eat a bowl of steaming pea soup when the weather is sweltering. Or do we eat snerd in pea weather? Well, what about this hearty (spoon upright please) traditional Dutch soup and its names. What is the difference between pea soup and snert?
Are pea soup and sner the same thing?
This came as a surprise, yes also to us, but it is not one and the same soup.
Let's take a closer look at pea soup first. Traditional pea soup should be nice and thick, preferably with fresh smoked sausage and various vegetables such as carrots, leeks and celeriac. It is not a difficult soup, but you do need some time. Start with the basics: make a firm stock of onions (peels), leeks and pork feet. Herbs and spices such as cloves, nutmeg, sprigs of celery (key ingredient), thyme and bay leaf give the broth even more depth. 
When the stock has drawn, add split peas, because only then will it turn into a pea soup. The smoked sausage and vegetables are also included, do not let them cook too long otherwise they will lose their bite, as Samuel Levie tips in a masterclass in making pea soup .
The fresher the ingredients, the tastier the pea soup will eventually be. The split peas become super soft during cooking, so you don't need a blender or immersion blender. When you serve the soup, it includes traditional rye bread, bacon and a lick of mustard.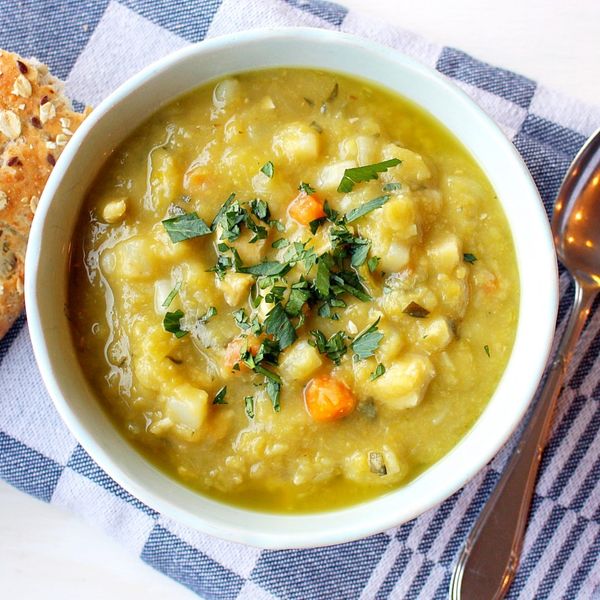 Dutch Pea Soup
There is hardly any difference in the preparation of snert and pea soup, both soups are made from split peas, vegetables and smoked sausage. But for snert you also use pork, bacon and bones. Although those ingredients are not necessarily excluded for just snert. The true difference is much more subtle: pea soup can only officially be called snert if the soup has been standing for at least one day.
The gelatin in the bone gradually thickens the soup and, according to many gourmets, makes it tastier. The origin of the name is Frisian and in all probability comes from the word 'sneirts', which means something like 'in one gulp.' Given the delicious taste of this Dutch dahl -if we can call it that- we can perfectly agree with that description at Culy. Just give us a bowl of fat!
What's tastier?
We wouldn't be surprised if the necessary soup spoon fights have been fought about this. Opinions are therefore divided on this. Team snert swears by the soup's thickness, claiming it tastes better. While team pea soup thinks that night is extra unnecessary and immediately spoons the soup up the same day. Which team are you?